The rule has not been clearly and unambiguously articulated, but it is a RULE nonetheless. Ben Franklin said, "Guests, and fish, smell after 3 days." We try not to smell. But after staying with the Wilners in Maryland for a week, we stayed with Liz's sister in Old Tappan, NJ for SEVEN (7) nights!! As far as I know, Liz was not disowned and the neighbors in neither NJ nor Maryland complained of a smell. I guess if you are going to violate this rule it should be with family and/or good friends!
While in New Jersey, we undertook some unique cultural experiences. First, we had Easter Dinner with Liz's B-In-Law Sal's family (Surname: Lombardi) in the Bronx. Sisters Anna and Diane were there, along with assorted nieces, nephews, husbands, boyfriends etc. Strangely, no pasta at the Lombardi household, but an awesome Easter dinner and lots of lively conversation. Although mostly Mets fans, for at least the holiday dinner, everyone was civil.
While based at Anne and Sal's, we did the New York Commuter thing. Well, sort of, since we are retired and cannot therefore technically "commute." We woke up early, drove to the ferry and took the ferry across to Manhattan and back in the evening. Thus simulating a "typical" 1.5 hr each way NY commute featuring multiple modes of transport.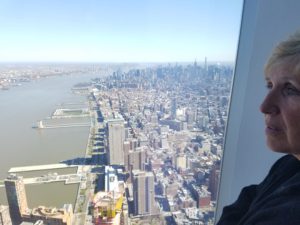 In between the "commute" experience, we had a full day in Manhattan, and we planned to use it fully. First a trip to the observation deck on the new World Trade Center Freedom Tower – interesting. Not just because it is a tall building – we are not and never have been from Iowa and we know from tall. But there is an interesting elevator ride depicting the view one would have seen from the tower over the past several hundred years. And the day was "Severe Clear,' so we really could see forever.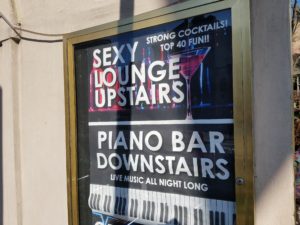 Next, we walked through Manhattan, broken up by Dim Sum lunch in Chinatown. Again, we are not from Iowa and we have done these things before. But a spectacular day, and delicious dumplings!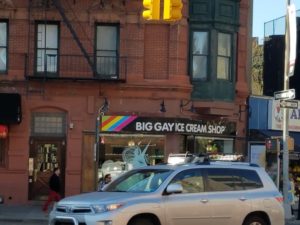 Then tours of the WTC Museum and Memorial. This we had not done before.
Finally, happy hour and drinks and delightful conversation with friends David Marcus and Julianne Bond in Greenwich Village. We joked with David that he should get us a movie permit (his street is almost always posted no parking because they are filming something there, needing NY "Authentic" atmospherics) so we can park the bus on his street in the village, knowing full well how absurd that thought was! What sort of movie can one film in an ancient RV? A Chevy Chase-inspired romp? A redo of Lucille Ball's "the Long, Long Trailer?" Maybe a porno…
Overall an AWESOME day. But more needs to be said about the museums…
The WTC Museum is a very difficult and special place. The selection of artifacts from the day, the historical details and broad perspective carefully preserved and narrated. The presentation of all of these on the very site, with the bulk of the towers represented above and around. Ghosts and spirits clearly present…represented by the rusted remnants of foundation columns where they had been attached to bedrock AND by the chilling recorded voicemail messages from many who did not survive. Pieces of twisted steel and first responder equipment…visceral in their effect on every one of the thousands of people in attendance. This was all made personal by the recollections of our friends at dinner.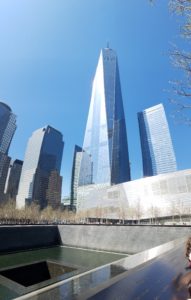 There is an attempt to present the reconstruction of the site into a shining tower with Observation deck – and this was resplendent on a sunny spring day — the museum and the overall continuation of "the American Way" as un uplifting end. I did not feel uplifted.
A recommendation to all of our friends – if you have not been to this museum/memorial, you should make sure you do visit. Make sure you take a guided museum tour. Allow time afterwards for a drink – you will need it.