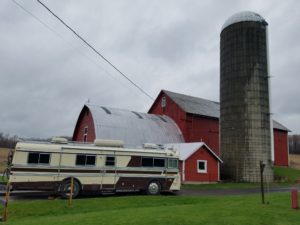 We are Travelling West towards Indiana and Iowa (for bus mechanics), Minnesota and eventually Chicago for a bit. We needed some ad hoc things to do along the way…and a couple of really good options presented…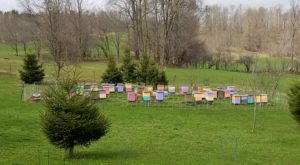 First, we pointed "RV WHERE YET" to Cooperstown, NY and the Baseball Hall of Fame. We stayed 2 nights at a fabulous winery (Rustic Ridge in nearby Burlington). A really picturesque part of NY — rolling hills, rustic farms, spring just ready to break out…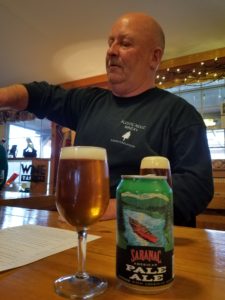 This winery offered a variety of options for Liz, but the owner (Rick) upon learning that I was a somewhat lost beer guy, brought out 3 different local beers and shared them with me in a couple tasting glasses. Liz bought a few bottles, and I left with a brewery map of the Upstate NY/Finger Lakes region.
The HOF is an AWESOME place to visit. The museum is organized with a couple different ways to follow the history of the game. First there is a "Locker Room" that has one locker for each team. Each locker has a few artifacts bizarrely and yet somehow appropriately selected by the teams(?) to reflect their unique personality and history. A few examples:
The Minnesota Twins Locker has a Grass-stained baseball. Why would this be important? It is from the first game played at their new OUTDOOR stadium. The one where most of April and May Grass stains are not as common as Snow-outs. But still…
The Cubs Locker has Yosh Kawano's hat. Kawano was the Cubs equipment manager for over 65 years. I would think there would be goat-curse-related artifacts, but not.
The Pirates feature Starling Marte's sliding glove. I have NO IDEA why this is important to the Pittsburgh Pirates…the glove, used to protect the hands of base stealers, was first worn by Brett Gardner who played for the Yankees. I am sure someone from Pittsburgh can 'splain that to me…
Then there is a gallery of historical information. From the earliest days when there were multiple, slightly different versions of the game. Pictures, artifacts, newspaper clips, videos, etc. All superbly selected and displayed. There are life-sized wood carvings of babe Ruth and Ty Cobb. So unbelievably realistic they feel eerily alive. Photos from artists and journalists. Paintings and sculptures.
At the end of all of this, we walked over to Doubleday field and watched an inning of High School Baseball.
For full appreciation of the HOF, I suppose you have to be a baseball fan, but maybe not. Baseball's history so parallels the USA that you can understand the latter through the former.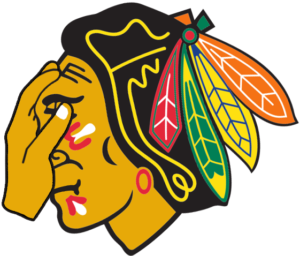 P.S. RIP-Blackhawks
It seems appropriate that we started Baseball Season with a Visit to the Hall of Fame. Started you say? Baseball has been running for a couple weeks already! Well, we don't start Baseball until hockey is over. This year, that happened extraordinarily quickly!
While hockey was on, we have watched all the games on either Satellite or on Cable at Liz's sister (and no baseball at all). The Hawks were facing a WAY BETTER team – at least at present…the results were opposite during the season. Made them look slow. And Old. I don't think they are either, but when you only score 3 goals in 4 games, the outcome is certain.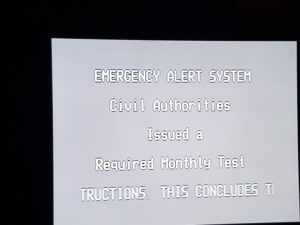 There was a little bad puck-luck…not to make excuses. Not one, but TWO goals-against after a deflection up in the air then off the back of the Hawks goalie. This bad luck even attached to fans attempting to watch the game… the cable system in NJ decided to run a test of the Emergency Broadcast System – DURING OVERTIME. Note our view of the losing goal!
Ah well, there is the world series championship to defend!