One of our "Targets" in this western swing is a visit to friends Dick and Tyra Stubbs. Though they live in Boise, the whole state was offered up to us with a set of tour guides whose sarcasm and politics match ours.
We began our sojourn in Idaho Falls. There we had the pleasure of attending the Eastern Idaho State Fair. This was a mix of "bad" food (I especially enjoyed the foot-long jalapeno corn dog with a square ice cream chaser), large livestock, wholesome Mormon-oriented vendors offering Family Tree analysis and unusable (to us, anyway) firearm-related products. Coupled with heat (about 98 degrees) and bad air (fire season…more on this below), we lasted a couple of hours only.
The "highlight" was the time spent in the parking lot before we even got inside the grounds. The sign said $5. The attendant looked at the clown car and said…"jeez, this is so small you can park anywhere you want." I said, "Well, then, if you charge $5 for a regular car, shouldn't we be less?" He said $2.00!! With a chuckle.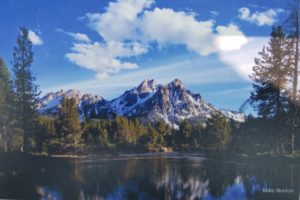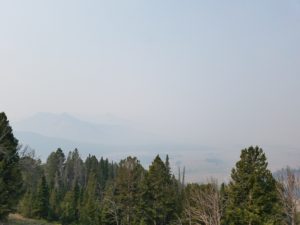 Our time in Idaho was coincident with one of the worst fire seasons in recent memory. The level of smoke was exceptional. The horizon was not more than 3-4 miles most of the time and the air actually stung one's eyes. Closest I can recall was when we were in Shanghai, China in their legendary smog. We drove to some really scenic places…where NONE of the mountains or other panoramas were visible whatsoever. We did do some hikes to rivers and waterfalls and Lava-features…up-close scenery was less affected by the smoke. Our path to our next "target" (Vancouver, BC) will be greatly impacted by which roads are open.
One place noteworthy: Craters of the Moon National Monument. Close up, so unaffected by smoke. Don't know about the moon, but Lava-scapes that are otherworldly!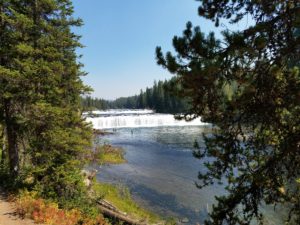 On one of our side trips with Dick and Tyra, we again entered Yellowstone. This time from a small gravel road. The Entry "station" was an honor box with a pricelist next to it. I waved my Annual Nat'L Park Card in front of the slot to prove our authorization to no one in particular.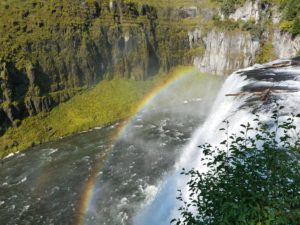 Then we hiked through to Mesa Falls, Bechler Falls and Cave Falls. No one else around except a couple of fly fisherman, which prompted some discussion with Dick and a revelation about fly fishing in particular and probably fishing in general, for me.
Dick observed that one group of fishermen looked like they had just stepped out of Orvis – they had super-fancy equipment, and were fishing in the river right next to the parking lot at the trail head (where their BMW Utility Vehicle With Sirius XM Radio dutifully awaited). They were catching nothing. Another group was about 2 miles upstream where they had hiked. Their equipment was far less flashy, but they were catching fish.
I observed that the "fish" they were catching were Sardine-sized – not legendary by any means. Dick said "But at least they can go home (in their beat-up-pickup) and say they caught something…and the size may be embellished in the telling"
I extrapolate the following wisdom from the two groups of fishermen and from Dick's reaction: It does not matter how much you spend on equipment, or how big or many fish you catch (as long as you catch something), but rather how far you are willing to go. Also, it is dishonorable to lie about CATCHING fish, but it is perfectly acceptable to exaggerate the SIZE of the fish one legitimately catches.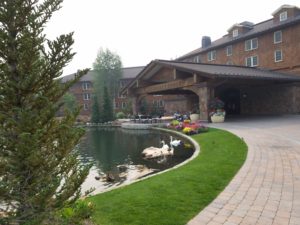 Part of our time in Idaho was at the home of one of Dick's high school teachers. Now that goes back a ways! Allen and Diana Russell live in Shoshone, Idaho (not far from Twin Falls). We parked in their side yard, which was super flat and very hard…after all this area of Idaho is a little bit of dry dirt on top of lava rock. The coyotes were evident, as was the local train track which sees 80+ trains a week. While there, we made a few excursions to places like Sun Valley…legendary for its "A" list residents and visitors – especially during skiing season.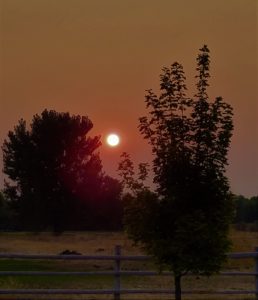 And for its scenery, which of course we could not see because of the smoke.
We also had several memorable meals and some single-malt scotch, while we learned about a life well-lived from the Russells. This included hearing about their camping trips in Alaska and in Africa. The later completely self-guided — they just pointed a small camper van out into the wild with a GPS and a smile. This is at least an order of magnitude beyond our challenges and experience…their photos and tales of adventure were spectacular, and something we surely hope to emulate.
It is people like these, that we meet sometimes on our own and sometimes through generous introduction by friends, that enrich our travels beyond time and place.