We departed Zion (do people actually LEAVE Zion without being cast out?) for our Vaccine Appointment with destiny in Cedar City. This was to be a two-for, since the vaccinations were being conducted in a Mormon Church, places we were singularly unsuccessful at appreciating in St. George.
But of course, what fun would a blog be if it only presented the short story?
We pulled up at the church at 10:30 for our 1:00 appointment, so I parked on the street. The National Guard was managing logistics, so I masked up and walked over to one of the soldiers out front with a clipboard. He said there was no reason to wait until 1:00; they'd get us right in. The SHORT story is that the whole process took us 17 minutes, which included the 15 minutes they suggest you wait afterwards. And neither Liz nor I had and side effects to speak of.
Once the soldier said to c'mon down, we grabbed the forms that the SW Utah Health Dept. had required us to complete. That was a bit of a challenge – the hardest part about getting a vaccine, as it turned out. We do NOT have a printer on the bus, but the RV park in Zion was glad to print them for us. I presented these to the soldier, along with our Passports for identification.
Why Passports? I figured they did not show our address (since we were not from Utah), though the forms I handed to him had our Chicago address. Why raise a red flag with our Illinois Drivers Licenses?
It turns out, they did NOT CARE where we were from…only that we were old enuf (and Utah had lowered the age by then to 50+…we were obviously that)!
Anyway, the soldier collected our forms and directed us into the church. Well, the Church Hall, which looks like any other Church Hall. So much for gaining an appreciation of Mormon Edifices and traditions.
Getting our ticket out of danger punched on the road, in a Mormon Church from a soldier wearing a green, fuzzy Viking helmet DEFINITELY falls in the category of "You cannot make this shit up!"
There we found a VERY SHORT QUEUE of folks waiting for a turn at one of several tables where vaccinations were being done. One table, I noted, was manned by a soldier in camo who was wearing unorthodox headgear for a Soldier, but not for St. Patrick's day… he was wearing a bright-green, fuzzy Viking helmet, complete with horns. Naturally, I was selected to be vaccinated at this table!!!
We decided to spend a couple of days in Cedar City, just in case the Vaccine produced any side-effects (it didn't). This allowed us to experience the first of at least two experiences with Utah Weird Food. Lemme 'splain…
The day after Vaccination Day was my birthday. As is customary on our birthdays, the victim gets to choose a restaurant. That is a task made doubly-difficult in this pandemic-time and in small-town Utah. I was browsing listings on Google, TripAdvisor, Yelp! Etc to see what the options were, when I saw it, like a SHINING LIGHT out of Zion (where we just were):
SUSHI BURRITO #5.
So much to discuss. What is a "Sushi Burrito? Why in Cedar City, Utah? Are there really FIVE of them?
We CLEARLY had to go and know!
Not wanting to take chances with my birthday meal, and just in case the "Sushi Burrito" was not a success, we also stopped at DQ for a Blizzard for the freezer, to be enjoyed afterwards.
Well, the Sushi Burrito turned out to be EXCEPTIONAL. I would say, in fact, a religious experience, which is the second for us in the state of Utah after getting a vaccine. It was chock full of Tuna and Tempura Shrimp and crunchy veggies and a sweet, hot, sriracha-based sauce, all wrapped in rice and surrounded by Nori. TWICE THE SIZE of your "typical" Fancy Sushi Roll, at about half the price.
Our Sushi Burritos were SOOOO big that we should have split one between us; And sooo satisfying that we agreed the Blizzard in the fridge could remain in the fridge for another day!!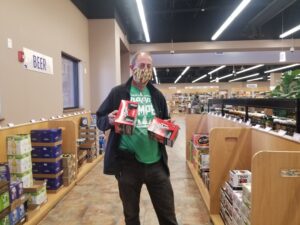 As a final birthday present to myself, we went in search of Beer, which turned out to be easier to obtain than expected. The selected brew was Wasatch Brewing Company's "Polygamy Porter."
So good that "one is not enuf."
Had to have them, and definitely one was not enuf – quite delicious.
After our Vaccination-pause, we continued onwards to Bryce Canyon National Park. As with Zion, we stayed outside the park, but not quite within walking distance because most parks were not yet open for the season. We found one in nearby Panguitch, which near as I could tell is pronounced "panguitch."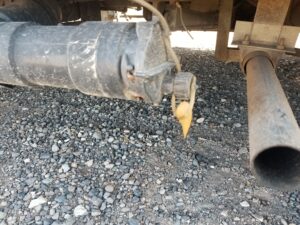 Not much in this town other than a full-hookup spot for RV WHERE YET, which turned out to be essential as the weather each night was well below freezing. Indeed, we have been worrying about freezing waste tanks…now we we finally had an actual, FULL FLEDGED POOPSICLE, if anyone cares. Not a problem, just a few drips from a slightly loose cap.
BUT, we are getting TIRED of cold weather.
The park itself offered a variety of hiking opportunities and absolutely MAGNIFICENT scenery on each hike. But, magnificence in a completely different way than Zion NP. At Bryce, HooDoos are king! These are large pillar-like rock formations formed from many eons of erosion of the soft rock.
As we walked among them (above, next to, below and all around them), we thought of them in the Paiute Tradition: That Hoodoos represent the frozen state of their ancestors who may have misbehaved in one way or another. '
They did look kinda like people…
The hikes at Bryce were a bit more challenging than at Zion (of course, we did not do the most challenging Zion offerings). This is because almost all of them start at the top rim of the canyon and proceed downwards. About 1,000ft. And, of course, you have to walk BACK UP then – no trolley or cable car or UBER at the bottom! All of this at an altitude us flat-landers are not used to. But, we were starting to acclimate, and the strenuous hikes were invigorating as well as intimidating.

As usual, Pictures are worth 1,000 words, but even so do not even begin to describe the beauty that was around us. I include a few here so perhaps you can get an idea (and start planning your trip!).
Next to Escalante and Capitol Reef, more weird food and NEW weirdness: Utah Drinking rules!! And a new appreciation for (and measurement of) altitude. STAY TUNED!!!