We left Sedona and The Florers, neither of whom said they were happy to see us leave, but neither did they say they weren't, and we know not to overdo it! AT least ONE creature was not happy we were moving again (note the feather wrapped around our WIFI antenna).
Friends from Chicago, the Schmiders, were living in their RV while looking for a new home; and at the moment they were doing this in and around Phoenix. We decided to head that way, and booked a spot at the Community they were at – in Mesa, Az.
Looking forward to some quality time, we shortly arrived at the park, which was more of a Mobile/Manufactured home community than a traditional RV Park. Proof of this: The laundry room did not have a change machine AND the office did not offer change. And, seemed surprised we thought this odd. Obviously not a community that sees a lot of transients who use park laundry! Anyway, Over beer, we decided to spend a few days hiking and biking with the Schmiders, who were by now well acquainted with such options in the area.
I operated the drain … and got a good, sturdy WHOOOSH of high-pressure air
First, though, I needed to address a lingering air system issue that had reared its ugly head in the freezing weather at the Grand Canyon. In a nutshell, the bus has redundant air brake systems, and the gauge for one of the two was showing NO PRESSURE. This would be a somewhat urgent issue if I was not 100% sure that there WAS pressure in the air system. Each system has a tank, and each tank has a "quick-drain" at the bottom, which I occasionally open in case there is any water in the system. I operated the drain for the system reading "0" and got a good, sturdy WHOOOSH of high-pressure air.
OK, I deserve the "full of hot air" cracks.
So, the Air system had air, but the gauge was not working! Could be a bad or plugged gauge or a plugged line. To diagnose, I opened the dash and took the line off the back of the gauge – NO AIR. So, I let all pressure OUT of the system. I planned to put a compressor hose on the gauge end of the line to blow any obstruction out and back into the tank, but it turned out all that was needed was the little bit of pressure I could exert by sticking the hose in my mouth and blowing into the hose. OK, I deserve the "full of hot air" cracks. But regardless, Air Gauge now reads correctly.
So, air-system-repairs done, our first activity with the Schmiders was a nice hike up in the Scottsdale area.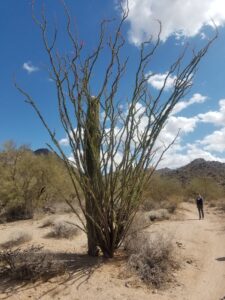 I cannot for the life of me remember the name of the public trails, but there were lots of cacti in lots of varieties, Ocatillo in bloom and nice views.
Next day, we took a bike ride up the canal system and into the Scottsdale Arts district, where we found an outdoor restaurant with beer. There, we sat and watched the Scottsdale life, which consists of a high percentage of Lamborghini's revving their engines in a throaty "LOOK AT ME…I'M SOOOO COOL" Statement.
The cars don't need to advertise, but the people behind the wheel apparently do. In Scottsdale, at least.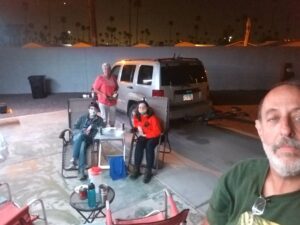 Also in the Phoenix area is Liz's niece, Ellen, so we tee'd up safe, socially-distant patio dinner and conversation.
After Phoenix, we started our intended trip through Southern Utah…in the cards: Zion National Park, Bryce Canyon National Park, Escalante/Grand Staircase National Monument, Capitol Reef National Park, Arches National Park and Canyonlands National Park. Sounds like a lot, but all within a couple hundred miles of each other, so a good chance to make a dent in the "places we'd like to see" list.
So much National Park, so few people – perfect for a pandemic!!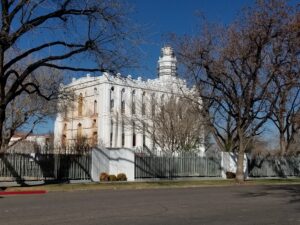 Our entry to Utah was the City of St. George. Spent a few days there based on its reputation as an up-and-coming place with lots of interesting Mormon History. On the former, LOT's of mostly unappealing (to us) housing developments for mostly California Expats (or so we were told). On the latter, there is a SPECTACULAR Mormon Temple, which was closed for MAJOR renovation, and a visitor center (also closed) and a dozen or so Mormon Churches.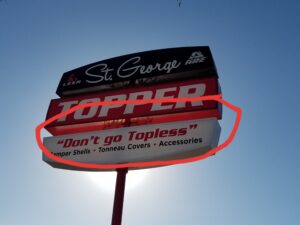 So, nothing to do or learn vis a vis the Church of the Latter Day Saints.
We DID discover the ZION CANYON BREWING COMPANY Satellite Pub, which was ironically a short bike ride on the other side of the Closed Mormon Temple. Ironic because I doubt the Church would appreciate a travel guide saying "for drinks, find the Temple (you cannot miss it on the skyline) and hang a left…"
Regardless of (or because of) the irony, we enjoyed a variety of brews there over a few days.
While in St. George, we had occasion to visit with my brother, who lives in eastern Tennessee. What? Bill had decided to take a road trip, picked the Grand Canyon as a destination, and concluded St. George was a good stopping point. Not really "on the way," but no matter, and fun to catch up!
And then, we were called to Zion! No, we are NOT getting religion OR rectifying the diaspora! We had a several days scheduled at an RV Park just outside the entrance to Zion National Park, and so our visit to "The Five" (Zion, Bryce, Capitol Reef, Canyonland and Arches) plus one (Escalante/Grand Staircase National Monument) began.
Each day we were there we walked to the park entrance and caught a shuttle to various points within the park and to various hikes therein. Each hike was spectacular. In fact, SPOILER ALERT! each of the parks we have visited has been utterly spectacular; though all within a 200 mile radius, the parks are all differently spectacular, as you shall see in this post and the next(s).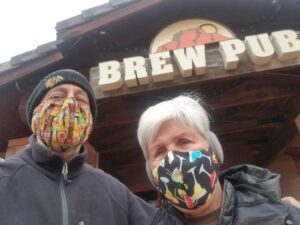 And at the end of each day at Zion was the Zion Canyon Brewing Company, standing like the Dogs of Cerberus guarding the gates…
Safe to say, the days spent in and near Zion were on the order of a religious experience.
We did a LOT of hiking, but there were some iconic Zion Hikes we did NOT do…
One was "the Narrows," where you walk for several miles IN the river. The other was Angels Landing, where you climb many hundreds of feet, and where some of the trail is on rock cuts with no railings and sheer cliffs adjacent.
Neither of these physical challenges were what stopped us – it was COLD AND SNOWY (this blooming Cactus was confused!), and the idea of doing either of those particular hikes under those conditions did not appeal. But for the rest of the trails, the weather was perfect and the scenery beyond describable.
Since it IS indescribable, instead, I will just post a boatload of pics here!
While in Zion, we DID have the closest thing to a religious experience that does not happen in a Brew Pub. The SW Utah Dept. of Health texted me (I had registered on the COVID Vaccine Website) that there were doses of J&J Available in, among other places, nearby CEDAR CITY, Utah. I went on line immediately, and was able to grab two slots on St. Patrick's day. I don't know if that detail is relevant, but it adds a bit of spice to the narrative, and explains one of the things that happened to us!
You will have to wait for the next post to learn the connection!