Our friends, the Florer's, were, as expected, co-residing in the RV park in Tucson, and we set about gradually merging our Covid Pods.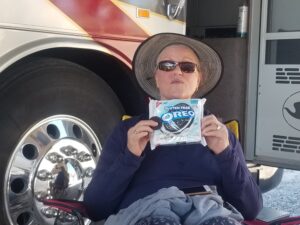 This included a variety of shared meals, as well as a couple of bags of INCREDIBLE IOWA CORN. We committed on the spot to another Iowa visit this summer – not coincidentally concurrent with said corn availability AND the Iowa State Fair.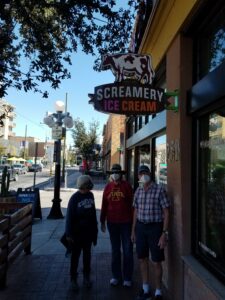 We also managed a HUGE and potentially marriage-saving alignment of the cosmos during a walkabout in downtown Tucson. There, We happened on a Supercuts for Liz. She had just about gotten desperate enuf to let me do the honours — which might have been the end of the road for us — when we happened upon an empty store and a haircutter, fully masked and desperate for business. But, That's not the alignment part… AND, there was an Ice Cream place RIGHT NEXT DOOR where I could wait and thank the universe for sparing me the task and inevitable emotional fallout!

And we managed a nice hike in the area around the RV park, which directly abutted the trail system in the Tucson Mountain Park. Love the desert around Tucson (and some areas around Phoenix) because there are many types of Cactus — especially Saguaro.
Our time in Tucson was complete with a WHOLE NEW EXPERIENCE for Dan (and to some extent, Liz).
As we were sharing one meal or another, we heard a LOT of shooting of firearms in the not – to – distance. Not understanding Tucson to be anywhere near a war zone, I assumed this was related to far more liberal firearms ownership. But, It turns out, the Tucson Trap and Skeet club was just across the road, AND was hosting an international tournament! So, from 8AM to Dusk, Bang-bang-bang-bang…continuously.
there can be disagreement as to whether the shot landed or a hummingbird farted
At one point, Steve suggested we should drive over and see how its done, thus beginning a WHOLE NEW CHAPTER on our resumes. The club is HUGE —must extend for ½ mile or more – and there were HUNDREDS of professionals assassinating little defenseless clay discs. Fortunately for us, Steve Florer turns out to BE a Trap and Skeet shooter, and has even officiated at meets (albeit on a MUCH smaller scale). WHICH allowed him to edumacate us firearm-less-city-folk on the intricacies of the sport.
For example, Steve said, officials (i.e. Steve) make calls WITHOUT the benefit of replay, as to whether a clay might have been winged. Who knew that even a microscopic spec of dust blown off a clay "counts" as a kill, so there can be disagreement as to whether the shot landed or a hummingbird farted — and therefore the need for an official to settle such disputes!!!
In a tongue-in-cheek societal comment, Steve said that MALE shooters, when disagreeing with the referee, would tend to cast a glance of incredulity down their nose and onwards towards the referee before moving on to the next target. Women, on the other hand, would stomp their feet and protest LOUDLY until the official simply said, "get on with it, there is no replay here and I am NOT changing my mind."
All I could think was, I would NOT want to be an official disagreeing with an ARMED CONTESTANT (man or woman) and money on the line!!
As interesting as WATCHING the international shooters was, Steve disclosed that he happened to have HIS Gun on the bus – would we like to go over and make dust? This has not yet ever been done by us, so a MUST to add to the resume!! After the tournament, of course.
Liz decided she wanted no part of it, choosing instead to watch from a substantial distance away.
First, Steve gave me some instruction. I told him to start from the VERY BEGINNING, so we had a Gun Safety lesson including demonstrations on which end to hold.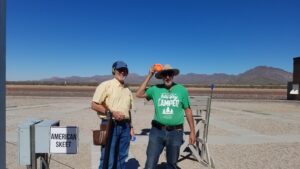 We graduated from there to an introduction to the prey – a bit of time to meditate. Feel what it feels. Think what it thinks. Become one with the clay. Steve soon tired of this obvious stalling tactic, and we moved on to loaded weapons and flying discs.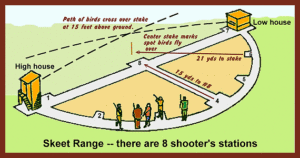 He chose, for my first experience, AMERICAN SKEET. This is a game where the Clays come first from the Left and high, then from the right and low. Then from both places at once.
We agreed that the "both at once" could be for me another left-high-right-low but not "at once." This in deference to my assumed and soon demonstrated total lack of skill. Repeated from each of 8 stations. Arrayed in an arc between the left and right house.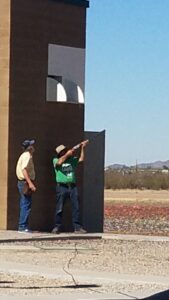 So, how did it go? Well, the professionals during the tournament shot at about 1,000 clays, missing maybe 10. Steve shot at 50, and I would guess missed the same 10. Let's just say my average would not be adequate for low "A" ball. But, I did hit a few, and had a BLAST (so to speak, of course).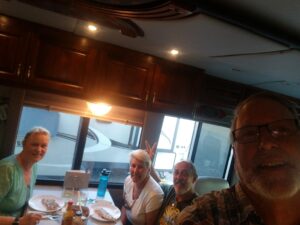 Later, Steve disclosed that the gun we were using was an anniversary gift he had received from Cindy years before, and since our anniversary (our 30th!!) was coming (in no small part BECAUSE of Supercuts), Liz still had time to make the same thoughtful gift.
Pretty sure the thought of an armed Dan was and is a frightening one for her!!
Speaking of our anniversary – no. 30 and, firearms notwithstanding, no end in sight – Steve and Cindy prepared a SPECTACULAR dinner for us to commemorate the day.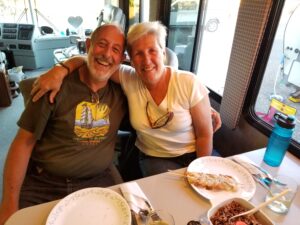 We talked about all of the places we THOUGHT about visiting on the occasion, but which will now wait for 31 or beyond.
I am guessing we are not the first to make that mistake.
After Tucson, we travelled Caravan-style to the Grand Canyon, where we had great RV Spots inside the park, just a few hundred yards from the South Rim. Our trip was not without a bit of misdirection….the GPS took us to the GRAND CANYON RV VILLAGE, which had no record of our reservation. I looked at the confirmation, which CLEARLY stated: Grand Canyon TRAILER Village. The proprietor of the former gave us directions – I am guessing we are not the first to make that mistake.
We spent several days at the Trailer Village (which was inside the park – a GREAT location), walking, biking or driving from Lookout to Lookout within the park. We felt very fortunate that the park was relatively Uncrowded and thus easy to move around and find the "right" spots for viewing sunrise and sunset and everything in between.

And the view(s) were SPECTACULAR.

I have a lot of pics, some of which are reflected here, and NONE of which properly capture the monumental views.

This is really a place you have to go to to appreciate.

The weather at the Grand Canyon was PERFECT for viewing – crisp and cold . In fact, the Cold was a bit concerning for us – as disclosed in previous posts, we are not confident about RV WHERE YET's essentially external waste tanks, and the temp one night reached 9°F!!! Once again, we survived without creating poopsicles or cracking any water-bearing structures, but not without a certain amount of trepidation each evening and a ritual emptying of tanks followed by adding a gallon or 2 of Antifreeze to each. The HARD freeze DID produce a puddle under the bus (but NOT under the waste tanks) AND a recalcitrant Air Pressure Gauge. The former amounted to NOTHING (probably due to a stiff radiator hose), and the latter into a story (saved for later).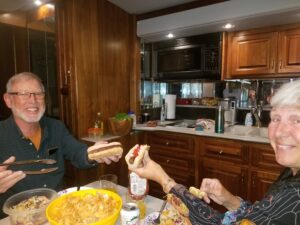 The rest of the time at the Grand Canyon (outside of gaping at the view) was spent in pleasant ways. We continued to share meals with the Florers, our Pods now thoroughly merged. One night we had Venison Brats that Steve had onboard and I cooked. Steve also made his famous spiral-fried redneck-potatoes.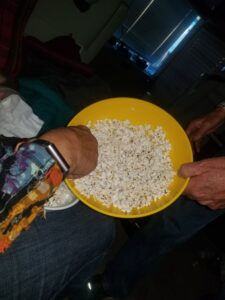 There was not a SNIFF of internet FOR ME, but Steve somehow had sufficient signal to stream videos, so we had MOVIE NIGHT, including some of Steve's home-grown Popcorn. He gave us a bag of this – the only "catch" being it was still on the cob!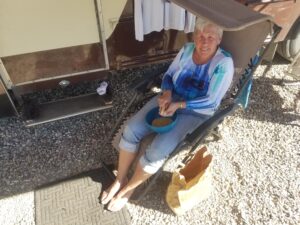 Apparently, it can be popped in the microwave right on the cob, but we had no room on board for such a bag of mostly cob by volume, so Liz undertook the task of removing the kernels into a bucket.
It was hard work (she sez her thumbs hurt still!).
On "Movie Night," we watched the Frances McDormand movie, "Nomadland." It's loosely about the Nomad way of life and the characters one encounters along the way, both of which we experience or represent every day. One part was NOT reflective of our lifestyle – no pooping in 5 gallon buckets for us! Best part and line was the validation of this lifestyle by the Frances McDormand character's sister:
"We always thought you were the crazy One, but you are not crazy, just brave"
A little insulted by that; I think we're crazy, too.
After the Grand Canyon, we spent several more days in the caravan, landing in the Cottonwood/Sedona Area. We did some hikes, found a brewery, some Ice Cream, and even a rare CATHOLIC VORTEX.

By way of explanation, Sedona is known, in more mystical circles, as a place where "Vortices of energy" can be experienced. This has lead to a whole industry offering for purchase healing crystals, places to have aural pictures taken, guides and sojourns to the various vortices (vorti?) in the area. I assume, now that Marijuana is legal in Arizona, one can do all of that high as a kite.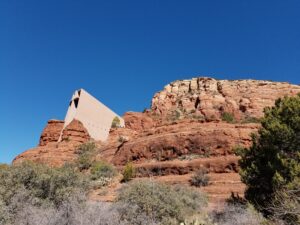 Even the Catholic Church has gone all mystical – locating an edifice on top of one of the reputed vortices. Of course with a donation box and plenty of opportunities to buy and then light candles, which seem to burn true despite the massive psychic energy swirling all around.
You can tell, I am a bit of a skeptic (being an engineer). Cindy and Steve Florer both say the Catholic Vortex was quite noticeable. Steve noted and pointed out the spiral structure of trees arrayed around the church – trees that are straight in other places.
I guess we'll keep looking for the mystical energy, tho, just like we are still seeking the Marfa Lights!