I suppose the biggest story in this post is about the old engine that is travelling (at HIGH volume) to Alaska perched between Liz and Myself.
There are some pretty impressive grades, that we have to tackle in First Gear at 10-15 MPH. But, we are making it!!! Sometimes leading a procession of so-far understanding and tolerant fellow travellers. I can't help but think of us as a Funeral Procession; RV WHERE YET leading with the "package" and the procession of sad folks following behind.
Our first stop out of Vancouver was a brief one: Whistler, BC. This is a HIGH END Ski resort town, and we visited in a shoulder-season. Skiing is still going on a bit, but there is no snow down in the village and there are few people around.
The village is chock full of high-end stores, expensive (even for a hamburger) restaurants and expensive day-parking (NO OVERNIGHT allowed!). Not the way we travel these days (though fantastic if you are a skier and into that sort of thing). We had an Ice Cream Cone, and moved on.
As we moved on, to and thru the town of Pemberton, the grades became VERY impressive. 18% at least a couple times. 8-10% frequently. There is a VERY POSITIVE result of going SO SLOW. The scenery was MAGNIFICENT all along the way — Snow-covered mountains, wild rivers, Bears, Moose, Elk, Deer, and even a Caribou (rare to see) — and plenty of time to see it!
All these Grades confirmed some of my choices vis a vis Redneck Engineering. I should define and 'splain. Redneck Engineering is when you solve a common problem using a combination of stuff you have lying around and ingenuity. Extra points for using Duct Tape.
For example, the mouse-trap that Captain Blueberry created in his shed uses a board, bucket of water, tin can and peanut butter. The PB attracts the critters, who crawl up the board and onto the can to reach the PB. The Can spins on its axle and the mouse falls into the bucket of water. Now, one COULD buy $0.25 mouse traps, or sticky-rolls. Poison not really an option due to pets (a cat, and Gizmo the wonder dog). But where is the challenge in that?
I also include, for your viewing pleasure, another Redneck Machine…this one seen in Stewart, BC. More on Stewart in a future post.
I redneck-engineered the broken turn-signals/hazard lights and horn wiring and switches, as mentioned previously. In doing so, I had to make a choice: Proper turn signals under all circumstances (brakes, no brakes, lights, no lights, etc.) OR Hazard Lights in the Rear under all circumstances.
I chose the latter, and this was a GOOD CHOICE considering the grades and our mighty, mighty non-turbo Cat3208 engine. Hazard lites are essential at 15mph up a 10 mile grade so we don't get run down by a "slow" truck going twice our speed! Turn signals are completely unnecessary when there are no roads to turn onto or a need to signal a change into the passing lane!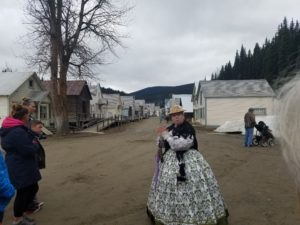 Our first "Destination" was Barkerville, BC. This is no longer inhabited – it is a restored Heritage Site that depicts the Gold Rush that occurred in the area in the 1860's (and, actually, there was a later rush – a second wave). There are Re-enACTORS who tell the story of the town and the Gold Rush in the first-person – we took a tour hosted by a woman who was a saloon-keeper and got a fantastic historical perspective.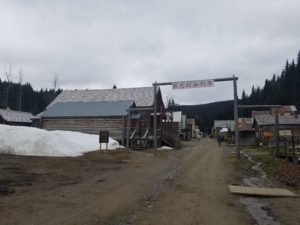 Then we had a second tour of the Chinatown area hosted by a visiting Chinese Archaeologist. Really fascinating to learn about the history, living conditions, mining technology and general social impact from a White Settler and Chinese Miner's perspective.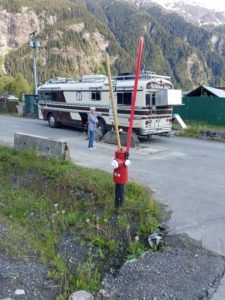 The Site had an affiliated Campground, and both had just opened for the season the day before we got there. You could easily see why: There were still 6-8 foot piles of snow around (Barkerville can get 30 FEET in an average winter!!!), and some of the RV spots in the campground still were snow-covered.
Neither impacted us particularly – the weather was FINE, actually. Quite cool at night, but very OK (i.e. sometimes shirt-sleeves, though the mosquitos make that a poor fashion choice for the most part) in the daytime.
As I wrote that, I got a text from college buddy, Tillman Farley, who lives in Denver. Way back when, he advised us NOT to transit the Rockies in April en route to Vancouver. I THINK it was because of the possibility of snow, but it could be he could not bear our presence, which would surely result from a pass thru Colorado. Anyway, considering the pictures and videos he sent ON MAY 20 of SNOW on his deck and HUGE snow in the passes, this was EXCELLENT advice. I told him, based on video evidence, how glad we were to have planned April and May in Alaska, where the weather is tropical instead of Colorado!
On the way to Barkerville, we had to stop for a couple overnights – the total mileage is not great by midwest, flat-land standards, but it takes a LONG TIME considering all the grades (at 15mph). Our first stop for the night was a Provincial Park near Pemberton called Nairn Falls. VERY nice RV spot, easy hike to the falls.
Also on the way to Barkerville, we made a Propane Purchase at a place called "70 mile house." Our goal is to keep our fuel levels at 50% or greater as much as possible. There was a roadside station with good access for big vehicles, so we stopped. This town (and many others) are named because of the distance in the old days from the sort of "jumping off point" for northward travellers — Lillooet.
Pleasantly (he was Canadian, after all)
Our next stop was in a place called "100 mile house." There, we found a BEAUTIFUL municipal park, which was mentioned in the MILEPOST guide. It was unclear if there were overnight parking restrictions – the sign at the gate said it was CLOSED after 8:30, but that is not unusual even for RV parks. Not one word about overnight parking or camping. We decided to take a chance.
BUSTED. (Thrown out of our first camping spot).
About 9:00, a knock on the window. I was considering going to bed, and Steve later said he was already there. The Park Manager was evicting us! Pleasantly (he was Canadian, after all). But all business.
It's a process getting RV WHERE YET ready – you don't just turn the key and go!
Even tho he evicted us, he did so in the MOST courteous and helpful way possible, which is SOOOO Canadian. He said we could park for the night in the Municipal Arena Lot. Technically, he said, we needed a permit, but no one cares. He didn't care about us in HIS lot so much as he had to lock the gate, and there was no way he would lock us IN.
He started to give directions, which I thot I understood. But, 15 minutes later as we were ready to move (it's a process getting RV WHERE YET ready – you don't just turn the key and go!), I found his truck at the exit from the park – he had flashers on and was guiding us to the arena!!!
Big Smoke: Wifi, Cell Signal, a Walmart, auto parts stores, Home Depot — AND A DQ
After Barkerville, we spent a couple of nites in Prince George. We have adjusted our measure of what constitutes "The Big Smoke" as we head farther and farther north into sparsely-populated areas. This is a "real city" that had Wifi, Cell Signal, a Walmart, auto parts stores, Home Depot — AND A DQ!!! Also a BIG rail yard and quite a few Lumber-processing operations and a University. We had some important logistical things we needed to take care of that required the first couple of these hallmarks of civilization, not to mention having multiple DQs!
One was ordering vital parts for the bus. Along one of the grades, the windshield wiper on the PASSENGER SIDE quit working. We had already repaired the driver side (at Max Hendrix's place in Texas.). Now the other broke – same problem; no welding machine available. NO DOUBT I could have found someone to weld this, but I decided instead to purchase a NEW PART – for both sides @ $25 each.
The problem was, WHERE to get the part, and WHERE to have it shipped to? With Wifi and Cell service, I could answer both!
After identifying it online, I sourced the wiper part by phone from Trish, who is the Parts-Angel at Rush Bus Center in Houston Texas. We met her earlier this year, and she not only remembered us, but was HAPPY to get the parts, which were in stock at Bluebird, for us.
As for shipping, we had her send them to "GENERAL DELIVERY" in Chicken Alaska, where we will be for a Music Festival on 14 June. I spoke with the Festival Organizer AND the Postmaster in Anchorage and Tok (no phone at the Chicken Post office!) to verify that this could be done.
And while I was shipping stuff, I ordered from Amazon the ACTUAL Turn-Signal/Hazard switch for the bus AND a heater part for the Jeep (which had decided to get stuck in FULL HEAT position), also for General Delivery in Chicken.
All of that by noon with the benefit of full modern infrastructure!
While in PG, we also realized (since we were receiving email!) that our GoodSam Roadside Assistance plan was due for renewal. We surely did NOT want this to expire (it would deliver tires and/or a mechanic for the bus to us even in Alaska!) while we are on our adventure. So we called and did the deal to keep it in force.
Hoping we would not need it.