Leaving Iowa we had several weeks to wind our way to New Mexico, and our lives have returned to what we enjoy: few plans, no schedule and lots of Happy Accidents!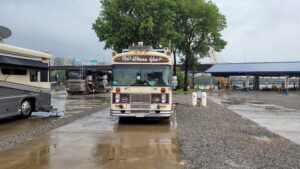 Happy Accident #1: We keep in touch with lots of people on the road, and our first stop, requiring only a slight bend in our NM-ward arc, was Little Rock, Arkansas. Friends Steve and Kathy Enfinger were ensconced in one of our most favorite RV parks in all our travels…right on the riverside, across from the Clinton Library and DT Little Rock itself. The Enfingers arranged a spot for us, and we spent a couple days catching up.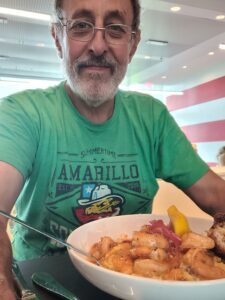 Which included eating, drinking and being merry! Eating included a brunch at the Presidential Library's restaurant, "42" that was pretty excellent! As a Yankee, I struggle with certain Southern constructs, which DEFINITELY includes Grits. The Shrimp Grits at "42" were a delicious palette experience!
Meeting with Steve and Kathy also included a connection that will certainly prove very useful to us in the coming months (Which is Happy Accident #2!): Steve's brother Chap is the proud owner and reconditioner of a 1986 Bluebird, NEARLY IDENTICAL to the one we are considering in New Mexico. Steve made the introduction, and Chap has been very generous with his time, expertise and opinions on our evaluation process.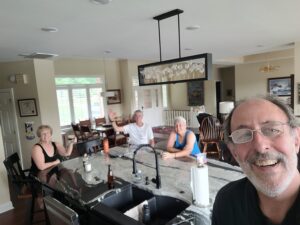 After Little Rock, we wound our way to Northwestern Arkansas, where, Happy Accident #3, we were able to coordinate dinner with friends Rhonda and Randy Dietz.
For a COMPLETE Arkansas experience, we met up with them at a Moonshine distillery, whose parking lot we were allowed via Harvest Host to occupy overnight. The Harvest Host deal is that you are "encouraged" to sample and then purchase some of the establishment's wares, which we did. We also managed a boat ride on the Lake/Reservoir the Dietz's house sits adjacent to, and dinner at a "Fine Dining" place.
This was about 20 mins. Away, and just across the Missouri border. We asked the Dietzes, given that it was "Fine Dining," if we needed to dress for dinner. Liz has a dress or 2 on board, and I have a sport coat, we disclosed. Rhonda said, "Oh heavens no…it is ARKANSAS (and apparently rural Missouri) 'Fine Dining…' means sandals or flip-flops and shorts and a t-shirt so long as neither has holes in inappropriate spots (regular holes OK)!"
That we can do with aplomb!! And Did! And dinner was excellent, and the entertainment was provided by groups of folks swinging on the "Fine Dining" restaurant's tire swing into the crick out back. Seriously…you cannot make this sh*t up!
From NW Arkansas, we found our way to the Denver area, where we stayed in the driveway of Alaska friends Paul and Julie Page. They were NOT at their Colorado Domicile (their little corner of Alaska is beautiful in the summer, so why would they be in Colorado?), but INSISTED we could park there as long as we wanted to.
About midway through our stay, Julie asked us if we could relocate their security camera, as its view of the driveway was blocked by vehicles (not ours, actually, another). We did not know they HAD cameras, and for a moment I had to think whether either Liz or I had stepped outside in our underwear (or less) for any reason! Actually, I TOLD Julie we might have, but we both knew she would not have scrolled back through the tape to see such a potential sight (and we did not, anyway!)!
Somewhere in that humorous conversation, Julie mentioned that the "Salmonfest" Music Festival, where we had met the Pages in 2019, was ongoing at that very moment across the road from their home in Ninilchik. I asked if there were any interesting people (as interesting as us?) staying in their driveway. She said, "I don't know yet!" The clear implication being it was too early for cocktails, and it would not necessarily be hard to improve on our interesting-ness given suitable (in quality AND quantity) cocktails!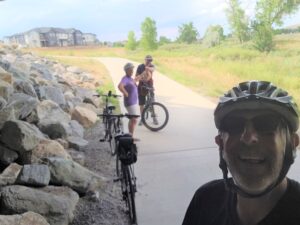 While in the Page's Erie Driveway, we managed to spend some time with College friends Tillman (and Susanna, his lovely wife) and Craig. The former shared dinner and their home and some of their excess Molé Sauce with us. Not sure how it came up that Liz REALLY likes Molé, but the Farley's apparently collect this, and it keeps forever (or so they told us) in the Fridge! And, Happy Accident #4, They gave us a couple containers of different versions. They may have been extremely generous with this donation, or they may have seen an opportunity to clean out the fridge!
The "handoff" of THE MOLÉ felt a little like a drug deal…we met by bike under a viaduct halfway between the Farley's and our RV spot! Either way, we have already enjoyed a couple different iterations of Mole dishes.
We met Craig at a rooftop restaurant/brewpub Craig Selected near Downtown Denver for an evening featuring several beers and excellent food. Craig's choice was excellent, as was the conversation.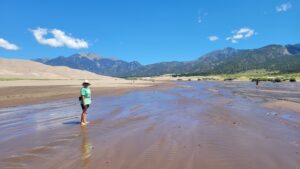 Leaving Denver, we decided to trust RV WHERE YET would get us up and through the 2 mountain passes to the town of Pagosa Springs. First, though, we stopped in the little town of Alamosa, Colorado, and went one day to visit the Great Sand Dunes National Park. VERY unexpected landscape.
We had wanted to visit PS before, but snow in the passes prevented this. NO SNOW in August!! The highest pass, Wolf Creek, peaks at 10,900 feet, and was a MAJOR challenge for our mighty-mighty Cat 3208 without turbo…but we made it with only slightly white knuckles.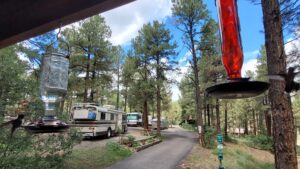 Pagosa Springs was notable for several things during our stay. First was the sheer number of hummingbirds in residence at the RV park we stayed at. There were 9 feeders, and at any given time, there could be 4 or 5 birds at each…birds that are normally very territorial and aggressive. So LOTS of swooping, displaying birds trying to command a feeder exclusively through their bad-assery, which never worked because while a particular bird was running off one intruder, 3 or 4 others would sneak in behind to feed. And all of this could be observed from the porch of the office – not 2 ft from the feeders.
Pagosa Springs is a destination for folks who want to soak in Hot Springs in Fancy Spas for $50-75/person/day. HOWEVER, Happy Accident #4, there is a public park on the river that anyone can visit and sit in the very same water for $0. OF course, that is exactly what WE did.
Featured Beer:
OH SHIT MANGO WIT
There is also a brewery, which continues to operate using a Point of Sale system they implemented during the height of COVID. Basically, there are no wait-staff. You start a tab on your phone, and order drinks and food — as many rounds as you want – until you close the tab. Someone brings stuff out from the kitchen/bar and drops it at the table, with very little interaction. We asked the manager about this, as it seemed quite impersonal – almost unfriendly – and therefore the OPPOSITE of what a Brewpub should be. He said that they do this ONLY because they cannot find adequate staff to properly wait tables. This allows them to at least be open! It's a strategy we a see a lot these days – self service cashiers at Walmart, self-service check-in at RV parks, etc. It's not really an option to "not like it" because the alternative is these places would be closed!
Leaving Pagosa Springs, we headed towards Oklahoma City, where in Happy Accident #5 Nephew Chet was moving into his new home. We planned to stay a couple days only, but were glad to be able to offer our help in the form of moving, lifting and tool access. The latter because of all the tools onboard RV WHERE YET. The other a bit more nuanced and amusing.
For example, there were new appliances (apparently, it is customary in OKC for Rental properties to be let sans these!). Chet's Dad and I struggled with the Washer and Dryer, being a couple of old guys – me more so, of course! Chet said, "Lemme get one side, I can lift a whole cow!" Implying, I guess, that weaklings David and I could split the other half-lift.
Perhaps in OKC that is an actual thing – lifting Cows – but I think he was referring to his OKC Thunder weight and strength program. Anyway, David STRONGLY discouraged this — Chet's back and fingers, unlike ours, being worth $millions!!
We did learn about one amenity almost de rigueur in OKC, but not something we have ever seen in Chicago – a TORNADO SHELTER in the garage!!! Friends Dave and Lynn Gray, who live in Eastern Oklahoma told us this was imPOtent, so Liz, being a good Aunt, checked it out for proper operation.
Finally, after leaving OKC and before arriving to see our potential new home, we made a stop in Santa Fe. Our original goal was to visit another friend we had met on the road through college buddy Dick – Allen Russell and his lovely wife, Diana. We stopped for an adult beverage and a session of Dog-love, enjoyed equally by their hound, Rooney and by me!
At one point, Allen exclaimed from the kitchen in a sad tone, "Oh No!! So much for the cheese!!" We naturally thought he had turned his back and Rooney had enjoyed the Hors Doeurves. No…Rooney was NOT the issue!
It seems Allen had slightly over-estimated the time required in the Microwave to gently warm the Brie he had planned to serve, turning it into a LARGE circle 1mm thick of unusable, though probably still delicious appetizer! This was followed by a DELIGHTFUL dinner replete with witty reparté provided by the Russells for our amusement at a nearby, and VERY local restaurant.
For a host gift, I gave the Russells our last bottle of "Zags Blend" Wine, acquired in honor of Chet's (short) time at Gonzaga. In the spirit of Full Disclosure, I mentioned to Allen that this was a re-gift of a bottle Dick, our mutual friend, had given us. I said that Dick said it is "Not Awful!" Allen looked at me and said, "That is an exaggeration!" (Apparently Dick had already endowed — or dumped — a bottle on Allen on a previous date).
During our stay in Santa Fe, we learned that a cousin, Cecily, by coincidence was also in town. She has a seasonal condo there that she normally rents, but which she happened to be occupying for the week of the HUGE Indian Market. There were several hundred vendors in residence offering all sorts of art and native crafts for sale.
Liz bought a ring, actually. The negotiation went like this: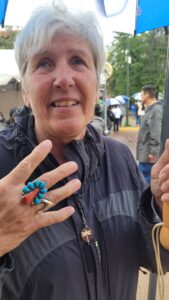 Liz: "How Much"
Woman in the booth: "$310"
Man in booth: "I made it. So I can sell if for $175"
Liz (having said nothing after the initial question, letting Father negotiate with his daughter): "Well OK then…"
Dan: "Here's the Credit Card…"
While in Santa Fe, we also enjoyed a couple of DELICIOUS meals of the Authentic New Mexican variety! Then we left Santa Fe and headed down to Elephant Butte (near Truth or Consequences) for our appointment with Destiny and our potential new home. For that, you will have to read the next post!!