Several pretty significant and life changing events occurred (or didn't occur or nearly didn't occur) in the past few weeks, but our PLANS all along were to spend some time in Iowa, on the Florer Farm. It was CORN SEASON, after all, and Bluebirdbrain friends, the Florers grow the best Sweet Corn EVER!!!
We have been there and done that before, and have a standing invitation, so WHY NOT? Plus, I had a few bus projects, and Steve is mechanically and philosophically very helpful and encouraging, in a practical, redneck, farmer kind of way. There are many decision points when repairing an old Bluebird. Replace a part or fix a part (or ignore the problem altogether)? Weld, glue or duct tape? I find myself asking "What would Steve DO?" and I further find it's just easiest to be on Steve's property so as to not wonder the answer to said question(s).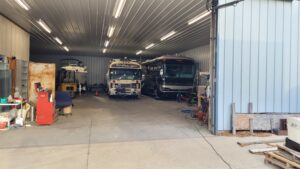 We pulled in to the farm on a hot afternoon, and Steve immediately motioned us into the shed, next to his bus AND in air conditioned comfort. We weren't expecting or wanting such treatment, but Steve mentioned that it was going to be over 100ºF the next day – heat stroke was not something they wished for their guests apparently. So we backed in, and I began what turned into 10 days of air-conditioned wrenching by day, and Corn Gluttony by night.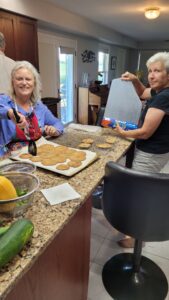 Liz and Cindy did some things together – no idea what, as I was under the bus!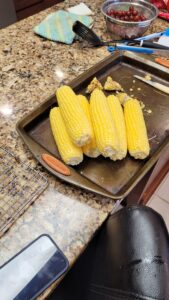 As always lots of "Iowa Fun" with the Florers. We sorta took turns with Dinner, which always included copious amounts of Sweet Corn.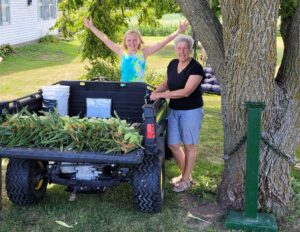 Steve even found a bit of Corn Smut (AKA Huitlacoche, a Mexican Delicacy), which I picked and sauteed.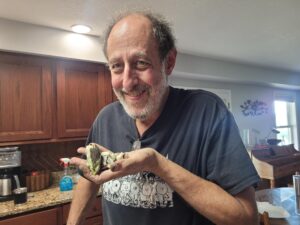 Last year, we all tried this new and wonderful bounty from the field; this time, only for me – no one else seemed inclined to consume.
Evenings were spent, when it wasn't too hot, on the back deck, soon to become a 3 season room, watching Hummingbirds in aerial combat over the multitude of feeders put out for them.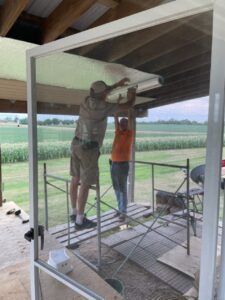 Speaking of the three-season-room-to-be, Steve cashed in a bit of his A/C-Parking-Pay-it-forward-goodwill by asking me to help him with the ceiling-to-be for the new room. He was mainly constructing the room himself, but getting ceiling panels up was a 2-tall-man job, which I was more than happy to help with. It's what makes the world work — do what you can to help people out – from sharing repair and parts-source experience on the bus to IT suggestions to holding up one end of a ceiling panel. Doesn't cost anything except sore muscles, easily cured at cocktail hour.
It makes us optimistic about the human condition
In fact, I'll expand on this a bit. It's one of the BEST things about being on the road, and one reason why we sold our house and committed to at least a few more years of this lifestyle: Meeting folks like the Florers and really getting to know them. Lots of folks like the Florers have been kind to us over the years – from letting us park for a bit, to helping with repairs, to offering a bit of their take on life and wisdom — it makes us optimistic about the human condition in a time of unparalleled discord and disunity.
I will say, though, when we pulled in the Florer's driveway, with "ROLL OUT THE BARREL," our theme song, playing on RV WHERE YET's musical horn, Steve came over to the driver's window, looked at me askance and said, "Is Liz in there? Because if she is NOT in there, you can just keep on driving!"
We get that a lot, so I know who people are REALLY being nice to, and whom they are merely tolerating as "part of the deal!"😉
And, speaking about life changes and selling the house; during our stay in Iowa the real estate transaction heated up. And by "Heated Up" I mean nearly melted down!
No Pig Barns or Balloon-frame Brothels
The transaction was completely derailed for a time by a 1901 DEED RESTRICTION uncovered by the title insurance company at the 11th hour. A restriction not found or noticed by either attorney. And also not found or noticed by the Title Insurance Company whose Owner's policy I had from 1987. Apparently, when the land our building sits on was platted out from farm fields, the developer wanted to be sure that buildings constructed would be appropriate to the new neighborhood they were creating.
You know, No Pig Barns or Balloon-frame Brothels. And they did not trust the City Of Chicago (I guess the city inspired doubt and lack of confidence and corruption even back then!) to manage this, so they attached a series of restrictions to the deed.
No one knew exactly what the restrictions even were at this point – only that there WAS a set of restrictions. No matter what we said or did, Chicago Title was NOT willing to issue an unrestricted policy; and the buyers would not accept Title with this or any exemption in the Title Insurance. As a "solution," the buyers wanted us to set aside a big chunk of money pending some sort of acceptable resolution (which was ok with us) AND agree to unlimited liability around this. The latter nearly ended the deal because we were not going to accept an infinite liability tail whatsoever, never mind for an obscure 1901 issue!
Instead, we postponed the close, so that Chicago Title could request the text of the original restriction, which had to be obtained from Cook County off of Microfiche. They said they MIGHT be willing to waive the restriction if it were obscure enuf, obsolete enuf, and most importantly, unenforceable enuf. In the meantime, we incurred costs, had no tenants to offset the costs and an empty building (not a good thing) and the buyer had a construction loan ticking away and creating interest expense.
No one was very happy.
We made several proposals to the Buyer to try to break the logjam, but they continued to be unwilling to forego the deal-killer-bit about infinite liability. So, we waited, each party to the transaction worried the other was going to lose patience and kill the deal.
Finally, after a couple weeks of waiting, we AGAIN proposed a large escrow with liability limited to that escrow. We proposed that the Seller would have 30 days to get the exclusion lifted from the title policy, if so escrow to seller, if not escrow to buyer. But NO liability tail. Even though rejected previously, THIS WAS ACCEPTED and the deal did FINALLY close, albeit with some money at risk. Liz and I looked at it this way: Instead of accepting a full price offer (which we did), we sold for a little less than full price (in case the escrow was lost). Not that uncommon 99% of the time. But WE GOT TO MOVE ON!
When the actual restriction document was FINALLY received from the County (3 weeks!), the handwritten (could have been on a napkin!) document specified that:
— Any structure erected had to be a value greater than $3,500 (check to that)
— Made of Brick or Masonry (also check)
— Set back 15' from the front property line…
THIS WE WERE IN VIOLATION OF – by as little as 0.06 feet depending on what line is used, but clearly in violation!
No one knew what would happen as a result of this – no penalty was specified, there have been 3 previous owners, who all financed and refinanced (each time with Title Insurance) and constructed with permits. Would anyone realistically expect our buyer to be responsible for moving the building back 1 foot? Its not like our building is further forward than any other in the neighborhood; indeed less so than some… If there was a violation, how would or could it even be enforced?
Didn't matter. Based on this, Chicago Title STILL would NOT remove the restriction, and we were prepared to lose the escrow. Our attorney had some tricks up his sleeve, tho, and informed the buyers (who informed us that they wanted the escrow immediately released to them) that the escrow would NOT be released for the full 30 days, during which we still hoped to convince CTT to issue a clean policy per the agreement at Close. (I Imagine they were not very happy about that, but so be it!). In the meantime, Ken went back to the original title company (from my 1987 purchase transaction) and informed them that they were on the hook, liability-wise, should we lose this escrow. Without even a delay of a day, they IMMEDIATELY agreed (I assume because they knew they were on the hook for the Escrow amount AND potential other damages) to indemnify Chicago Title, and CTT agreed with that indemnification in hand to remove the Title Policy Exception.
Soooo, we got the escrow money, the deal is done, and we are SOOOOO OUTTA THERE!!!
Not quite!
There was still the matter of the "Final" water bill, which must be paid before the City will allow title to transfer. Problem is, this bill was 10x what it should have been – the City claims we used 154,000 gallons of water in the first 2 weeks of June – when the building was empty! Not possible. But also not possible to not pay! The City kinda has sellers over a barrel on this!
I have NO IDEA if we owed any money, much less what we ended up paying. I did some calculations, and came to the conclusion that there MUST be a problem with the meter; a conclusion that was bolstered by the fact that the Radio Transmitter the city uses to read the meter has not worked since August of 2019!! We had been receiving "Estimated" bills, which was distinctly NOT obvious, written as it was on the BACK of the bill – would it have been so hard to put this one word on the front, by the amount owing — and the City did not bother to tell us along they way that there might be a problem with the meter.
BTW, the "Estimated" bills we diligently DID PAY were in excess of the actual monthly usage from the previous 2 years. So, this is a battle I am still waging – the City has NO IDEA how persistent an old retired guy with more time than money can be!!
And, while all THIS was going on, MORE potential life changes!
We had a conversation with Bluebirdbrain Shane Fedeli, after our aborted attempt to visit in person. Shane said there was this Bus we "Had to look at" because it would be absolutely PERFECT for fulltime RVers such as us – an "upgrade" to RV WHERE YET. This happens a lot, actually. Like an aging mother with a bachelor son, seeing her chances at Grandmotherhood vanishing with each passing minute ;and so in FULL YENTA MODE, our Bluebird friends are all looking out for us!
Now, I have nothing against Yentas (my mother was one), and appreciate the thought our community gives to our wellbeing – apparently on their front burner if not ours! Anyway, I was FULLY PREPARED to say, "Not really interested, Shane, but thanks for thinking of me…"
Shane was persistent, and I have to admit, the proposed "upgrade" was a pretty special opportunity. Still a Bluebird, Still Vintage (1986), but bigger, better engine, 7 ft longer (more living space), etc. One owner, Garaged, 40K miles only. In reality, as happy as we are with our ride, this is possibly the ONLY bus I would consider to "upgrade" RV Where Yet. I told Shane I would ask Liz…
To my utter surprise, Liz felt we should consider this at least.
We are surprisingly in sync about most big decisions — maybe why we can live together in 50 sq. ft for the past 6 years and for the foreseeable future, especially now that we are ACTUALLY "Houseless". If it was as good as represented we could consider the change, but since we ARE in fact TOTALLY HAPPY with what we have, the opportunity (and price) would have to be just right!
psssst…hey Buddy…wanna buy a bus?"
So I let Shane know we were interested, and he connected me to Scott White, whom we had met at Bluebird Rallies, who connected me to the seller…a guy Scott had actually never met, but with whom he had entered into a real estate transaction. This was sounding pretty distant and possibly shaky….
I called the fella with the bus. It was his father's, and his father was the original and only owner (40k miles only). Father had passed and the bus had been in a garage for 15 years. We (and he) knew that it would need some expensive things immediately, such as tires, batteries, and inverter/battery charger, etc. Understanding all that, we agreed to a conceptual price.
Unfortunately, the bus is in NEW MEXICO and the seller in St. Paul, and also unfortunately, the seller had little additional or detailed info about it.
We, on the other hand, had a TON of questions, because all the Yentas, like Shane, Chap and Steve Enfinger, Steve Florer and others had given us a LOT of detail on what must be done and how. For example, new batteries would be necessary to start the engine – and the fuel sitting in the tanks for 15 years needs to be carefully considered and filtered, if not removed and replaced. And the generator needed to start and make power. And if we DO decide to buy, New Tires (at least Steer Tires) would be necessary before it could move safely very far. Even if all the greasy-things supposedly worked perfectly, we were not going to buy a bus unless we could verify at least those things to our satisfaction.
The seller was willing to meet us in New Mexico, but could only be there for a couple days. Not nearly enough time to evaluate all these things. Here we were aided by everyone's overall lack of urgency – the Seller was definitely NOT in a hurry to sell, and we were not at all in a hurry to buy. SO…we agreed to meet in New Mexico for the couple days at the end of August. We could take lots of pics, evaluate the living space, appliances, etc.
IF WE LIKE WHAT WE SEE, the seller would meet us again in November – for a week – so that we could organize getting the engine(s) started. THEN, if we still wanted to, we could consummate the transaction. Or, frankly, walk away! We are, after all, completely happy with RV WHERE YET, and feel no urgent need whatsoever to do anything unless the new ride is pretty special!
Which we think it is!
It's a lot of driving for us, but we are now in FULL TRANSIENT MODE with our Chicago Domicile sold and Closed, and we have to be somewhere, so what the heck? And it makes the transaction very low risk. And, as it happens, the Hatch Chile Festival is right around the corner from the Bus's garage, which sounds like a really fun time!! Thus, we have left Iowa, and we are on the way to New Mexico for our appointment with Destiny!
P.S. IF we buy this bus, RV WHERE YET will be available.
One of you lucky folks who claim to be "jealous" of our lifestyle and our conveyance can have it, and join the legion of full-timers. We WILL make a "friends-and-family" deal, which will include UNLIMITED technical support and a feature unheard of in the Used RV Market: My fully prioritized TO-DO List (with NOTHING urgent or preventing full utilization and enjoyment). We will even DELIVER!! And Train! Of course, the buyer will have to provide a parking spot for their new bus AND our new bus for the duration of said training. And Cheeseburgers.
NOW we will see if anyone or everyone who SAID SO was merely being nice, while also being CERTAIN we are bat-shit crazy doing what we are doing!