We are, as disclosed previously, starting 2020 with the grand circuit of the Carolinas. We've never been in the area other than driving through it, and people say really good things about it. So, we pointed RV WHERE YET North and moved slowly (the only way we CAN move) in that direction. We knew we were getting close when we happened upon a rise in the road. Maybe 100 feet only, but that is more topography than we have seen since before XMAS – there is a reason they call the region around Brunswick the "Low Country."
Our first stop was near Aiken, Georgia, where David McNicoll (Stephanie's brother) had suggested we might find good BBQ. First, we needed to, and then did find an RV spot near Aiken. Easy to choose – it was called "Betty's RV park," so I knew Liz (AKA — by her mother — "Betty") would feel good about that!!!
Betty's turned out to be owned by Wanda…
Betty's turned out to be owned by Wanda (there is a story there, I am sure, but it was too late to ask) and also VERY low-end in terms of amenities (lots of permanent residents and trailers, no bath house, no laundry and FOR SURE no WiFi), but VERY HIGH END in terms of Southern Hospitality. Wanda helped us select a hard spot — it had been raining and the park had no paved or gravel options, and we and she did NOT want RV WHERE YET to sink to the axles!
Our prospects for BBQ were slim-to-none.
Once we settled in…no wait, that is not the right word, since "settling" is what we did NOT want to do… we started to investigate BBQ opportunities. Soon, we were in the throes of a new discovery about the South! It seems that BBQ places ALMOST UNIVERSALLY are open Thursday, Friday and Saturday. And, it was Monday. SO our prospects for BBQ were slim-to-none. Disappointed, but not in danger of starving as the fridge was full, we asked Wanda why that was, and she had no certain answer. She shrugged, and said, "Cuz they make tons of money three days a week, why would they do more!?"
As it turned out, we found ONE place that was open…and it was pretty good. We also discovered the town of Aiken, which was quite old and charming. Lots of little shops, and even a Brewery. SO we wandered a bit to work up a thirst, then resolved that issue at the Brewery.
The next day we drove over to VERY nearby Augusta, Georgia. This is where the Master's Golf Tournament happens every year, but where, we figured, not much else happens. Actually, that's not really fair. We went to the visitor center where we learned a lot to dispel that notion.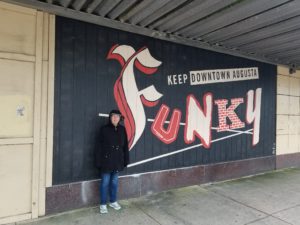 The town of Augusta is working hard to revitalize. There are a couple of colleges, and a new CyberSecurity center that is about to open. This is bringing LOTS of new activity to the downtown area, which is at present a mix of restaurants, bars, shops and empty storefronts. We went to one of the restaurants — Nacho Mama – it had opened several years before, and was holding out for the revitalization to fully take root. I would have chosen that place even if not recommended – gotta love the name! Needs a steak place next door called "Hooves your Daddy?"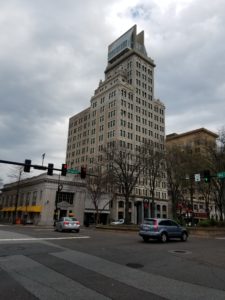 There is even a HUGE art-deco skyscraper, currently empty but imagined as luxury condos. We learned a little about that project from a couple sheriff Deputies that wandered by. It seems that project is stalled as the developer is fighting to acquire a parking area for his project from nearby structures. These are also empty, but the owners of those empty and dilapidated structures feel like they have the developer over a barrel and are 'offering" their vacant properties at exaggerated prices to the developer. So, at present, this beautiful building is boarded up and vacant. I can imagine (and hope) it will be spectacular some day!
We learned a bit about the history of Augusta from the visitor center staff. It is right on the Savannah River, which was a major commercial route for Cotton and other products into and out of the South. The US Govt. also built the Savanah River Nuclear Complex there, now decommissioned, but where a lot of fissionable material was manufactured for weapons of all sorts. This industry explained one thing we wondered about: Why was Betty's RV Park on "Atomic Boulevard?" This was kind of a mystery when we checked in.
Apparently, Augusta was also the original destination for late 1800's and early 1900's Snowbirds as it was the end of the Railroad. So there were "cottages" (i.e. HUGE MANSIONS) built by wealthy North-east industrialists for their winter enjoyment. The problem was, the downtown flooded repeatedly from the nearby Savannah River. So, these folks rebuilt their "cottages" nearby, in an area called "The Hill," which is still the center of MAGNIFICENT homes. Levees and a Dam were built and successively expanded in the first oart of the 1900's for RIVER flood control, but floods do still occur from heavy rain and low-lying terrain, as recently as Deccember of LAST YEAR.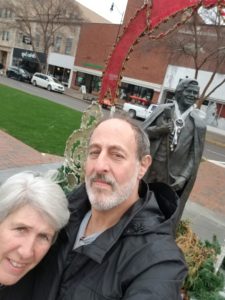 And, of course, there is the Masters Golf Tournament. The Visitor Center Staff sort of resented (with a smile) our notion that that is the reason Augusta Exists. It IS an important ONE WEEK out of the year, of course. A week that is tolerated by locals much as Mardis Gras is tolerated in NOLA.
And, saving the best for last, Augusta was the childhood home (though he was born in a small South Carolina town) of James Brown, the hardest working man in rock 'n roll!
After Aiken/Augusta, we continued our loop north into the heart of the Carolinas. I gave some thought to whom we might know in the region…We ALWAYS try to look up someone if we can…not to intrude or impose, but to get a local perspective on an area. I remembered from several rallies over the last years that Pam and Mark Burtis lived somewhere in South Carolina, so I used Facebook to get a hold of them. Sure enuf, they live in Irmo, just outside of the Capitol (Columbia) and were happy we remembered them!
They offered us a guest room and full-shower experience, but being Bluebird folks they knew we were self-sufficient and probably preferred to stay "at home." So, they also offered a 15a plug (enuf to keep our batteries charged, which is all we need, really) and a place to park RV WHERE YET outside their house in Irmo, SC. It turned out that, in pretty Hilly SC, their street sort of dead-ends at their house, and the little stub of a street-that-does-not-continue was level and within extension cord range. DONE!!!
During our stay at the Burtises', we, with their gracious assistance explored the local area. That included a driving tour of Columbia, dinner at a local restaurant, "Lizards Thicket" featuring various forms of Southern Fare, including two kinds of Okra, various Greens-that-aren't-very-green-when-boiled-and-served-for-dinner and more!
They also brought us along to a Burger/Hot Dog picnic at their boating clubhouse at nearby, HUGE and magnificent Lake Murray. There we met several of their friends and argued for awhile about who should apologize to whom for being subjected to said introduction.
Earlier, we had walked across the dam that creates Lake Murray – impressive! According to Mark, this was at one time the largest earthen dam in the world. I asked him if he knew where the second largest one was – My grandfather helped to build it in Ogallala, Nebraska (on the North Platte River and creating McConaughy Lake).
Surprisingly, Yankees CAN cook Sweet Potatoes to the satisfaction of the locals
After lunch, we continued conversation and consumption back at the Burtises', with several couplets of said friends, a BBQ Pork Tenderloin (or three) and sweet potatoes ala Harris. The general consensus was that, MOST surprisingly, Yankees CAN cook Sweet Potatoes to the satisfaction of the locals (though, as yankees, they talk funny). There was Playoff Football to observe, and a line of MAJOR Thunderstorms to weather. All performed excellently.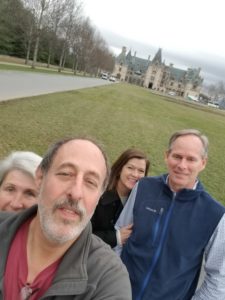 One day, for exercise, we walked almost THREE MILES. Actually, that part isn't that exceptional or unusual for us. What IS unusual is that we walked that distance ENTIRELY while touring the INSIDE of ONE HOUSE! This was the Biltmore Estate in Asheville, NC. Built in 1904 by George Vanderbilt; it is generally considered to be the largest residence in the USA (by Square Footage). Much of it is open for a well-documented tour.
And, it's a SPECTACULAR place to visit – you really get the feel for how the US Industrial-Aristocrats lived. For them, and for any of their MANY guests, the biggest decision on any given day might be whether to take breakfast in the guest-suite lounge or the main dining area; which of George's gun collection to select for the day's hunt, etc. Repeated each day for months.
Also part of the tour was visibility to the "behind-the-scenes" operation of the house…laundry, several kitchens, servant quarters, stables, etc. The Swimming pool, Bowling Alley. The Guest Quarters – which had en suite bathrooms – 48 of them to be exact at a time when many (most) homes had none.
At one point in our tour of the estate, there was a video describing the close "friendship" and mentorship that developed between Fredrick Law Olmsted (Landscape Architect) and Richard Morris Hunt (Architect-Architect), who befriended the young-ish George Vanderbilt. ALL I could think was, "Well, DUH…GV had to be their BIGGEST client/Payday! I BET they befriended him!" Cynical, I know, but I have spent the last 30 years almost with Chicago Politics all around me!
an "Unscheduled Change of Plane."
The distance walked inside and outside the Biltmore was easily within our range, though my jaw muscles did get a bit sore, un-used to holding my mouth agape at the sheer opulence therein. Pam, though, had recently had what the caregivers at Mom's Hospice last year called an "Unscheduled Change of Plane." This is what they legally had to report to us immediately if Mom had such a misfortune…AKA a Fall! It seems that Zumba is actually a very dangerous activity, resulting in injury and rehab for Pam.
When we completed our miles-long visit to the early 1900s, her leg was a bit sore; so, purely for medicinal purposes, we just "had to" stop at the spectacular Sierra Nevada Brewery in Asheville, SC.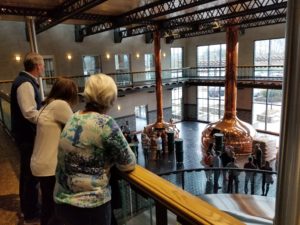 There, I needed every bit of a flight to help reconcile the name "Sierra Nevada" with the Brewery's location at the southern edge of the Appalachian range. We decided that, after a couple of flights, we could easily imagine these as the foothills of the Sierra Nevada; albeit with a bit more water, and quite a bit less marijuana.
Eventually, although they claimed otherwise, we decided we had spent too much time already at the Burti's (Burti – plural of Burtis?) road-stub, having exceeded Ben Franklin's limit ("Guests and fish smell after 3 days") by one day. Had a crazy idea that we could reach Washington DC in a couple days of easy driving (with a stop in Charlotte first), and thot that it would be fun to visit 106-yr-young Aunt Marilee. So we fired up RV WHERE YET and departed. Northward! Hoping we do not regret, weather-wise, that choice of direction!
Of course, our route is NEVER direct; the journey IS the destination, so we'll report on that in the next post!