On the way to our Eclipse-destiny, we made several significant stops.
First, Ogallala, Nebraska. There we visited the Kingsley Dam, which my grandfather help to construct in the 1930's.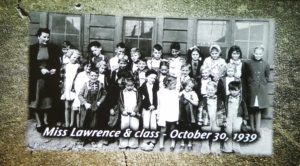 My father tells tales of youth there, including attending a one-room school in about 1939. Mom tells tales of Dad's all-over-sunburn. OUCH.
Anyway, at the Visitor's center, we saw a picture of Mrs. Lawrence Class of 1939. Likely his class? There were also pictures and details about the construction.
Next, Denver became a waypoint. It's a little out of the way if one were to draw a straight line between Ogallala, Nebraska and Casper, Wyoming. But, remember, we are the people who travelled from Chicago to San Francisco via Brunswick, Georgia in December 2016! Denver doesn't even count as a minor detour in that scheme! Reason for visiting the Denver area…to look up and reconnect with college friend Tillman Farley. Have not spoken with him, we realized over beer, in over 35 years!!!
It was hard enough just to track him down. Dr. Google produced some detail for a "Dr. Tillman Farley." (I was pretty sure there is only 1.) He runs a group of clinics in the Denver area. I did learn some interesting things as a result of my search…his only specialty (at least the only one listed on Google's results) was "Vasectomies." Did not know that! (Tillman disputes this, by the way…I said at least you are widely recognized for SOMETHING…).
For the record,
the clinics Tillman manages
do a lot more than vasectomies. Very progressive. Lots of work in immigrant and other underserved populations.
I called the clinic number…the automated answer system offered no options that would connect me to an actual person save one: I could make an appointment – presumably for a Vasectomy? Trying to be on my best behavior, I chose that option…and again was connected to an automated answering system. Apparently, the vasectomy clinic was quite busy! I left a message asking that the service get a message to Dr. Farley that I was looking for him. He called me within a couple hours.
Once we actually spoke, we agreed that the Farleys would be in town (that town being Erie, Colorado, not far from Boulder), and would receive us for the weekend. Tillman offered the cul-de-sac in front of his home for the bus. Even after I sent him the Cousin-Eddie-Clip .
After settling in, we turned to the task of catching up. 35 years melted away quite quickly; of course, the beer definitely helped. And it was great to spend time getting acquainted with Susana, the MOST CHARMING lady of the Farley house. Not to mention their three dogs.
And the juvenile Red-tail Hawks that perch on the roof and await chicken legs to be thrown to them. These Hawks are now adult sized, and clearly hunt on their own as they don't all (there are 4-5) show up every day. I can tell you the sight of these massive and majestic birds diving off their roof-perch to grab a chicken leg as it rolls down the eve within a few feet of the gawkers below is quite impressive.
Just wondering why the Broncos and Avalanche are not World Champions EVERY YEAR in their respective sports considering they tilt against un-acclimated foes 50% of their games!
Over the rest of the weekend, we did lots of Colorado things. We hiked the "Flatirons" in nearby Boulder — and discovered what NHL and NFL visiting teams must also face: high-altitude-low-oxygen-sucking-wind as we exerted our un-acclimated selves climbing from 5,000 to about 6,000 feet. Liz runs 4 miles daily; we ride bikes a lot and walk miles almost every day…I think we are in pretty good condition, but that hike was demanding.
Fortunately the nearby Upslope Brewing Company Taproom, for medicinal purposes of course, was not at all strenuous…and quite delicious. We also rode bikes a bit, walked around a nature area behind their house, rode said bikes to brunch, and just generally chilled.
As we were spending time with the Farleys, we got an email from some folks we met at a small rally in Amish country-Ohio in June. I thought I remembered they lived near Denver somewhere…turns out Karen and Dennis James live LESS THAN 5 MILES from Tillman! SO we broke camp and moved to nearby Lafayette, Colorado. There we spent a delightful evening including an excellent Mexican meal. On their street, we are not the only bus on record…apparently many folks stop to say hello and the neighborhood is quite accustomed, cousin Eddie notwithstanding. Then we moved onwards towards Casper and our astronomical destiny.