Before escaping Thermopolis, we had another "issue," this of a technological nature. During the tank repair nightmare, I was outside after dark, using my phone as a flashlight when it fell off the ledge it was on. Not more than a foot. No different than 100 other falls. But this one struck a stone or something, rendering the screen non-functional. AAACCCKKKK.
And, of course, during the TWO DAYS I was without phone, there were several family crises, during which no one could get ahold of me and everyone was PISSED that I was not returning any of their calls or texts! Seriously — no one needs or wants to talk to me for all of the three years we have been on the road, but for the two days I was off the air with a broken phone…
I was able to acquire a refurbished phone on Amazon, and haved it shipped head of us to Colorado. But I was starting to wonder about our kharma again – I am without a phone for 2 days in the past 5 years, and THOSE TWO DAYS where the ones people needed to reach me…
We needed our water system to be leak-FREE.
On the road out of Thermopolis, we discovered that the tank repair was in fact leaking. VERY SLIGHTLY – like a drip here and a drop there. Possibly only because the tank was completely full. But nevertheless, we needed to resolve this. Leaks NEVER stay the same or improve – they always get worse. And Nothing is more destructive than a water leak. Besides, we had a couple of extended dry camping spells coming up. Not only visiting friends in the Denver area, but also the Balloon Festival in Albuquerque; both now in jeapordy. We needed our water system to be leak-FREE.
We sought an RV stopping point somewhere between Thermopolis and Denver. We could not use our usual Walmart-type spot because we could not fill/drain there. We needed a water and sewer hookup so I could Drain-fix-fill-test-repeat. The first possibility: Cheyenne, Wyoming. Liz called several RV parks – and they were ALL FULL!!! No one could explain WHY – no holiday, festival, concert or anything else…just FULL. Consulting our APPs, she made many more calls, spot-by-spot southward until she found a KOA in Wellington, Colorado (near Fort Collins) with ONE SPOT available. We grabbed it for two nites to give me a FULL DAY to work on the tank.
I used every bit of the full day and managed to get the tank leak repaired. (Or so I thought – this story continues as you will see). From Wellington, our next stop was Erie, Colorado, where we were going to spend a week or so visiting college friends Tillman Farley and Craig Banister. And we had some other social events planned.
But first, I should explain our kharmic Good Fortune; notwithstanding the phone incident…
You may recall from previous posts that we spent a weekend in Ninilchik, Alaska in the front yard of new friends Julie and Paul Page. Well, WINNER in the dual categories of "You can't make this shit up" and "Timing is Everything," here was one of the conversations that took place in Ninilchik:
Page: "So, where are you off to next?"
Harris: "Well, Albuquerque, for Balloon Fiesta", but first Denver…"
Page: "Where abouts in Denver – we have a place there…"
(kharma rearing its ugly head?)
Harris: "A little North of Denver I think…"
Page: "We have a place North of Denver – where are your friends?"
(Definitely Kharma!)
Harris: "Just a sec – lemme check my contact info….ERIE – does that ring a bell?"
Page: "Seriously! Our Place is in ERIE! Paul has 40 acres, a shop, a business, a rental home"
"…..AND a 50A Electric Hookup for your RV…We be glad to let you stay there…"
And that is how we KNOW that our kharma is intact and our timing is excellent!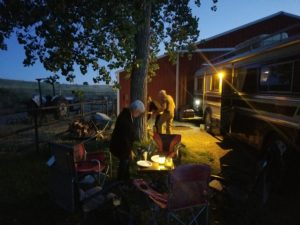 After setting up shop outside of Paul's shop, we proceeded to contact Tillman. He had been expecting us because I had been having all sorts of Amazon packages delivered to his address. He was looking forward to unloading all the boxes, we were sure!!
The first night, we agreed to a low-key meal at a local brewery and pizza place (AFTER meeting at his place to pick up the boxes AND MY NEW-OLD PHONE!).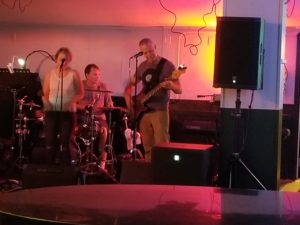 The next day we BBQ'd pork tenderloin at Chez Harris/Page.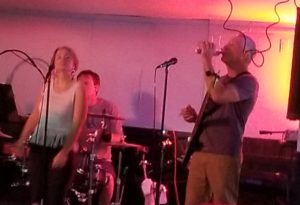 Then the following night we visited a nearby Dive-bar to catch Tillman's band. And finally, burgers and BBQ'd veggies at Tillman's. All LOTS of fun!!
One Denver-area event was a concert by a Blues Artist I have been following for awhile – Tab Benoit. I follow a variety of artists via Facebook, mostly. Normally, Facebook just makes me sad, with all the political SHOUTING and LYING that occurs there. But every now and then there is useful information – such as Tab Benoit playing in nearby Boulder!! I booked tickets, and Liz and I drove over noon-ish for the evening concert.
We had never been to Boulder before, and we really enjoyed wandering around the Pearl Street area. We also had the good fortune to meet up with Ed and Leah Badeau, fellow Bluebirdbrains who, it seems, had been stalking us (or vice versa) throughout Montana and Wyoming!!!! We had communicated several times, again via Facebook, about our concurrent paths – up to and including a Rally in Red River, New Mexico AND the Balloon Festival in Albuquerque!!!
I told Ed about Tab Benoit; turns out Ed is a musician AND had seen Tab Benoit at a music festival once before…so they booked the concert as well!!! Naturally, we met beforehand for a delicious meal. The concert itself was EXCELLENT.
We also had the opportunity to look up another college buddy – Craig Banister, who has been living in Denver for many years. Last time thru (2017) we missed him – he was out of town. This time, he blocked out a FULL day for our edumacation! Seriously! Craig has more than a passing interest in Archaeology and Paleontology (has published several articles in fact, and is working to develop a database of archaic aboriginal tool and points — Arrowheads). Coupled with his Geology Major from college AND multiple years working for the USGS AFTER college, he's a FONT of wisdom, and he arranged a day suitable to raising the level of ours!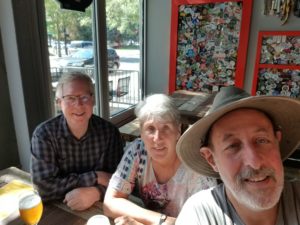 To lubricate the machinery of learning, our day started with Lunch at a Brewery in Golden. No, not THAT ONE – Golden is the headquarters of Coors, but fortunately offers some real beer options, too! Craig initially thot a Coors tour might be fun, but when he found out that the formerly free tours now cost $15pp, we decided to skip that.
Instead, we went to the site of a dig he participated in years ago, which is now a park in the middle of several housing subdivisions.
Then we went to Dinosaur Ridge, where there are several cliff-sides replete with fantastic dino-footprints.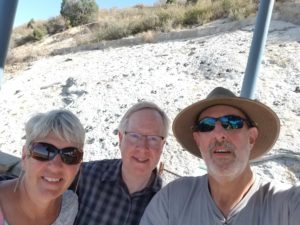 In between all that, Craig explained the geological history of the Denver area in particular, and of North America in general.
And, finally, we concluded the day at a nice restaurant in Morrison Colorado – not a Brewery, but representing several!!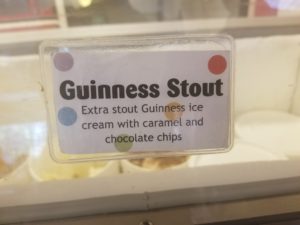 And a finally-finally – a tiny Ice Cream Shop that featured GUINNESS-SALTED CARAMEL Ice cream.
Leaving Denver, we headed south for a Bluebird Rally in Red River, NM; and for a couple days prior to the rally, Taos.
In Taos, we were to learn, among other things in the couple days we were there, that our water tank was in fact NOT fixed at all!!!