First, a Thot for the Day…On the Horns of a Dilemma!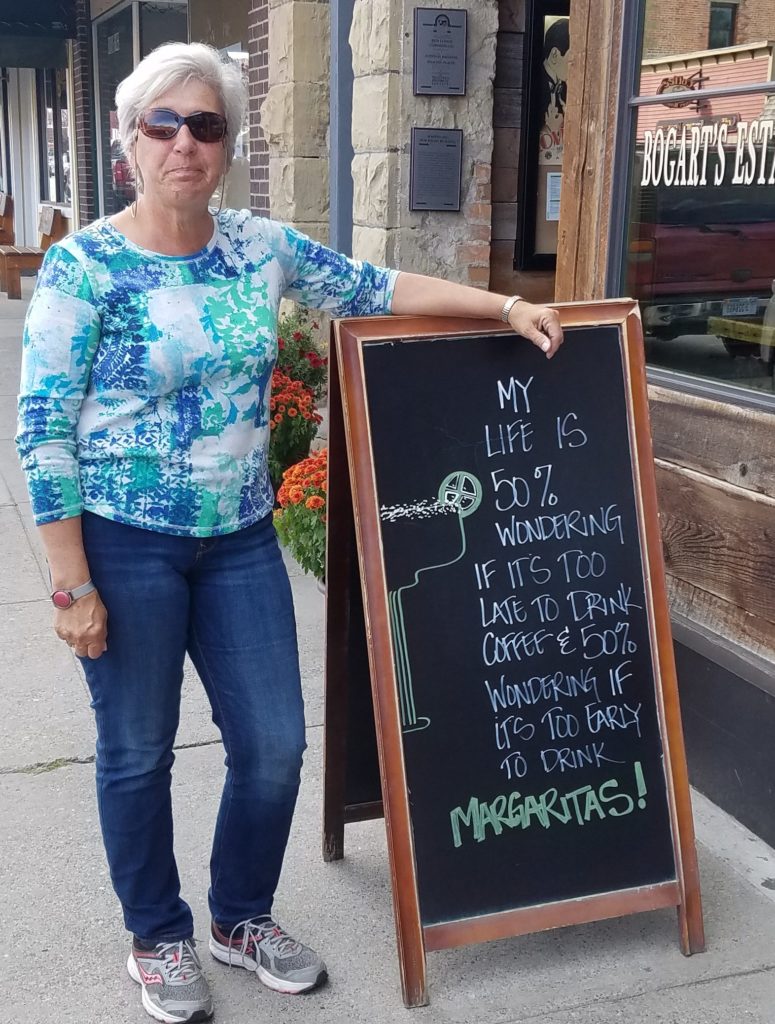 As intimated in previous posts, we have been seeking a place to get the tires on the Jeep replaced. Our goal was to replace all 6 (the spare, and the spare-spare as well as all 4 on the wheels). We needed to find a national chain, where a road-hazard warranty would actually do us some good. We looked at several options, but eventually realized the best one was right in front of us — at least a couple nights a week: Walmart! After all, it is almost our home-away-from-home!
…been there, done that, don't need the extra wheel/tire.
I called the Helena Walmart; they had 4 tires only in our size in a high-mileage flavor. We decided that we did not need to acquire a new spare-spare. In fact, we could completely jettison the tire we had purchased for our trip to the Arctic Circle – been there, done that, don't need the extra wheel/tire. We also decided the other spare, never used, could be replaced if necessary, but would still serve its purpose in the meantime. SO we made an appointment to acquire the FOUR tires they had…
Easy, right? NOT SO MUCH.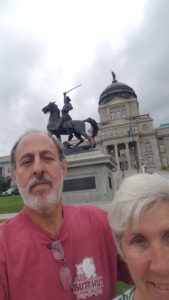 When we turned up for our appointment, the manager could not put his hands on the physical tires his inventory system assured him were there. He launched into an explanation of how this could happen – which interested me not in the least. I asked him to call a nearby Walmart which was more-or-less in line with our route — Bozeman. This Walmart said they had them AND physically touched them AND put my name on them. The manager in Bozeman said they normally don't do this, but after he heard my Helena story, he agreed.
In the meantime, since we were in Helena, we spent a little time wandering, including a visit to the State Capital; then moved on to Bozeman. There, we successfully obtained 4 tires and a lifetime road hazard warranty at Walmart,. A little browsing online uncovered a $50 rebate for which our purchase also qualified!!! AND we got a lifetime alignment done at Firestone. So we are all set, tire-wise no matter where in the USA we are for the next really-long-time (we hope)!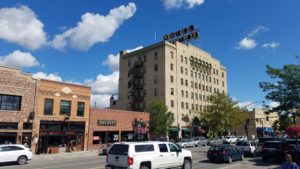 And, while we were in Bozeman, we discovered how FANTASTIC the city of Bozeman was!! Not really sure where to begin: perhaps the NOT ONE BUT TWO Breweries within easy walking/biking distance.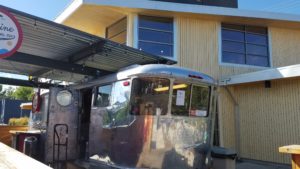 A Home-made ice cream trailer.
Or, how about the SPECTACULAR Museum of the Rockies?! This was a totally unexpected GEM of a museum. One of the better dinosaur exhibits anywhere, not to mention Mars Rocks (found on Earth but determined to have journeyed here from there…).
Bozeman, and especially the Museum or the Rockies, reminds us why we try NOT to plan too carefully our route or schedule. Bozeman would not have been on our radar, and would never have been a stop without Walmart's inventory issues. Yet I doubt we'll ever see a better dinosaur exhibit anywhere!!
One evening in Bozeman, there was a very interesting discussion taking place on the local news. This was about the effort to roll out broadband internet access throughout Montana. I was struck by the need and desire for state support of such infrastructure — in HIGHLY LIBERTARIAN MONTANA. Bozeman is like Alaska except without Oil revenue — people move there for the scenery, to be far away from regulation and to avoid government hands-in-wallet issues. If many in Montana can support government assistance with ANY issue but in this case Broadband Access, it makes me think that the current SHOUTING about "socialism" could be suspended for a practical discussion of the role of government in providing what the citizens need…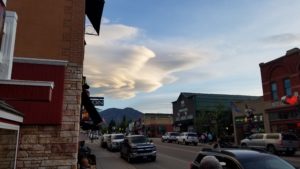 After completing the tire transaction, we headed onwards to a little town called "Red Lodge" in the far Southwestern Corner of Montana. Recommended to us by a fellow Bluebirdbrain who hails from Montana, and whom we had met at a rally last SUMMER, Red Lodge is a quirky resort town very near Yellowstone NP. It has skiing in the Winter, and obviously Yellowstone in the summer. It also has lots of high-end restaurants and shops – a nice vibe, we were told. And that was exactly what we found! We visited squarely in the shoulder season, which was ideal/ LOTs of restaurants, all still open. Some live music. A Brewery. Opportunities to bike. And ANOTHER spectacular Drive!

This time, the Beartooth Highway, which is a seasonal road into Yellowstone over the Beartooth Mountains. We've had a WHOLE BUNCH of scenic drives this summer, this one ranks right up there with the best of them!!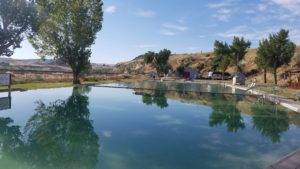 Next stop: Thermopolis, Wyoming, where there were some hot springs to soak in. We have found that we sort of enjoy this kind of decadence almost as much as we enjoy breweries. And in Thermopolis, there is an RV park called "Fountain of Youth" that has its own, private, stinky, sulfurous Springs. Three pools — warm, hot and WAY TOO HOT to soak in (accordingly barricaded).
A sign at the check-in desk: "Special today: FREE!!! 1 Million Gallons of healing mineral waters!" REALLY decadent!..
And speaking of soaking….a (re)Cracked Fresh Water Water Tank!
Not gonna explain the dumbness, just the result!
This was our own fault, really. Fortunately, I had fixed this tank before, so I was HOPING the new cracks would be again in an area where I could address the problem. Initial investigation showed the cracks I had fixed before had reopened AND a new crack had developed; also in an accessible spot. It is NOT TRIVIAL how good our luck was (if a cracked tank can be considered good luck)! At least 2/3 of the tank is completely inaccessible, and if a crack happened at any of this area, the tank would not be repairable at all! Now, THAT would be a problem!!
I still had some plastic material from the last episode, so just needed to get down to the bidnez of plastic-welding… And HOPE once these cracks were repaired, no others were discovered.
Fortunately, the Fountain of Youth could accommodate us for another nite, because fixing the tank requires melting plastic into the crack until it is HOPEFULLY fixed, followed by filling the tank to test. Then repeating several times until it is FINALLY fixed. All of this requires full hookup to fill/dump. I performed this process repeatedly, until I had repaired the leaks.
And NO other, hidden leaks presented themselves. We had Dodged a bullet!
Except that we hadn't!!!