Way back when, we had put a pin in the map for a couple of New Mexico events. The first was a rally in Red River, in the very Northern-most part of the state. And at a pretty high altitude for both RV WHERE YET and its human occupants – Over 9,000 ft. The former belched black smoke as we ascended at 15mph in 1st gear while the latter endeavored to stay hydrated by foregoing (mostly) adult beverages. Liz even decided to suspend running until we were again closer to reasonable Oxygen Levels.
But before Red River, we spent a few days in Taos, NM. This is a large-small town (large enough to have a Walmart, but small enough to bike end to end) with a distinctly artistic orientation. And some GREAT New Mexican Restaurants. On the former, we enjoyed some of the art galleries, and Liz especially enjoyed a Knitting shop she discovered. I discovered a nice coffee shop across from it, so while she availed herself of all sorts of FREE consultation and even a class on the particular project she was working on, I sat in the courtyard and enjoyed the beautiful weather and an iced tea.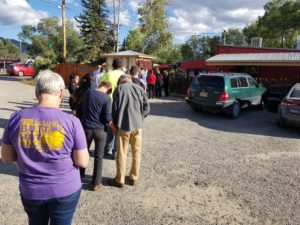 During our stay, we enjoyed two New Mexican Restaurants recommended to us by Randy Dupree and others.
One morning we decided to venture just outside of Taos to visit one of the largest Pueblo Dwellings anywhere. The Taos Pueblo is mainly closed to outsiders, with the exception of a few streets (with shops, of course). At least that was what we had been told, EXCEPT by complete coincidence, we visited on the date of the annual Festival of San Geronimo. There were THOUSANDS or people in attendance (including the Governor of New Mexico) and accordingly MANY vendor booths (food, jewelery, etc.).
Cameras and Cellphones were required to be left in the jeep, parked in a field outside the Pueblo under threat of confiscation, so I have no photographic evidence of the day. My descriptions of this happy accident will have to suffice.
The Festival itself is geared around a traditional harvest ceremony/celebration/performance…not sure the correct term and I want to be culturally sensitive. Information on what was taking place was scarce because it is apparently the preference of the Pueblo Dwellers to maintain the sanctity of their traditions. What we saw was a tall pole (30' at least) with bags of fruit and a newly-dead sheep tied to the top. Later in the day, there was to be a ceremony where some of the Pueblo folks, dressed in traditional garb waist-down and painted with a dark stripes above climbed the pole, lower the fruit and the sheep down to waiting friends, presumably to be a component of the harvest feast.
We asked when this ritual would be…and were told it could be 2:00 or 4:00 – it was on Indian Time according to one of the Natives offering guidance to all the visitors. It turned out to be approx. 5:00… All together, we spent almost 8 hours at the Pueblo Ceremony, having intended to just stop for a minute.
Apparently, one vendor did not cover-up fast enuf, and was lamenting the loss of a pair of earrings.
Prior to their climbing duties these painted residents wandered through the crowds performing as "clowns" or "Jesters" or diabolical spirits of sorts. Again, not wanting to be cuturally insensitive, but the locals were calling them Clowns. They would grab food-offerings left out by vendors in the various booths. Said vendors had, just previous to the clowns' entry, covered their real merchandise with cloth and left little packages of treats on top for the taking. Apparently, one vendor did not cover-up fast enuf, and was lamenting the loss of a pair of earrings. Apparently, anything left out and visible to these spirits is fair game.
The clowns also had some fun at the expense of the crowd. They would 'kidnap" children and take them to the nearby stream to be splashed with water (their NOT nervous parents following behind to snap pics). AMAZING that the kids, some as young as 3 or 4 were not terrified. And at one point, one of the clowns presented yours truly with a pepper (New Mexico is world famous for Green Chiles) that had been stolen from (offered by) one of the vendors. He pressed it to my lips and would not leave until I took a healthy bite. After me, he presented Liz with the same chili; not taking "no" for an answer.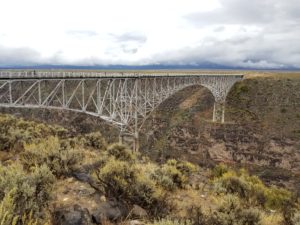 THANK GOODNESS this particular Chile was not as incendiary as some are!
On our final day in Taos, we drove to the Rio Grande Gorge and Bridge. This was ENTIRELY unexpected. The terrain around Taos is flat. Then, all of a sudden, you drive up on a deep gorge – maybe 200' deep.
No warning – just BANG and you are upon it. I can just imagine what settlers thought of this as they happened upon it on the way westward – there was no bridge across back then!
The Red River Rally was next. The Sparkmans had booked an RV Park right on the river. The downtown area was a brief walk away, and there was a nice brewery! The rally did not have too many organized activities – mostly EXCELLENT catered meals. This left plenty of time to wander around the resort town, enjoy the mountain scenery and relax.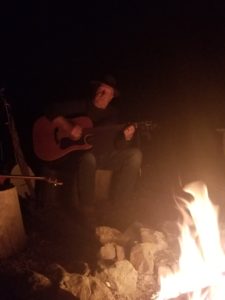 One night there was a campfire, where Ed Badeau provided musical entertainment.
One day we took a drive through the surrounding mountains – with the Aspen Trees just changing to a stunning yellow in a field of Evergreens.
One meal was quite memorable, tho…the Sparkmans hosted us for a brunch at their "Cottage." This was a beautiful Log Home built in the 80's by Mike and his father. Food and company and conversation exquisite. Our Hosts maybe looked a little relieved when the Rally departed – it's a lot of work providing such magnificent hospitality! Or, College Football was on that afternoon!
While in Red River, I realized our water tank was AGAIN leaking. Just a little bit, but nevertheless — More Tank Repair!!! Our Balloon Festival Attendance was in peril because I didn't think we could do 8 days of dry camping without solving the leak. I took to the welding operation with a vengance, and managed to AGAIN stop the leak.
And, spoiler alert, as of 2 weeks later (this blog is two weeks behind in general), it seems the leak has finally been resolved, but not without two more attempts!!!
More than once, RV WHERE YET has drawn people and events and opportunities to us!
While in Red River at the Bluebird Rally, I noticed another Bluebird, NOT participating in the rally. No one knew who it was. Liz and I were about to walk over and knock, when a fella drove up in his off-road ATV. Shawn Swingholm introduced himself: He said his father had, when he was a kid, EXACTLY the same Bluebird as RV WHERE YET – Shawn had MANY happy childhood memories! Anyway, we chatted for awhile; in part about our plans to head down to the Balloon Fiesta. Shawn said to look him up when we got to Albuquerque – it turns out his firm is a part of the Fiesta – providing sponsorship and linens for the event. He promised to "hook us up" in the hospitality tent(s).
Now looking forward to Albuquerque with new friends and even HIGHER expectations, even though we try to avoid expectations so as to never be disappointed!