Our time was up on South Padre Island, so we needed to figure out, "Where Next." A few weeks hence we'll be joining the Florers near Tucson, but what to do in the meantime? We had a couple options:
Follow the Rio Grande, stopping along then way for hiking and possibly a burrito or two.
Or,
Visit a High School Friend of Liz's.
Liz had made intermittent Facebook contact with Dyan over the preceding months, knew she was in Texas or New Mexico somewhere, and had messaged to see if they were anywhere we could reach and stay nearby for a reunion. It had been, Liz realized, 45 years since last contact!!!
Many people are "anti-Facebook," arguing that it is a commercial organization whose goal is to trick you into giving them as much personal information as possible, so they can make shitloads of money selling your interests to people who in turn want to sell you things. All of that is TOTALLY TRUE, but that does not mean that Facebook doesn't provide a very useful service…as long as you understand NOTHING you say or do there is totally private. Without FB, Liz and Dyan would never have reconnected!!!
just in time to change the direction RV WHERE YET would track leaving SPI
Anyway, The MORNING WE WERE LEAVING, Liz heard back – just in time to change the direction RV WHERE YET would track leaving SPI. Apparently, Dyan and Royce live in Spicewood Texas, near Austin. Dyan suggested we could meet at a place called "Angel's Icehouse," where we could eat, drink and be merry on their patio. Needing a place to stop overnight, and noting the closest Walmart was over an hour away, I called Angel's and asked if we could stay in their lot overnight. They graciously said, "OF COURSE YOU CAN, just don't block the dumpsters!" So, with all the logistics sorted out (we thought … more on that in a bit!), we pointed North!
A BRIEF "Small World" story before I continue.
We have lovely friends from Texas – Charlie and Carol Mitchell – they of the FANTASTIC MARGARITA RECIPE we prepare often. We had been in touch with them about maybe swinging by, but the timing was not good for them for personal reasons. We had pretty much said "Next Time" at our last contact. It turns out, DESPITE THE SIZE OF TEXAS, Charlie and Carole live about 2 miles from Angel's Icehouse!!! Not wanting to seem like we were stalking them, but also not wanting to ignore such a happy accident of proximity, I texted Carole to say we'd be at Angel's if they had time for a beer, though we respected their earlier decline. In the end, Carole swung by for a bit, so we could catch up.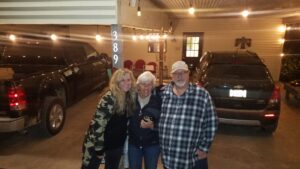 I should mention that, although we DID have a beer at Angel's and some delightful conversation with the gracious proprietor AND with Carole Mitchell, we ultimately did NOT stay there. We stopped briefly, but then left as it seems that Dyan and Royce live on a piece of property where they have an Organic Elderberry Farm AND AirBNB Farmhouse AND plenty of room to park RV WHERE YET for the evening.
We LOVE such offers, but never assume them!!
Dyan did not offer this at first because Royce was travelling and she did not want to commit without his assent. We were still a couple hours out when she texted Liz to offer their hospitality, including BBQ from a local purveyor and an evening sitting around the fire. She sheepishly asked if we'd mind coming there instead of Angels…
We said HECK NO, we don't mind. We LOVE such offers, but never assume them!!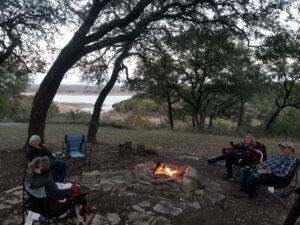 So, once we arrived and situated RV WHERE YET, Royce started a fire and Liz and Dyan commenced the reminiscing. I cannot outline here what the ladies discussed for several hours, but it was animated. FORTUNATELY for Royce and I, there was lots for us to chat about unrelated to Wilmot High School Circa 1978, which we would have found endlessly NOT Fascinating. Royce described for me (and I for him) our various business enterprises undertaken over the years.
For example the Milams own an RV Park in New Mexico, so we chatted for awhile about the operation of such a business – something Liz and I are actually quite interested in. We came away from Milam Farms with significantly more perspective and several ideas to pursue.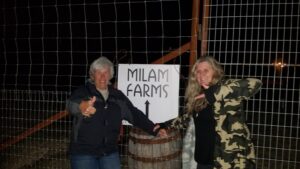 I also learned some fascinating things about Elderberry Farming – some in the category of "You cannot make that shit up!"
Really! Pun intended!
Royce told me that his Berries are certified Organic and Non-GMO. In order to achieve such a certification, he can only fertilize with also certified COW MANURE from NON-LACTATING ANIMALS.
My City-slicker mind was REELING – this implies that there is a store where you can buy manures of various certifications, and that there MUST BE manure inspectors who certify it!
And here I thought that a cow pie was pretty much a cow pie…WHO KNEW?!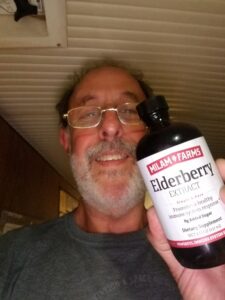 Royce, in a past life, sourced and sold various international foods, extracts, spices, etc. to Whole Foods, H-E-B and others. Now he sells Elderberry product created from his berries, including an Extract that is claimed to have medicinal and rejuvenating properties. Liz is a bit worried in case it works – she has been telling me for YEARS to "Grow Up," so the thought of reversing what little progress I have made is concerning to her!
I think she may ultimately hide the bottle!
Our time with the Milams was cut short by dire weather forecasts. There was a MAJOR winter storm heading towards Texas, with all manner of unfortunate precipitation options, including Ice. We decided we needed to high-tail-it WEST as fast as we could, where the storm was NOT expected. We decided we'd spend a few days in Las Cruces, New Mexico, NW of El Paso and left Milam Farms JUST in advance of the storm. Our "plan" was to go about 200 miles west, stop for the night at a wayside rest, then divert a little south to Marfa for another night before getting to Las Cruces.
Why Marfa, you ask? Well, we keep wanting to see the Marfa Lights, and the Art Installations. The latter were closed (COVID) but, who knows when one can see the former?!
Marfa was not to be, though. We woke up at the Wayside rest and observed two things that made us VERY nervous: 1) Trucks pulling in next to us and all around us to CHIP THE ICE OFF THEIR WINDSHIELDS. And, 2) An Ice-Fog/Drizzle in the air. Then we saw the news reports of the massive ice-related traffic pileups a little ways northeast of us, and we talked to a trucker, who said conditions were BAD east of us, but improving west.
We decided to head west as directly and as fast as we could. We had 100 miles or so of light icy drizzle and fog, but Texas treats the roads in advance with a brine solution, so they were not slippery. Ultimately, we DID escape the bad weather, and in fact within 100 miles it was SEVERE CLEAR and 60F.
But, IT WAS NOT TO LAST!!!
I thot if we made sure to be South of I-10 we could miss that sh*t!!
Although we made it to Las Cruces in Excellent weather, the second half of the Double-Whammy was inbound. The prediction a couple days after arrival was for 4" of snow and ice and overnight temps of 13F. I thot if we made sure to be South of I-10 we could miss that sh*t!!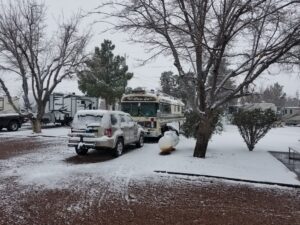 The concern is more for RV WHERE YET than the former-Chicago-resident occupants, although we DID decide to postpone our Hot-Spring appointment in nearby Truth or Consequences, NM. (scheduled for Valentine's day) so as to not be driving in the midst of the Ice-maggedon. As mentioned before, the bus's waste water tanks are below the floor, out in the open. So, 13F is "not ideal," to say the least!.
We gave a lot of thought to how to survive the cold snap. I made contact with our Iowa-redneck friends, the Florers for a consult. Steve suggested that a few gallons of pink stuff (Water system antifreeze) would do the trick; but would offer NO guarantees or assistance in dealing with any "poopsicles" that might result. I spent some time verifying that the Bluebird pipe-heat blowers worked behind cabinets (they did) and went to Walmart for the Antifreeze.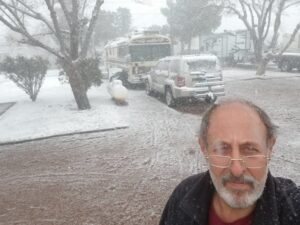 While on the subject of pipes and poopsicles, I had asked Steve Florer if he thought Chili Peppers in one form or another might be of help in maintaining waste tank temps.
He thought not (actually, he didn't want to think about THAT at all!), but the idea of a steaming bowl of Pozole was appealing AND there is a Mexican Grocery store next to the RV park that had more variety of dried peppers than you can imagine.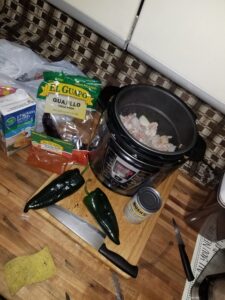 Other than winter Ice, which only lasted a day, Las Cruces had a lot of other things to offer.
News of which you'll have to await our next post!!!