Our path south next brought us to Calgary. Calgary was definitely a city one should approach without expectations. It has been hit hard by the oil economy, which is affected by LOW prices and also by Canada's energy policy uncertainty. But, even with a certain amount of empty office space and unnatural quiet (especially downtown), it still has that pulse of energy and diversity that can only be found in a big city! I can sum it up best in one sentence:
"Sitting in a Falafel King eating a Donair, listening to a Mariachi Band just outside the Filipino Festival…"
Our RV spot "in" Calgary suffered from the same issues that all big city RV spots do: it was nowhere close to the city! It was in a farm field about 10K east from the city center. Not "far" but not walkable or bikeable, which makes doing "city things" into somewhat of an expedition. We made this effort a couple times in 4 days, with the other two days given over to a list of minor maintenance items.
Our first expedition into Calgary was to the city's downtown pedestrian mall. It was the day before the Labour Day weekend, so I suspect this had an impact on the lack of crowds and congestion. But, from what I have read online, downtown Calgary is more uncongested than is comfortable to Calgarians – due to the economy. What we found was a bunch of restaurants – and NOT all BEEF-oriented as we had been told to expect.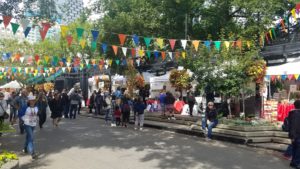 There was the aforementioned Filipino festival going on at a park at the end of the Pedestrian Mall.
There were a couple of stages set up with live music, which we enjoyed for a bit.
And we enjoyed walking a bit through Calgary's indoor skyway system. This is VERY familiar to me, a native Minneapolitan – just as in Minneapolis, many of Calgary's downtown buildings are connected by a system of Pedestrian Skyways – an homage to severe winters. But these also morph into cultural activities along the way – with restaurants, food courts, small retail outlets, etc.
I could imagine lunch here every working day and twice on weekends!
In Calgary's case, we were especially impressed with the "Devonian Gardens." This is an indoor Botanical Garden on the top level of a retail mall, connected by Skyway to the rest of DT Calgary. It is actually maintained by the Calgary Park District, and is quite expansive, and with nooks and crannies with seating areas. All of this adjacent to a couple Food Courts accessible by Skyway. If I worked in downtown Calgary, I could imagine having lunch EVERY DAY in these gardens – especially enjoyable in the wintertime!
We also followed up on a friend's recommendation, when asked about things to do in Calgary. They had never been to Calgary, but suggested we should check out a CFL (Canadian Football League) Game. Hmmm…. We have learned over MANY YEARS of travelling all over the world that taking an interest in whatever local sport is going on is a GREAT way to meet people and feel the energy in the place.
No answer for that, even after MUCH beer and conversation on the subject — sorry!
We have watched Aussie Rules Football in Australia (and Atlanta! But that is a story for another post), Cricket and Rugby in lots of places including New Zealand, Gaelic Football in Ireland, minor league baseball around the US, Soccer, of course, etc. Soccer conversations, lubricated by beer, usually devolve to: "Why do Americans call "Football" (as it is known all over the world) "Soccer" while they call the NFL game "Football?" I mean in Soccer, you are REQUIRED to use your feet, while in "Football" you rarely do so?!!
Except in Australia, where "rooting" has a whole 'nother meaning and might make them pissed!!!! Wait, "Pissed" has a whole different meaning there, too!
In each and every case, it is EASY to strike up a casual conversation BEGINNING with whatever sporting event is imminent, which inevitably ends up in friendly suggestions about fun things to do and invitations to participate in trash talking and shared rounds of beer! Always best to ask your new friends who they are rooting for (since you don't have a horse in the race) and then follow suit.
I checked the schedule, and the Calgary Stampeders were playing the Edmonton Eskimos in Calgary at 2:30 ON LABOUR Day. PERFECT!! I found some tickets on StubHub online for reasonable $$$$ – esp. considering they were CAD$ — but we decided instead to go have lunch at a Sports Bar near the stadium. Perhaps we could scalp some tickets, but FOR SURE we could experience some of the energy by just watching the game in the bar.
What actually happened proves our kharma is fully intact!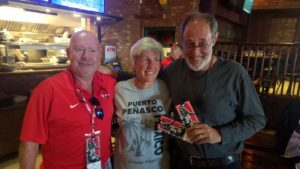 We were sitting in the bar, and struck up a conversation with our waitress. Mainly to ask if we could stay parked in their lot while we went to try to acquire tickets, and if successful, went to the game. She said, "You don't have tickets yet?" I said, "No, we are just passing thru and we thought going to a game would be fun…surely SOMEONE will be selling tickets out front?"
Well, about 10 minutes later, she walked up with a fella in a Stampeder shirt in tow. Scott held out 2 tickets and said, "Here 'ya go!" I said, "How much" and reached for my wallet. He said "NEVER MIND, Enjoy the game. Of course you will have to sit next to us…that might be a problem for you…?"
I didn't know what to say, so I mumbled something like , "That's too generous…we can't do that…" He said, "Of course you can. PLEASE be our guests!" So we did! BTW, Scott and his buddies were a pleasure to talk to about CFL, about Calgary and about things in general, AND these seats were in the Season Ticket Section – Primo; NEARLY THE BEST SEATS IN THE HOUSE!!!
See what I mean? Kharma fully intact – esp. after helping out those Aussies in Banff!!!
The game itself, it turns out, is an annual festival on Labour Day. Always vs. Edmonton (an in-state rivalry), alternating each year between the nearby cities. This year in Calgary, complete with a flyover by Canadian Air Force and all sorts of festivities on the field.
And, we quickly came to appreciate the Canadian Football game, because it seems to me they have CORRECTED everything wrong with the US game.
In a nutsell, the game moves right along…there are only two timeouts per team PER GAME, vs three per half in the USA. Penalty flags are actually rare! I think in part this is because ALL the offensive backfield and receivers can be in motion INCLUDING FORWARD before the ball is snapped – so they get a running start on their pass routes and there are NEVER "illegal motion" penalties! How they avoid being offsides is unknown, but they do. There are only three downs, so you rarely see 2 running plays – one must achieve a first down immediately. And the field is 110 yards long and 12 yards wider than the US field and the end zone is twice as deep – lots more room for pass routes.
All of this is a little weird looking – USA fans might thing they are seeing double because there are TWO 50-yard lines (the 55 Yard Line is midfield!!!). But ALL of these changes means the game MOVES ALONG, and is, frankly, MORE FUN TO WATCH. I left a Fan, I have to tell you!
As we were leaving the game, we realized Scott had left his jacket on the chair (they had departed a bit early to grab the first UBER rather than the be in the UBER Queue). Scott had given me his card, so I could add him to the Blog list, therefore I had his number and called him. He said HE DIDN'T WANT TO PUT US OUT; so he said he would drive out to the RV PARK (10K AWAY from his office) early the next AM to pick it up. Again, I didn't know what to say, but this time I recovered quickly.
I said we would not hear of it – if he'd text me his address, so long as the GPS could find it, we would drop it off on the way home from the game. He said AGAIN he did not want us to go out of our way – this was the man that had just given primo tickets to a primo game to two strangers – and he did not want to put us out! I said "We're retired and not in a hurry…we once went to San Francisco from Chicago via Georgia, so NO PLACE IN CALGARY (or even in the Province of Alberta, for that matter) could possibly be out of the way…"
Finally he relented and texted me his address, which turned out to be right ON the way. When we arrived, he presented us with a bag of shrimp, fresh off the barbeque – FOR OUR TROUBLE.
We have met a LOT of nice people in the world…in fact, MOST people are nice as long as you start with a smile. But our experience in Calgary really helps ground one's faith in humanity, even in the face of all the divisiveness evident in the USA and around the world at present.
The next morning, we packed up and headed out towards Glacier National Park. And NOT A MOMENT TOO SOON. Not only can we not stand ONE MORE MINUTE of overwhelming Canadian Generosity, but the "U" on my keyboard is almost worn out! (Colour, Flavour, Honour, savour, humour, etc.). Back to US spellings!