Our next stopover was the town of Banff, where I had managed to reserve a spot at a Parks Canada facility in town for 2 nights. This was no small feat – it is coming up on Labour Day Weekend in Canada, and Banff is pretty close to Calgary. Most places were VERY FULL. But we got a nice one, much as we did in Yellowstone a couple years ago! I suspect someone had cancelled.
First, though, we had to get to Banff! The preferred route is called The Icefield Parkway (Alberta 93) … and it is a road the GPS did NOT want us to take… This road travels along the Athabasca and other rivers right down the middle of the Canadian Rockies through Jasper and Banff National Parks. It is the most direct route from Jasper to Banff; not to mention, reputedly, the most scenic. So WHY did the GPS NOT want us going that way? She wanted us to take a circuitous route around each park, taking a 4 hour drive (which we knew would be 5 or more in RV WHERE YET) and making it a 10+ hour drive. What's up with that?
Our GPS is an RV-oriented model, and it knows how tall, wide and heavy we are and what roads are prohibited to us (for example, Lake Shore Drive in Chicago, or tunnels that prohibit Propane Tanks). It is DESIGNED to keep us out of trouble, and we normally do NOT ignore her. But, I had done exhaustive research online, and MANY RV-Oriented sites had exclaimed the virtues of the Icefields Parkway, even for larger RVs. As had Randy Dupree, the fellow Bluebirdbrain who we stalked throughout Alaska. And the alternate paths were MUCH longer. So, we made the call – take the IFP.
I had to turn the GPS off, because she kept wanting us to do "U" turns or backtrack thru campgrounds to GET THE HELL OFF THAT ROAD. Even when we were MORE THAN HALF WAY thru the park, she still wanted us to turn around and go back – which would have been the longer way out! I cannot be sure, but I think she SWORE AT ME a couple times – must have been that last Garmin update I did… As we drove what was a 2-lane but well-paved, smooth road with many passing lanes, turn-outs for slow traffic and for scenic stops, I was continually wondering if we were about to happen on a 10' tunnel. Or a rickety 10-ton bridge. But, Trucks with all manner of loads were coming at us from the road just ahead, and passing us in the same direction. Take it slow, we thought. LIKE WE HAVE A CHOICE!
THIS is why Randy Dupree said we'd never catch him!!!!
One thing I will say about the IFP – the GRADES are even more spectacular than the scenery. And that is saying something!! There were several spots with 10% grades for long distances – we were 12mph in first gear for miles and miles. It is 288 KM from Jasper to Banff – that would be 3 hours in a car (as suggested by Google). It was 5+ hours for us. But, THAT'S OK. More than OK, actually…EVEN THE DRIVER had plenty of time to enjoy the scenery because at 12mph a momentary lapse in forward-concentration is NOT going to put you over the edge!! In fact, if I could put a brick on the accelerator, I bet I could hop back to the fridge for a soda without RV WHERE YET having time to depart from its lane!
And, the Scenery is every bit as spectacular as, well, many other places this summer! I don't want to say we have become immune or acclimated or jaded to/about the beauty around us…we are NOT – still fully appreciative. But I am sure you, our reader (all one of you!), are getting tired of words like "Spectacular" and "Magnificent." The one addition to the "usual" spectacular in Jasper and Banff…the colour of the Glacial Lakes! It is an indescribable turquoise. I took no pictures because the pictures would have no prospect of reflecting the magnificence.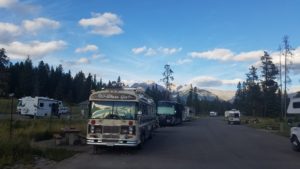 We ultimately did arrive in Banff, checking into our Parks Canada spot. The ranger at the gate was SUPER helpful…gave us a couple brochures on day Hikes and PUBLIC TRANSIT and told us to REALLY be careful with food at our campsite – there ARE Bears in the Campground! She thanked us for coming and said she hoped we enjoyed our stay at the park – the Parks Canada staff works really hard to maintain it, she said. I have to say, we felt very welcome and appreciated.
On the "Public Transit" front, we were pleased to learn there is a shuttle bus to the downtown area, which is only a couple of VERY HILLY miles away. Very cleverly organized by the merchants down there. It is FREE to get TO downtown. It costs $2 to leave downtown! I guess this is the merchants' way of encouraging us to stay? In any case a bargain, especially because it saves parking and navigation into what is, we learned, a VERY PACKED tourist area.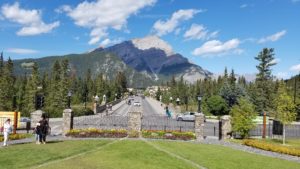 Banff is a tourist mecca, but there are different kinds of tourist meccas. We saw a LOT of tourist buses, tour groups – even Caravans in the RV Campground. It seemed to us, also, that Banff has a bit of the Porsche-and-Botox-Tourist-with-perfect-hiking-gear-set. Beautiful People, expensive stores in mall-like buildings. Not without some appeal, but not a place Liz and I would prefer to spend a lot of time. We much preferred Jasper, where it seemed actual people lived.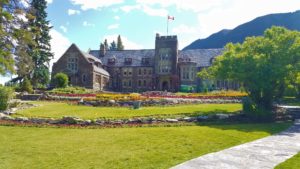 Still, we wandered around for a couple hours the day we arrived, after settling in at the campground. This helped us decide the second day would be spent hiking; NOT communing with tourists.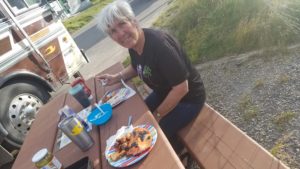 But first, we removed the fish we "caught" in Valdez from the freezer and cooked up a feast on our grill. Liz had Halibut (and couldn't stop humming the Halibut tune from Salmonfest) while I had a nice Sockeye Filet. YUM!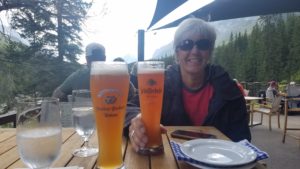 The map the campground ranger gave me showed one particular hike that we could adapt to our needs. About 6 miles, little elevation change , with a midpoint pub overlooking the Golf Course at the Banff Springs Hotel (where a MAGNIFICENT, cold Weiss Beer and a Radler were available to prevent dehydration) and ending at a Brewery. With a Shuttlebus to get us home! Ticks most of the boxes! We are getting pretty good at this hiking thing!
During our hike, we were also able to elevate our kharma somewhat, considering our flat tire experience. Even though that worked out well in the end, you can't be too careful.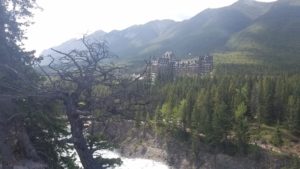 We saw a couple of tourists struggling with the path signs as we were walking towards our midpoint beer stop. They were looking for the "Fairmont Hotel" which they did not realize was one and the same as the "Banff Springs hotel," Indicated on all the signs, and our destination. So we suggested they walk with us with the caveat that we were tourists, too, and could well be lost! But, I pointed out, we had bear spray AND knew for sure the Banff Springs Hotel was just ahead. I was glad that we came along, because, being Aussies, they were having more than a little trouble with the local language. 😉 Also, being Aussie, they did not see fit to tip their tour guide. 😉 😉
After our hike, we enjoyed a second (and third and fourth) beer at the Banff Street Brewing Company. Then a Cows Ice Cream across the street. Then a shuttle bus back to our bus.
Tomorrow it's on to Calgary for several days. Our Canadian Friends have all told us they pass through Calgary only, on the way to the mountains. None had much to say about things to do outside of the big Calgary Stampede Rodeo in July. More than one said we should expect to enjoy STEAK, not SUSHI.
We shall see; as usual we enter with ZERO expectations, so we will undoubtedly be more amazed than disappointed!