Thought for the day (Click here)
We stopped in Ferndale, Wa. for the night to take care of a few things before we crossed the border. One "thing" was to flush the Black Water tank. To do this, my plan was to fill the tank with clean water a couple of times and let it then drain down the sewer connection. So far, not a problem. The "problem" came as I forgot what I was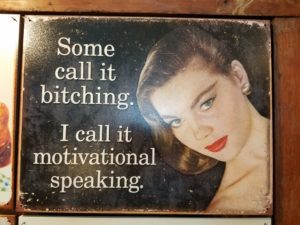 doing. Or more correctly, I was multitasking and I did not remember that one of the "tasks" was that I was filling the tank —
UNTIL WATER WAS RUNNING DOWN
THE FLOOR OF THE BUS.
OK, Liz wanted to wash the floors. Here was an opportunity!!! Liz was not happy with the timing or the circumstances of the opportunity, but took it in stride. And also out of my hide.
Life lesson for this week:
NEVER Multitask
when one of the tasks involves running water!
So, we headed north (with SPOTLESS floors) on Sunday morning. Our first planned stop in Canada was at friend Russ Wilson's home just north of the border. And I mean JUST NORTH – first exit. No doubt he will be able to see and even touch the wall. (Sorry, no more politics..).
First, though, we had to clear the border control at Blaine. Russ recommended that we leave whatever weapons we travel with at home. I did not tell him how hard it would be to do that with the dagger-eyes Liz has (esp. when Dan has been stupid — such as when he flooded the bus.). I did tell Russ a story about how NOT to cross the border that Bruce Lane posted on our blog after our border crossing near Montreal in June :
My Brother-In-Law … When asked if they had firearms … responded,

"Do we need them?"

Everyone was asked to leave the bus which was then searched.
I promised Russ NO GUNS and especially NO SARCASM at the border. He promised lunch when we arrived.
The border crossing was again TOTALLY UNEVENTFUL. We clearly do not look dangerous, like we are smuggling liquor or might be Trumpers. [ Sorry. This blog is meant to be a Politics-free zone.] I did not even need to provide our liquor inventory.
Once we identified the Wilsons' home from among the many gorgeous ones overlooking the spectacular ocean, we quickly determined that their promised driveway was not really suitable for our conveyance. As with most people, Russ did not know what he was offering when he suggested his drive (vis a vis size, weight, etc.). His driveway had a pretty significant down-slope, fairly slippery pavers and a challenging (though flat) area at the bottom. I thought if we pulled down, we might either end up in their living room OR be unable to get back out.
Fortunately, directly across the street was a perfectly flat gravel shoulder more than wide and long enough for the bus. And, if we parked there, Russ could deny any knowledge of our activities or of us; should his neighbors "wonder" about the squatters on the road.
After parking, we embarked on dual missions: Beer, wine, dinner and conversation (the main mission) and Laundry. The latter was offered to us weeks ago when Russ and Linda rightly assumed this might be a helpful thing. However there was now an unforeseen catch: Their Washer was broken…a recall in fact!
We immediately said, "NO PROBLEM." We could easily wait a day or two. Because so far every one of our Canadian friends has offered a laundry option (and a Salmon Dinner, but that is a story for another blog post) as part of our "tour package"… not to mention every RV park has a laundry! We were prepared to move on to mission-main.
But, Russ and Linda were having absolutely NONE of that. They said Russ's partner, Rob and wife Kathy were expecting us…and their laundry machines work!!!!
Liz was MORTIFIED…
Liz was very embarrassed and reluctant, maybe assuming we smelled or looked like transients (which, not to split hairs, we are…), and this was a polite way of telling us so. She was MORTIFIED that we were going to take our pile of dirty laundry to someone whose only connection to us was a business relationship to someone whom Liz already felt we were imposing upon.
Dan was not reluctant…I had met Rob before, and there was the distinct possibility of more beer and conversation. Besides, its not like Rob and Kathy were planning to take our clothing from us and wash it themselves, by hand, on the rocks, and hang it to dry.
Which is good, because it was RAINING for the first time in three months in Vancouver so hanging dry was not an option.
Anyway, Russ and Linda and Rob and Kathy INSISTED, so Russ brought us the short way to their home and Kathy pointed us to the machine, then to the kitchen, where we had a great discussion about all manner of things. Liz was, and probably still is embarrassed, but to be honest, it was a fun afternoon with folks we would not have seen otherwise, making a little misplaced embarrassment WAY WORTH IT.
After an awesome BBQ Salmon meal overlooking the water from the Wilsons' home, and after a really nice morning walk to and through
Crescent beach, we departed White Rock/Surrey for our "main"
Vancouver base at Capilano River. An easy drive to a great location directly under the main bridge into Vancouver from the North.
Reviews of this park all talk about the clanking and noise as traffic moves across the bridge-deck above. Our Vancouver friends (ESP. Paul Fournier) were concerned that this noise would surely be disruptive. Now, we are highly noise-tolerate. Indeed, you might even say we badly needed a bit of noise after feeling "punished" by our quiet-time in the Wyoming, Idaho and Washington wilderness. I doubted the noise from 100ft above (its a BIG bridge) could be a problem.
As it turns out, our parking spot was towards the back of the park, and quite a way from the bridge. So what noise was present from the bridge was actually overwhelmed by the noise of the rushing Capilano River, and was barely noticeable.
Once settled in, we went back to our laser-like focus on the Main Mission. Several more Salmon Dinners were promised!