We stayed in Bullhead City, Az. overnight, but NOT at the Moose Lodge. We could have, but I was worried about the entry to the lot—a very high driveway ramp looked like it would at the very least bottom out the hitch. Perhaps the Clown Car would actually fly. So we went just down the road to a Walmart.
This Walmart is technically "No Overnight" but according to the manager, people do stay and Walmart doesn't care for sure. It just depends if the cops come and rap on the window at 2:00 AM. She assured me if they did come, it would not be with guns drawn, so we decided to take our chances…there was a casino just down the road in case we got the bum's rush. No Cops, no problem.
We drove to Flagstaff via one of the only intact pieces of Route 66 still left. And, there is not much left even on that stretch. A couple of souvenir shops in Seligman and a whole lot of desert.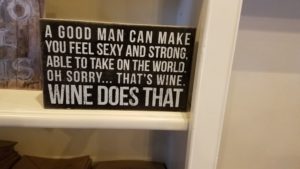 Once in Flagstaff, we celebrated Valentines day in a manner that represents our fabulous new lifestyle. First, we stayed in the parking lot of a nearby Navajo Casino. Liz wondered why she was breathless (after running)…Flagstaff is at 7,000 ft. You should see the size of our (exercise) ball at altitude!
Then we stared longingly into each other's eyes while …wait for it…Safelite repaired the bus windshield. Just a couple nicks from stones on a really bad Highway 5 near Bakersfield, Ca. Better to repair before a full-fledged crack develops – esp. since the repair is free and windshield replacement might be difficult.
Anyway, after our Safelite-dalliance, the original plan was to meet the McDowells again and spend 3 days at the Grand Canyon, however SNOW was predicted. AAAACCCKKKK. Having no interest in driving 2-lane mountain roads in the snow, and utterly confident that the Grand Canyon will still be there the next time we are in the area, we collectively cancelled and decided to spend a few days in Sedona.