Well, it finally happened. We have bottomed out!
I don't mean personally, chemically, emotionally, politically. Well, maybe politically. But I am actually referring to the Tow-hitch on the bus. We found a driveway with too big a dip. Safety Cables cut through as was the cable that operates the tow car's lights. The good news is, there is a Camping World in Flagstaff! We drove there on the way to Sedona. They said they could order the replacements and have them for us when we leave Sedona to head East.
In the meantime, we spent 3 nights in Sedona, and not by coincidence, two sites down from our friends, the McDowells. While in Sedona, we did a couple of magnificent hikes. We had a couple magnificent meals. And basically relaxed under the direct supervision of Relaxation Sensei Mike McDowell.
Our departure from Sedona was the day before SNOW WAS PREDICTED. We do feel we are being stalked by the weather…we learned it was 70 and sunny in Chicago while it was 45 and rainy in Sedona.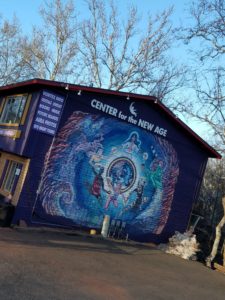 One of our Sedona hikes was in search of one of the famous (in some circles) Psychic Energy Vortices. Apparently, this place is the nexus of certain energy conditions. Who knew?
Apparently many people!!! According to our dear friend and Dance instructor Kathy Brown, who is an expert in matters of energy, "Sedona has a very strong Vortex. Many people feel a huge difference there. It has a much higher vibration that gives some people a peaceful experience and others a strong energy surge. Others are not aware of it at all. It depends on how you are wired."
I cannot say I noticed any such thing…except I felt very peaceful after a local craft beer and an enchilada.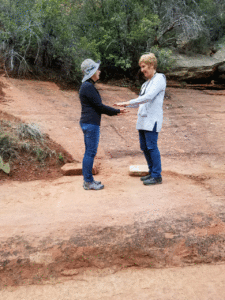 But, maybe there is something to the Vortex thing. After our last newsletter, at 12 dark 00 I got an email from a Chicago Neighbor. She had read our blog, and noted they, too, were in Sedona!!! Now there are two pretty mystical things about this. Why would our neighbor from Chicago be in Sedona coincident with us. (Stalking is one possibility, of course)? The second mystical thing is that someone actually reads our blog!!! And, I guess that means there are THREE mystical things…the abovementioned, and the fact that only other person reading the blog was also in Sedona!!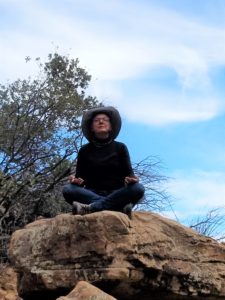 Now that I think about it, Fran McDowell and Liz were clearly experiencing something that cannot be attributed to beer.
After Sedona, we headed east, stopping first at Flagstaff Camping World to procure and install the replacement cables for the toad (towed….). Our destination is Lafayette, LA for Mardi Gras via Vian (not a duplicate!) Oklahoma where friends from our Dance Club now live. Along the way we stopped and/or drove past some "interesting" sites (and sights).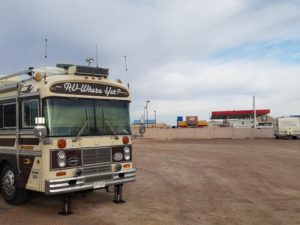 One night, we stopped overnight at a Navajo Casino after being turned away from yet another Walmart. I wonder if word is getting out that wherever we go will have torrential rains (which are still occurring in California)? Anyway, this casino set us back the princely sum of $11 for a full hookup and there was a Dairy Queen across the parking lot. We'd have spent more than that for sure at Walmart.
We drove past the Cadillac Ranch, near Amarillo, Tx. and stayed at a great Walmart near Amarillo. There we discovered (or created) a new problem with the bus…The Generator would not start.
Now, let me explain the seriousness of this. If we cannot start the generator, we cannot make coffee. Nor can Liz dry her hair when we are in places like Walmart with no electrical hookup.
This is a near disaster, especially since our plans in Lafayette include 5 days of dry camping (no hookups) at parade-central. 5 days with no coffee is just not possible.
To troubleshoot this problem, we accelerated our transit to visit friends in Vian, Oklahoma where I knew I could get a power cord and a day to noodle the issue.