As mentioned in our previous (a while ago!) post, we SOLD our bus and headed out from New Mexico to continue our roaming. It was a little bit sad, but also happy watching our Home for the past 6 years drive away without us. But, as one door closes, another opens, and we are enjoying our NEW old home very much!
First, a little bit on the Sale….
We had an uptick in interest on RV WHERE YET during January. One person was from Germany and another from Ohio. Serious as they claimed to be, neither could manage to find a way to come out and execute a transaction except possible in the springtime…. Neither would they put down a deposit – and I can't blame them – I wouldn't send money to someone I never met, for a bus he ostensibly owns but which I have never seen!
you cannot live in a museum
A person from Boston DID fly out to take a look, but left without making the deal. That one was a little weird – he seemed to collect vintage cars and such, and we think he wanted a vintage bus to tow a vintage car to rallies and shows. That is a cool idea – but the thing is, RV WHERE YET has a vintage shell, but has been substantially changed inside. We lived in it and quickly realized (about 15 days into our first trip!) you cannot live in a museum. Seemed like he wasted a trip, because ALL of the changes he objected to were heavily documented in our online posts, so this cannot have been a surprise…but it was his time and expense.
Solving an old Wanderlodge problem by buying another old Wanderlodge!
Anyway, as our time was winding down in NM, and needing to leave for California, we decided better to sacrifice on getting our price in favor of getting RV WHERE YET gone! Enter a fella from near Dallas, Justin, who has an old Wanderlodge (almost the same year and model as RV WHERE YET) that he sez is a bit of a project. It runs (sort of) and has mostly working systems inside (sort of), But he is afraid to take it camping since his first short trip ended in a break-down. BUS breakdown, not mental breakdown, but still… Anyway, he has young kids and a desire to Camp with them worry-free! Somehow, this translated into his Interest in OUR Wanderlodge! Not sure I can draw a line from the same point A to the same point B (solving an old Wanderlodge problem by buying another old Wanderlodge!)
I had been helping him online with sorting out some of the issues in his old bus, so although we never had met, we felt like we knew each other. I knew he would be a good caretaker for RV WHERE YET, so Liz and I decided we'd sacrifice a bit on our price to see the bus in his hands!!! We negotiated a bit, came to an agreement on how and how much the deal was to be transacted, whereupon Justin and his wife flew out to Albuquerque, and we picked them up at the airport. We spent some time going over "things" (back to front and then front to back), until Justin's eyes looked a bit glassy. Then we did the deal. Justin got in, fired up the bus and drove off.
That was a little weird—watching RV WHERE YET drive away from a third-party position…felt a little like an out-of-body experience!!!
We did have a momentary scare: Liz and I were walking back to OUR bus, when here comes Justin, back to the driveway. Second Thoughts? Buyer's remorse? NO!!! He had not quite followed our directions to get out of the Cul-de-sac, and had ended up coming back around! (he must have gone LEFT LEFT LEFT instead of RIGHT LEFT LEFT LEFT). We sorted that out, and he called us a few hours later from their first night camping in RV WHERE YET – at a rest stop on the highway!
He has called me a bunch of times since on one thing or another, such as: "where is the switch for this?" " Why does the propane not work?" "Can you change the LED light color outside." All easy to describe and help with over the phone or by email/text. He seems to be settling in nicely to the Caretaker role he chose. Liz and I decided and promised to stop by as we pass through Texas in April ,on the way to Minneapolis, more or less, to go over "things" again – undoubtedly he will have a list, and we are totally fine with that!!!
Leaving NM, we headed west, with the intention of (eventually) attending an Antique Aircraft Rally. This was at Cable Airport, in Upland, California, but along the way we had several fun opportunities. First, we stopped in Quartzsite, AZ for the annual RV show and Blue Bird rally. There are about 100,000 RVS parked in the desert (yep, that is 100K), and there were about 30 Blue Birds parked in a circle. We did "Q" a few years ago, and we agreed, Liz and I, once at Q was enough., This time, though, we had a new (to us) bus, which some of our Bluebird friends wanted to see, and about which we wanted to learn stuff from people with similar buses, So we spent 5 nights there, culminating with Ray Thomas' famous Prime Rib Dinner – Ray is a wizard with meat, and the meal was delicious!!
Leaving Q, we decided to spend a few days at what we refer to as the "Anti-Q." This is an RV Resort in Palm Desert, complete with hook ups, pools, hot tubs, occasional live music. Perfect place to re-civilize. And then onwards to the Antique Aircraft Rally! Of course, never do we do these things in a direct way. First, we went to Yuma, Az, where Liz chose to partake in a bit of Medical Tourism. Just south of Yuma is a little town called "Los Algodones," which specializes in dentistry. We went there because Liz needed 2 Crowns, and the dentists there do them for about $200ea. And deliver them overnight!!!
We selected Dr. Rosario Pereda at Desert Dental Care based on a recommendation by another Bluebirdbrain. Her office was very professional and efficient. While sitting in the waiting room, I struck up a conversation with another fella waiting for his wife. Turns out he is a dentist himself, in Phoenix. He routinely sends patients to Los Algodones to have the prep work done for their crowns, implants, etc. Sometimes, he even accompanies them (it was actually NOT "his" wife he was waiting for…she was shopping!) in order to share their enjoyment in great Mexican Food after their procedures?! His patients come back with a mold or even with the final product, which the Phoenix Dentist then installs.
I asked him why, he said it was because his patients get this work for 1/4 the price, and in hours instead of weeks. He can't justify having staff in his office to do this work (and he cannot GET staff even if he WANTED to). WIN-WIN for everyone!
Anyway, Liz had the prep work done on Day 1, followed by an EXCELLENT lunch at a street Taco stand recommended by the dentist. The next day, we went back for the Crowns to be installed., and had more Tacos. We stayed in Yuma a couple more days, to make sure Liz was feeling good, which was the case, so on we went!
Some of you may be wondering about our sanity, given the recent events in Matamoros with medical tourists. I am not sure what to say, except that in the past year, we have gone to two different towns ( Nuevo Progresso and Los Algodones) where thousands go each year for these services. Matamoros, on the other hand, seems to have other specialities. Liz and I are in agreement – our dental needs will continue to be arranged in Mexico, but not Matamoros.
From Los Algonones, we headed more or less directly to Upland CA for the rally. On the way (well sort of on the way), we went to Lake Havasu City, where an old former Bluebird Friend, John Alley and his charming wife Kathie winter.
I just realized the power of a comma! Is John an Old Friend? Old Bluebird Owner? Owner of an Old Bluebird? Former Friend? YES! Except he no longer owns a Bluebird and I THINK he is still our friend!.
We made it to Upland, and called our host, Jerri and Chris Bergen as instructed. We needed to be led in a caravan with a couple other Old Bluebird Friends (with or without commas) Gary and Molly Shilling across and around the active runway and taxiway to our parking area for the Rally. Once that happened, we settled in for a really cool weekend.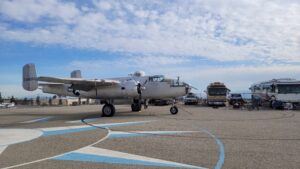 I knew we were in for a GREAT weekend when I noticed a B-25 parked directly in front of the hanger where all the rally activities take place. The owner, Michael, was polishing this bit of history, and we got to talking. Very Tom Sawyer like, he offered me a once in a life-time opportunity to help him wash and polish!! Full Disclosure: I actually offered, he did not ask, and I was honored to participate, and had an afternoon's worth of conversation about what it is like to own and maintain a bit of history. Kinda like owning a Blue Bird, except with a few (many) more places to the left of the decimal in maintenance costs.
For my effort, Mike offered to bring the B-25 over to where the Birds were parked, for pics. And, he offered that I could sit in the cockpit while this occurred. Very cool, though the cockpit and the path of access/egress was designed for a much shorter person!
Later, Mike offered to run up the engine outside of the BBQ our group was having. "If that would be ok," Mike said. "We need to start it and get it up to temp at least once a month," Mike said. HAPPY TO HEP, we all said!
And that was the last thing anyone in our group was heard to say that evening…One thing I cannot describe and the video cannot depict is the sheer volume and depth of sound that comes from 2 Wright Cyclone R-2600-9 (14 Cylinders and 1,700 HP each) Radial Engines in full throat. And the flames, shooting out the exhaust stacks. And, Mike later said (when my ears stopped ringing), "It is MUCH LOUDER in the cockpit…"
The Rally itself was really fun and interesting. About 30 old planes, ranging from T-6, Chipmunk and other yesteryear military trainers to Stearmans, Champs, etc. showed up, parked on the ramp. The Owners/stewards/pilots had a great BBQ lunch and then flew off from whence they came. While they were there, though, one could spend whatever time you wanted looking at their restoration work, talking to them about their passion, etc. When it came time to leave, each of the aircraft was marshalled to the runway, where they took off, made 1 or 2 high speed (well, a Stearman or Champ never really achieves anything you would describe as "speed") passes down the runway at an altitude of about 10 feet, then wagged their wings and disappeared into the beautiful afternoon light.
One of the happy accidents that arose out of our spur-of-the-moment decision to make it to this rally. Jerri Bergen, who hosted the Birds and in fact HAS a Bird almost identical to ours, makes a living in an interesting way: She paints Nose Art on Warbirds (Victory Girl Custom Nose Art Designs on vinyl, Painted Leather Jackets ) !!! Its clearly a niche market, but the rally attendees were her niche, and her work is really fantastic. And, she agreed to create a piece for the door of our new Blue Bird (as well as help us with the signage/names)!!!! As this is being written, we are working on this – we have sent a bunch of pics of us over the years, and she is going to create something very unique for us! She has floated a few ideas, including the possibility that this can be painted on a scrap from an old P-51 fighter. Excited would be a substantial understatement of our thoughts on this!!!
And, BTW, we are still working on "The Name," which many of you voiced opinions on…the "Big Reveal" will happen eventually! Hmmm. "Big Reveal…" Just kidding.
We left Upland, heading East towards our appointment with Destiny – that is, with our favorite mechanic. Though the new bus is performing very well, we need to have someone who knows what they are looking at, look at everything. We also have a few specific tasks that need bigger wrenches than I have, and will be much easier with the bus up in the air. So, off we went, towards Daphne, Alabama!