We had made an appointment with our friends at Lazzari Truck Services almost as soon as we knew we were going to be buying the new Bus. That was to be mid-March, and I was just starting to think about a way to manage that, logistically. Where to stay? For how long? What parts would be needed with potentially long lead times.
A solution to at least some of that practically fell in our laps when a fellow Bluebirdbrain disclosed that he was about to cancel his 2 week reservation at Gulf State Park – a place we have stayed B4 and which is very close to Lazzari. I called him immediately to figure out how we could take over that reservation! (It is nearly impossible to get spots at that park – especially for 2 weeks and especially around spring break). Paul suggested we do a 3-way call with the park's reservation office!
Turns out, they are NOT allowed to transfer a reservation like this. ☹ The woman suggested a solution, though. "Dan," she said, "Hang up and call right back. You will be next in my Queue (I guess Sunday AM is pretty unbusy at the call center!). When Paul cancels, lo and behold, you, my next caller, will just by coincidence be looking for those exact days!!!" This worked like a charm, and we had 2 weeks from Feb 28 to March 14!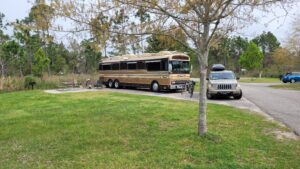 I should mention that Alabama's Gulf State Park is one of the nicest we have stayed at in all of our travels. Nice bike paths, not-tight spaces, a great swimming pool, inexpensive washing machines, right adjacent to the Gulf of Mexico…
And a choice of TWO WAFFLE HOUSES within an easy bike ride.
It was whacked pretty badly by a hurricane a couple years ago – we came through shortly after and there were a lot of trees down, a bunch of bathhouses were closed or in shambles, the fishing pier was pretty much destroyed, etc. ALL of that has been repaired and the park is EVEN NICER now, so we were REALLY looking forward to our time there!
But, along the way, we made a couple stops (it takes a few days to get from California to Mobile). We stopped to see the Purcells in Casa Grande, just south of Phoenix.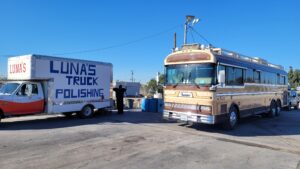 We had our wheels polished in Eloy, Az – for some reason this is the place everyone goes as they charge $10/wheel and do a GREAT job!
One was at a wayside rest just as we crossed into Oklahoma.
One was in Oklahoma City, where we had my Nieces over for dinner at the bus, and there Claire also made us some of her special cookies to take with us.
There was a brief stop along Route 66.
Then we stopped to visit Mark Rabalais and Lori Aikman, Bluebirdbrain friends that live in Pineville, LA. Mark made Gumbo – YUM!!!
Finally, we stopped for one night in New Orleans, and had dinner and drinks with College friend Keith Cambre, who was visiting other friends as yet not known to us. There were Sazeracs on the menu, so we are all friends now!
At one point, Keith's friend Phyllis was to meet us at the RV Park and was walking from their AirBNB. She must have gotten turned around…we were on the phone and trying to identify landmarks so we could walk to her. All of a sudden, this became unnecessary – she had found a fire station, and the FIRE CHIEF HIMSELF offered to drive her to the RV Park. If I were Phyllis, I would have asked for Lights and Siren.
Once we had our camping spot in Alabama organized, I called Lazzari and suggested we make TWO visits. On Feb. 28 for just an oil change and preventive maintenance examination. This might disclose some items NOT on my list for the "main event" still scheduled for 14 March. We pulled up on the 28th and they put the bus up in the air. Shawn (the assigned mechanic) and Vic (the owner, who said he was the only one in the shop old enough to remember our particular Detroit Diesel engine) spent at least 30 minutes poking around, shining lights, tugging on things, etc.
Then Shawn said, "YOU STOLE THIS BUS!" Those are excellent words to hear from your mechanic…. By that he meant it was in GREAT condition – pristine. We feel like we paid a good price, have put some money into it (with more to come, of course), so, no, we did NOT steal it…but we were very glad to hear that the mechanicals are in good order!
This is a PITA job, and I NEVER want to have to get down there again
We did discover a few things to add to the list. First and foremost…Vic recommended a new Air Compressor. This is pretty important for a vehicle with air brakes and air suspension. The Compressor on the bus was leaking a little oil, which is not good. It was recommended by Bluebirdbrain Shane Fedeli that we not just replace it, but upgrade it to the next higher model.
Since some of the work we KNEW we needed to do included replacing coolant hoses to the air compressor (a known weak spot as this area is very hot with nearby exhaust), this was clearly time to address this. Especially because those hoses and the compressor are in a TERRIBLE place to access. I have to open a hatch under the bed in the back of the bus and hang down to put a wrench on these, while a mechanic works his way in from below to help. And to do this, we need to drain the coolant (30 gallons of coolant), which suggests we should also flush and replace the coolant with new, extended life coolant.
This is a PITA job, and I NEVER want to have to get down there again, so we are gonna address it all on this visit!!! Hoses will be created from the highest temp silicone we can find, and shielded from rubbing with a sheath. The compressor will be new and 1/3 more capacity. We are also going to service the Transmission (new fluid and Filters), fix a hydraulic leak that prevents us from using Leveling jacks, etc. We have at least a couple days work to do, but really nothing unexpected, which is the best-case scenario for a 40 year old vehicle's first visit to the mechanic!!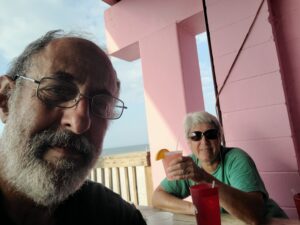 Between the PM and assessment visit on 28 Feb and the "main" visit 14 Mar., we spent a relaxing couple of weeks in the Mobile/Daphne/Gulf Shores/Orange Beach area. This included Brinks at the Beach and
Drinks at the Pier.
One day we attended a BBQ Cookoff and Blues festival in Foley. We weren't sure what to expect, other than a pleasant way to spend a Saturday, but it was a BLAST. The music was pretty good (local bands).
The BBQ contest was quite interesting. There were about 25 contestants. Each had samples (as many as you wanted). And each had a Tip Jar. If you liked the BBQ, you were to put money in the tip jar. At the end of the day, the winner is determined by tallying tips! The logic is (and I cannot argue with it): the booth with the highest $$$ tips MUST be the best! I suppose it would be possible for a contestant to game that system, but I don't think there was a prize for the winner, so stuffing the tip jar seems like a losing proposition! In any case, I took my responsibility very seriously, and sampled (oversampled) ALL of the contestants, and some more than once. I left stuffed! All for a few dollars in tips.
During our stay, we also had dinner with Bluebirdbrain Terry Sue Gagnet, who lives in nearby Fairhope. We met her a few years ago when we were parked at the Walmart near here. She saw our bus, which looks almost EXACTLY like her bus, and which was supposed to be at the mechanic. She had steam coming out her ears when she rapped on the window, wanting to ask her husband what he was doing at Walmart in their bus without her!!! She quickly realized that a lot of Birds of that era look the same, and hers likely WAS still at the mechanic (and her husband was off the hook, for that at least!).
And we biked, on average every other day, to Walmart, to DQ or to the Beach area, where there are a variety of Pubs and restaurants. One restaurant was recommended by our mechanic, Shawn. He later told us that he saw us there! We were leaving just as he was arriving for dinner, but he couldn't get my attention from the other side of the bar.
All in all, a really good time – this really is one of our favorite areas! However, We also had an unfortunate and unanticipated Bus issue while in Gulf State Park…
HAVE US TOWED!? For a $2.00 part?
I noticed a flat tire on the rear, inside drive wheel. Since the tires are new, I suspected the valve stem (which, spoiler alert, WAS the problem). With a few days before we had to leave, we called our Roadside Assistance Service (Good Sam) to dispatch a tire repair service. THAT was a wholly unsatisfactory experience – they eventually told me to find my own tire company on Google – they were only contracturaly obligated to have us towed if they cannot find a suitable mechanic. HAVE US TOWED. For a $2.00 part plus a fill, they preferred and were, without my permission or any discussion, arranging a tow, which is a complicated operation, fraught with potential difficulty and damage. They would pay for the tow, but would not find a tire service or even agree to pay for a service I might find!? You would NEVER have a tow if there is any other alternative, so I refused. THAT IS CRAZY, and I intend to do everything I can to make them regret that, publicity-wise, starting with this Blog Post!!!!
But that is actually not the real story, here. I called my mechanic (they don't do tires) and he recommended a national company, McGriff, which has an office in Mobile. I called McGriff, and they could NOT have been nicer. They had a mechanic out within a couple of hours.
UNFORTUNATELY, this is where things went off the rails…
The mechanic was searching for a place to jack up the bus (he wasn't familiar with our frame – not a surprise or a problem. He was crawling around under the bus, just in front of the flat tire with a jack, and I looked away for about 10 secs. In that time, he started trying to jack the bus up under a support beam that holds the Black Water (Sewage) tank. That beam was nowhere near strong enough, and immediately, CRACK (coming from the Black Water tank). And then immediately a leak (slow, but a leak nonetheless). What a shitty problem (pun intended) we had now!
WITHOUT HESITATION, the dispatcher said that they would take care of it
The guy finished the tire repair (it WAS the stem). We then called the dispatcher and 'splained the tank situation. WITHOUT HESITATION, the dispatcher said that they would take care of it, and would not charge us anything for the flat repair. He asked for my cellphone, confirmed this in writing and gave me the name and email of his boss. So all I had to do is figure out where to get a tank (or a tank repair) for a 1986 Blue Bird. The tire company was willing to try to take care of that, too, but that made no sense to me…I am the one with all the Bluebirdbrains in my corner.
So, now we have a busted Black Water tank, which means we CANNOT dry camp for sure, and even in a park, we have to leave a bucket under the crack – yuck, and definitely not ideal! What to do?
I put the word out to a few of my Bluebirdbrain friends, and after they all got done with the puns ("Oh, Poop!" "What a shitty problem." "Crap."), our Iowa Bluebirdbrain friend Steve Florer said he had one word for me: "John Boy." OK, that is technically 2 words, but it is pronounced as one.
I thought again about commas – John, boy – was this another pun?
No… Lemme 'splain about John Boy… There is a company in Columbus Georgia, Coachcraft, that sort of specializes in helping folks out with their old Wanderlodges. Some of their mechanics (including John Boy) used to work at Blue Bird when they still made RVs. They have a GR8 reputation in the Blue Bird Community – especially for newer and more complicated Birds (which ours is NOT) and for systems that are hard to service or find parts for.
Fortunately, Steve also had John Boy's Cell number. Despite thinking that our old bird might not be really up their alley, we are at this point pretty desperate, and they were pretty close by, so I called John Boy. Now this is Friday afternoon at about 6:00 John-Boy-Time. And, his Voicemail was full!!! I am starting to think about Plan B, when John Boy calls me back (based on "missed call" information, I guess, since I could not leave a voicecmail). Now, he does not know me, but immediately asked how he could help.
I 'splaind the situation, and he asked the year of our bird (1986). He said, "Well, that bird has Fiberglass Tanks, which cannot be replaced (I am now officially worried). But, they can be repaired! When can you get here…we can help you out for sure!"
I said it would take us about a week (I wanted to finish the work we had intended at Lazzari since we were already scheduled).
He asked if we could stay a few days (In case a weekend intervened).
I said, "Sure, we are old retired folks – we got no particular schedule. Of course, we got no toilet, either."
He said, "I can help you with that for sure…we have a bathroom and a shower in the shop, and we never lock the doors when there is a Bird and its occupants in the yard…"
So, we are now scheduled to get our Black Tank situation addressed late next week, after which we shall proceed with our full self-contained lives. We'll report on how that all works out in our next post(s).