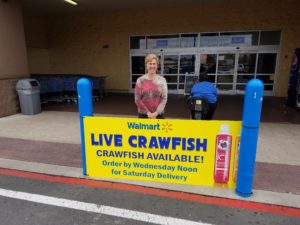 After leaving Vian, OK we headed towards Lafayette, LA for Mardi Gras. The first night we thought to stop, since we had SO MUCH FUN in Vian, OK, in Vi(vi)an, LA. There was a Walmart. And the Walmart had a Dairy Queen Attached. It LOOKED good. There was a Blackhawks game on (v. the Wild), and it seemed all the requirements were in place. However, there was no WiFi and no Cell Service. So we sadly moved on, instead stopping in Shreveport. We did buy a couple Blizzards for the fridge before we hit the road.
In Shreveport, ALL of the local Hawks fans were watching the Hawks game. Liz and Dan. I think that the locals might have been a little afraid of us, with all the cheering coming from the bus. But, when you stay overnight in parking lots, perhaps it is not a bad thing for the locals to have at least a "healthy respect" if not a little fear of whatever might be inside RV WHERE YET.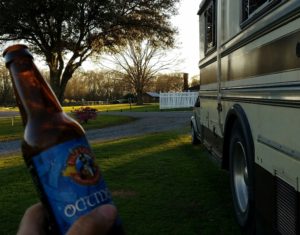 We stopped in Carancro at an RV Park called "Bayou Wilderness." Not really. But very nice and calm. We viewed this a place to stop, empty everything that needs to be empty and then fill everything that needs to be full for 5 days of Mardi Gras Dry Camping. It was all that, but not much more.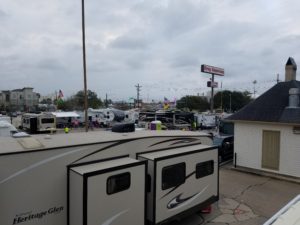 Our "headquarters" for the Mardi Gras festivities was directly across from the end of the parade routes in Lafayette. In the parking lot of the "Drug Emporium," a local institution. Half the lot was roped off and given over to RVs of all vintages and styles. To say this was perfect would be a MAJOR understatement. Across the parking lot, a giant local grocery store with an excellent beer selection. Across the street the Cajundome…official Lafayette Mardi Gras Central. About a mile to LC Cambre's house (our host and adopted Uncle). About a mile to Waffle House (the importance of which cannot be underestimated as we have been craving this since we left Texas headed west a month ago).