Mardis Gras. This is a post about 50 shades of. Having been to MG in New Orleans back just after college (which I barely remember due to encroaching age and the alcohol-fog that seemed to describe the meteorological conditions in 1981), LC tried to 'spain the differences we would notice in Lafayette's version. "New Orleans is about the elaborate floats and the show. In Lafayette it is for drinking." Hmmm. Because of drinking I do not remember the floats in New Orleans…
For simplicity, I started out trying to break these into arbitrary categories: Culture, History, Food and Debauchery. But these seem to run together the more I tried to lump things in one or the other. Eventually I gave up categorizing. I probably should give up even explaining…you had to be there.
For example: Debauchery and Culture would be the Mardi Gras Parades. Certainly a LOT of culture. And I guess History, too, as the floats and musical instruments look like they have participated in MANY Mardi Gras! And quite a bit of alcohol – in a family-oriented environment!!! Only in Louisiana is that NOT a contradiction.
Lafayette's Finest, Keeping Mardi Gras Safe!
Liz and I joined the dancing at breakfast. Cajun dancing is loosely described as "Sloppy Ballroom" by Kathy, our dear dance instructor for many years. PERFECT FOR ME cuz I am an expert at sloppy ballroom!
Another Example: Food and Culture — Hard to separate in Louisiana. We had Gumbo (every damn day!!! MMM MMMM Good!), mudbug etouffee, Boudin, oysters…and Waffle House. We enjoyed those delicacies at Don's (a Lafayette institution), St. Martin, Abbeville, Breaux Bridge –for Zydeco Breakfast on Saturday – and at Uncle LC's, where the man continues to impress with his mastery of the Toaster Oven.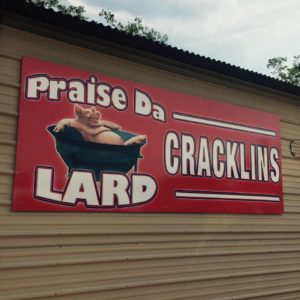 Speaking of LC, he explained that everyone in Cajun Country eats healthy. He said this while he was eating fried catfish and fried onion rings. And just after we had fried Boudin. According to LC, vegetables are GOOD FOR YOU, and everything is fried in VEGETABLE OIL! Q.E.D. according to LC. Vegetables may be good for you, but, LC, sometimes other oils are used?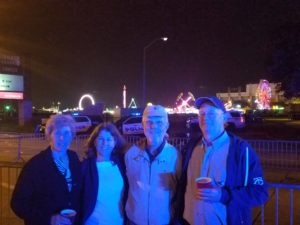 We were welcomed into all of this by Krewe Cambre — Friend Keith from college days, Keith's sister Kathy, now from Brisbane Australia, and UNCLE LC Cambre…the KING of the Krewe.
Many of LC's friends participated as well…Elizabeth and Moselle scooped us up for a trip to St. Martin while Chris made Crawfish Etouffee. I am sure I am forgetting some important contributors, but let's just say there were adult beverages involved and no offense intended.
The famous thrown-beads are actually substantial and dangerous if you aren't watching – and there was NO lawyerly disclaimer at the beginning
Uncle LC warned us that these parades and floats are not to be measured against those in Pasadena…in my opinion they are SO MUCH MORE. Lafayette, and even more down-home Chicken Point proudly showcased High School marching bands with very beat-up, ½ PVC Pipe sousaphones. Dance lines of local high-school kids who, at the end of a LONG parade route still managed to smile and at least look a little like they wanted to be there. "Floats" with self contained potty-places (there are a few adult beverages on the floats, too) pulled by tractors, motorized wheelchairs, self-propelled coolers, Horses and Donkeys with their riders oriented forward, backwards, standing up, kneeling and carrying live chickens (pre-gumbo?)
Even visions of the next iteration of RV Where Yet!
And, yes, a little bit of politics, Louisiana style.
As we left Lafayette, we thought about now much fun we had. What great food we ate. About being with friends in a place where there is nothing (and everything) to do but enjoy the moment. Our conclusions are these:
— The most fun comes from the least auspicious things
— PEOPLE make fun. Places make pictures.
— We need a few days for detox.
On the latter point, we left Lafayette needing to be in Jacksonville, FLA to meet friends (and fun!); but we don't need to be there for 2-1/2 weeks! So we are taking a circuitous route and will stop a lot. We are heading up the Mississippi Blues Trail. First stop in Natchez, MS (Oldest city on the river!)where we found an EXCELLENT RV Park right on the Mississippi. This park hosted about 20 Bluebird RVs the week before we got here…and the owner of the park is a serial Bluebird Owner. Good for a discount for us!!!
One of the stops may be back in Daphne, Alabama at our new base: Lazzarri Truck Services. We are not having any problems to speak of…well let me rephrase…no problems that threaten to strand us. We ARE having some issues with batteries not holding a charge (tho the generator is working great!), and, we have put over 4K miles on the bus. It feels like it would be a good idea to have someone look things over again.