After completion of our Fridge Install in Shipshewanna, and in person (tho still safely distant) cocktails in Southwest Michigan, we decided to head back to Chicago – by way of Northern Michigan, the "UP" and then down the west side of the Lake. We figured we could EASILY waste a month on that journey.
Before embarking, we needed to find some places to stay, because many options in Michigan are closed or limited. I noticed a place right on the water ("Fisherman's Landing") in Muskegon, but their website said "Closed through June 8" due to Covid, and that Executive Order had been extended. I called, spoke to the proprietor who said they were indeed closed.
Then she called back, maybe 10 minutes later, and asked, "Are you from another State?" I said YES!!! She said, "Well, then we can categorize you as 'Essential Travellers' and let you stay with us. I said, "Well, we ARE essentially travelling 😉 "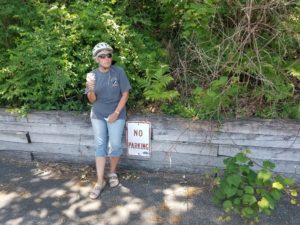 So, we stayed in Muskegon for several days, and WHAT A GREAT SPOT! The Park was right on a bike trail, which went along the lakeshore for several miles. Less than a mile to downtown, and into some neighborhoods with interesting and well-maintained old houses. Some notable sights:
The Biggest Pile of Salt I have ever seen!. This was on the shore adjacent to the RV Park. BRILLIANT white against a blue sky. For what? No one could tell me, tho people said boats and barges arrive with more quite often.
There was a quite nicely renovated former warehouse – apparently apartments. Said "Amazon" on the side. I assumed Amazon.com had installed some sort of facility in Muskegon, which clearly NEEDS the economic stimulus; Whirlpool having downsized production there years before. Nope! Someone purchased and redeveloped the former "Amazon Hosiery Mill."
There is also a HUGE development called the "Watermark" that has stalled. Part of an old warehouse structure has been renovated, but the rest (most of the structure) remains derelict and is now FOR SALE. Had a thot about that, but $12M is a bit rich for our blood! (and, probably the reason it is still for sale!)
And, there was a BREWERY (Pigeon Hill) in easy bike range!! Post-covid rules in place: Reservations Recommended but easy to make online. They had tables at good social distance, and our reservation entitled us to 90 minutes of beer-time at that table. They actually wrote our "expiration time" (our reservation, not "our" expiration) on a sheet posted above the condiments tray, though it wasn't crowded and they would not have kicked us out, the Waiter said.
On first blush, I thot about the weirdness of having to reserve a slot at an empty establishment to have a cold one. But then I came to realize it is a workable solution – you COULD actually make a reservation standing in front of the place with your phone…nearly the same as dropping in! I hope new strategies like this work going forward – it seems like a reasonable compromise between economic activity and personal safety.
Dorothy would never have visited OZ if she had been sleeping in a Bluebird
One night in Muskegon a weather front went thru. The winds were in excess of 60mph all night, which was sleepless as a result. Not so much worried about the effects of such winds directly on RV WHERE YET – we are heavy and stable. I was worried about all the small boats, stored sitting on their trailers around the perimeter of the park. I could easily imagine one flying thru the air and impaling it's bow through one of our windows. Fortunately, this did not happen, and the next day dawned bright, sunny and calm.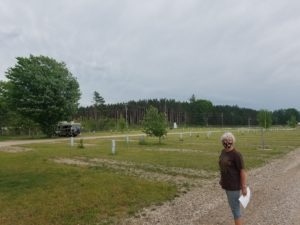 Our next stop, heading north, was the Northwestern Michigan Fairgrounds, just outside of Traverse City. The actual fair, normally in August, had already been cancelled, but the campground was open – and empty. We checked in with a camphost who was lamenting his crumpled, unusable car cover/tent. Apparently the same windstorm had gone through there as we experienced in Muskegon. He said he was SURE he had built his tent sturdily, but I thot to myself it looked like the most insecure construction of PVC and lightweight fence stakes and I was surprised there was anything left of it at all!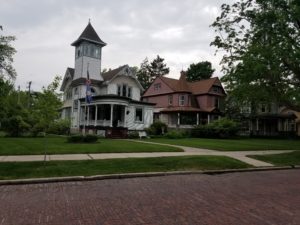 Traverse City itself was a mixed bag, we thought. Many had told us it was a beautiful place, full of fun stuff to do. Well, most of the fun stuff was closed or severely restricted. We did manage several bike rides, and a couple beers. Lots of spectacular "Painted Lady" Victorian houses. One of the "Don't Miss" things (we were told): The Grand Traverse – a redevelopment of a former state Mental Hospital into Condos, shops, restaurants, etc. Mostly closed at present.
It seems the higher the ratio of tourists-to-local, the less we like a place..
I think, even imagining what Traverse City would be like in "full operation," we were underwhelmed. We could imagine a very high ratio of tourists-to-locals, under more normal circumstances, and we have noticed without exception: The higher that ratio, the less we like a place. We first covered this observation in Bar Harbor, Me, and I think it would be true for Traverse City, as well.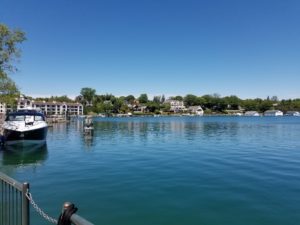 And, for the very same reasons we were Unimpressed with Traverse City, we liked Charlevoix very much — Perhaps our favorite town in Michigan so far! This is another small, coastal town (much smaller than Traverse City). Lots of Painted Ladies, MANY fewer tourists and some stuff (enuf stuff) open.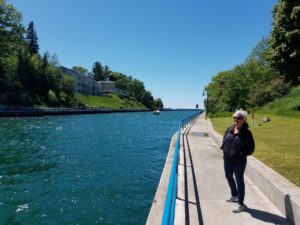 We stayed at a former Motel/RV Park, owned by the same guy for 60 years. He was basically winding it down – only had 6 RV spots and a couple cabins left. He was selling the place (!!!! We were and are thinking about it!!!) because of the changes the City was asking him to make. I am guessing these were changes anyone serious about operating such an establishment WOULD make – it was fairly overgrown and worn around the edges – and he simply was not inclined to put that much effort and $$$ into it.
…where apparently all the BAD golfers who live or visit the area play
But, the location was GREAT! Easy Bike access to the areas with HUGE and BEAUTIFUL homes along the water; to downtown, etc. Right across a minor road from the Fairway of a Golf course, where apparently all the BAD golfers who live or visit the area play. I say this because of the ratio of errant balls hit into the RV Park across the road from the fairway. None, near us, though, and HIGH entertainment value!
Our next stop was near (but not "in") the city of Petoskey. A couple notable things happened there. First, we stayed at a nice RV spot that coincided with folks we have met on the road: Anita and Les Sonke. The Sonkes were our inspiration for a kitchen remodelling project we have considered for the Bus for a long time, and so chance for a bit of further discussion was most welcome.
In fact, the kitchen remodel, most of which is actually planned for our time in Chicago in July, began in Petoskey. I was able to obtain at Home Depot the PERFECT SIZE, single bowl, "deep" kitchen sink to replace the miniature, double-bowl job that came with the bus. Deep being relative – our old sink was barely 4" deep; the new one 8". During the replacement, I continued my efforts to simplify plumbing setup by removing canister filters that were not being used and streamlining connections. And, the new bigger sink went in without losing ANY drawers.
Also in Petoskey, a NICE surprise! Communication from Kathy and Bob Purcell, whom we met in Alaska last year. Well, stalked back and forth thru Alaska might be a better way of putting it. They live in Cleveland, and were looking for an opportunity to get outta Dodge, so to speak. When they heard we headed for Northern Michigan via the blog, they thought they'd stalk us some more, and headed north for a week or so of re-engagement!!! The park we were at had a spot immediately adjacent and they filled it nicely.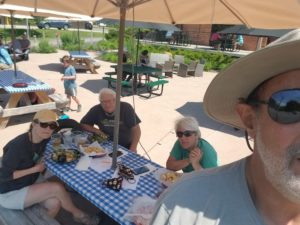 While with the Purcells in Petoskey, we managed to find (with Les Sonke's encouragement) a most-excellent Brewery that was just the right bike-riding distance from the RV spot. "Just the right" means far enuf to feel like we EARNED a couple beers. And, there was a DQ right along the path to/from the Brewery!!!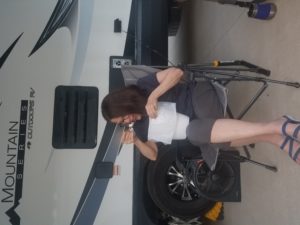 And there were a couple BBQs at our respective RVs. Then, they decided to tag along with us for a bit as we continued our path around Lake Michigan en route to Chicago.
Our first (next) stop with the Purcells in tow was the town of Sault St. Marie. There was a county park there, which was right on the banks of the St. Mary's river, which connects Lake Superior with Lake Huron. The Key feature (the ONLY feature) in the area is the Soo Locks. This is a VERY BUSY commercial shipping lane, with HUGE freighters transiting the locks in both directions, 24×7. I find it endlessly fascinating watching river traffic of all kinds – from Mississippi Barge Strings to Lake Freighters.
The brewery-gap was made even WORSE by what was going on at the public boat launch next to the Park
While in SSM, we discovered something VERY TRAGIC. There are AT LEAST 20 Microbreweries across the river in Canada. There is exactly ONE on the US side. Of course, the border is closed, so the wealth of Canadian options might as well have been across the ocean or on the moon.
A BRIEF POLITICAL ASIDE: It is our government's worst-in-the-first-world-by-the-numbers COVID response that has the border closed. While we bicker about whether we should wear masks, the rest of the world is safely re-opening and re-engaging – and RIGHTLY excluding us!
It seems the National Guard was having exercises in Sault Ste. Marie. This particular Guard Unit seemed to have a specialty of transporting and deploying PONTOON BRIDGES for crossing Rivers. They were practicing this very skill all day while we were there. Massive Pontoons on weird trucks. The truck drives down the ramp, the Pontoon is "released" so it can slide off into the water. When it hits the water, in unfolds to form a floating roadbed.
Fun to watch, and I had an idea…
I wanted to ask the guy who looked like he was in charge if they could maybe deploy these pontoons ACROSS THE RIVER. To the plethora of breweries there. It would only take me a minute or ten to fill a growler (and "I would certainly bring some back for the Soldiers," was going to be part of the pitch I was rehearsing)! And it would be a GREAT exercise for the Guard!
I was considering HOW to approach the guy (Liz was rolling her eyes and riding her bike back to the bus at this point, hoping to not obviously know me), when he started to approach – TO WAVE ME AWAY as he was feeling like I might get run over by these huge trucks driven by Guard-trainees. Oh well…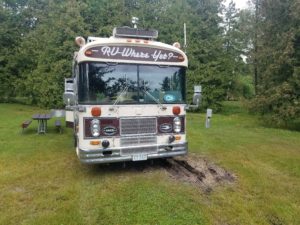 After SSM The Purcells hung with (continued stalking) us for a few more days. We stayed at a nice State Park right under the Mackinaw Bridge, which connects the Upper and Lower Peninsulas of Michigan.
From there, we took our bikes across on the ferry to Mackinaw Island for a day of wandering and a drink and snack on the porch of the Grand Hotel.
Then, we continued our wander counter-clockwise around Lake Michigan towards Chicago, while the Purcells headed back to Cleveland.
We had picked out a few targets on the UP based on suggestions, recommendations and randomness. These included: Escanaba and Pictured Rocks (staying in a town called "Christmas"). At the latter, we had a spectacular day Kayaking on Lake Superior. It was too windy, and therefore wavy to actually kayak TO the Pictured Rocks, so we went instead to and around a bit of Grand Island.
Perhaps the most memorable part of the UP: we procured and enjoyed a local delicacy. Pasties! But not without challenge!
It seems the pronunciation of the word is VERY SIGNIFICANT. I asked for "Pasties" (you know, pronounced like PASTRIES but without the "R"). The clerk snickered, because it should be pronounced "Pasties" as in "Past-time." She snickered, I assume, not just because I CLEARLY wasn't from there, but because "Pasties" (the attire of a certain kind of exotic dancer) would be procured in an entirely different kind of establishment!! For a significantly higher price, no doubt!! Not sure, but I am guessing she was about to refer me to one!
We left the UP by way of Muskallonge Lake (almost as far North as you can go) and then Escanaba, where we spent a couple nights in a county park. Nice town with not much going on. Easy to bike around. Serious water problems from the historically HIGH water level in Lake Michigan as evidenced by firehoses pumping water from among the beautiful Waterfront homes and backhoes creating new seawalls.
All in all, The UP of Michigan reminded us a lot of Alaska. Not a lot of people. A lot of scrubby pine trees. Mosquitos. Big, COLD water. Time to head back to civilization!
As we headed south, with Chicago and our Kitchen Project on the agenda, we were evaluating the availability of product we needed from IKEA. It seems that the base cabinets we needed were needed also by EVERYONE ELSE who were at home doing kitchen renovations, apparently. Out of stock EVERYWHERE. So after consulting with Bob White, in whose driveway and with whose help we will be remodeling, we decided "No Reason to Rush Home" since no work could start.
So, looking at a junction between the map and our contact list, we managed a couple of fantastic opportuities! First, we thot to bend our path back north again after hitting Green Bay…friends Beverly and Peter Conroy have a place in Door County. I wrote to Beverly… they were just about to head up there for the summer, but weren't there YET. She said "If you will be there Tuesday for sure, we will leave Chicago Monday…and this will help me to STOP PROCRASTINATING and get my shit together!"
For the record, she did not say "Shit" as she is very proper.
Beverly offered us her driveway for RV WHERE YET, but I know better than to accept such invitations without advance investigation. In the Conroy's case, as it turned out, we PROBABLY would have fit, but we managed to secure a spot in one of Door County's few RV parks for a couple nights – and the spot was just a couple miles from the Conroys.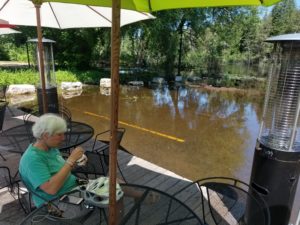 So, the first night, they came to the bus for a socially responsible BBQ. The second night we rode our bikes to their place for dinner on their deck. In between, we did a 20 mile bike ride around Fish Creek and the Peninsula State Park.
The Conroy Deck party was very socially responsible. One table in one corner, the other across the way. At least 10 ft apart. I had flashbacks to restaurant dinners in the past – where you notice what someone is eating at the next table and strike up a conversation about the entrée which progresses to other topics for the rest of the evening. I felt like that conversing across the deck with the Conroys, whom we have known for years!
Then we headed South again, towards a parking spot offered by Liz's sister Susie where we could leave RV WHERE YET while waiting indefinitely for IKEA product. A little too far for one day's travel, we decided to stop near Milwaukee. There was a Cabelas, which supposedly had a free dump station and overnight parking. When we arrived there, there were signs EVERYWHERE that said "NO OVERNIGHT PARKING." I called the manager. She said "Absolutely" you can park overnight (but could not explain the signs). She also had NO CLUE what a dumpstation was; nor did anyone else in the store. We did not feel very welcome.
About this time, Liz remembered that a former Chicago Neighbor, Jason and Angelique Kemen, had moved to Oconomowoc, Wi. This was just a few miles from the Cabelas. I texted Jason and he said BY ALL MEANS come over – plenty of parking on their cul de sac, he said. So we did. And sat well into the evening, in a socially responsible way, having adult beverages on their deck!
We were planning to leave after breakfast the next morning, but this was all to change abruptly…
I had added a new step to my morning routine…
I had added a new step to my morning routine – right after coffee, for sure, but only just! Checking IKEA stock and expected delivery dates for items we needed for our project. I went online at about 5:30AM and SUDDENLY, the IKEA in Oak Creek Wisconsin (just a few miles from Oconomowoc and right on the way back to Chicago) Had EVERYTHING WE NEEDED in stock!!!!
ONLY that IKEA, no other in the ENTIRE USA!!
Liz and I quickly made ready to move, fired up the bus and made it to Ikea just as they opened.
I apologized to Jason later that day for departing so abruptly – without even saying goodbye as he was not yet up!. Explained the reason and Promised (threatened) to come back.
Our trip to Oak Creek was VERY PRODUCTIVE. We now had EVERYTHING we needed for our project! We parked at Susie's anyway, until we could organize the construction project with Bob White.
And THAT is what the next post will cover!!