Our travel is ALWAYS an adventure, so it should come as no surprise that our path northwards included some.
It seems the governor had extended Michigan's "Stay at home" order, and no amount of assurance that we WERE staying at home (in RV WHERE YET) was going to let us camp at Weko Beach Campground in Southwestern Michigan. We had SO been looking forward to this, too! Fortunately, we found a campground in nearby Benton harbor that was willing to "bend" the rules. Here was the justification we heard:
"If you stay for 7 days…
we can officially characterize you as 'Seasonal Residents'
and that allows us to allow you to stay!"
We also had this response from a park we wanted to stop at as we continued north (more on that in a future post):
"We are CLOSED,
but are you from out-of-state?
Yes?
Well, then, you are 'essential travellers' and we can let you stay…"
In both cases, finding a way to "thread the needle" between mandated closure and somehow staying in business. And, in any case, we were and are respectful of everyone's safety – wearing masks when in proximity to others and staying in our "home" for the most part, even when we are moving.
Anyhow, Benton Harbor was quite nice in some traditional ways, and at least one VERY UNEXPECTED ONE. While in Benton Harbor, we were able to tee up several IN PERSON social events with friends who either live or summer in Southwestern Michigan.
Care must be taken to avoid confusion, which we were seriously engaged in (confusion, not care)
We cocktailed with the Polskys, after a conFUsing discussion of timing and timezones. 4:00, we decided. Because they had a 6:00 Zoom-graduation for a grandson. But, IN WHICH TIMEZONE? Michigan is eastern; the graduation is central. When Chicago folks come to Michigan for the weekend, they usually just stay on Central, but if they make reservations or appointments, care must be taken to avoid confusion, which we were seriously engaged in (confusion, not care).
For clarity, we decided to create a new timezone, "Polsky Time" and just interact on that basis. So, cocktails at 4:00 Polsky time (which is 5:00 eastern). Problem solved! And Loretta had acquired 2 bags of chips and two tubs of Guac so we could have our own; across the patio and perfectly distant from our hosts!
We also visited Mary and Mark Partridge, to enjoy a sunset over Lake Michigan and a fire in their fabulous Lakeside Firepit. And a few fingers of Japanese Whiskey that had been given to us years before and remained unopened all that time. I had offered to bring something…Munchies, Kahlua and Cream…Japanese Whiskey. When Mary heard that, it was as though nothing else was relevant. YUM, she said. Let's try THAT!
And we had Bes and Wetsy Westermeisenfieldheimer (that is what we call Wes Westerfield and Betsy Meisenheimer, who despite those mouthfuls had the nerve to keep their pre-marriage names; learning the moniker from Lynne and Dave Gray) over for a BBQ lunch at the bus.
And we had a DELIGHTFUL dinner with the Reepmeyers, Karen and Tom, and the aformentioned Bes and Wetsy at the Reepmeyers. And we did our laundry and had ANOTHER meal with the Meisenfieldwesterheimers. At which I help Bes set up his Apple Airport for whole-house Wifi.
knitting being (apparently) more interesting than watching me curse at a router.
Of course, in the category of nothing is every easy, this involved a second visit the next day because I woke up in the middle of the night with the solution to a problem that had come up while I was onsite. Liz was happy to stay back at the bus for this visit; knitting being more interesting than watching me curse at a router. And, of course, there were a couple of "support" calls the next day, too. Something about a damn printer not working!
I learned (or remembered) three things from this:
I still got it. "It" being the ability to solve stupid tech issues, Which usually means awakening at 3:00 AM from a sound sleep with "the answer."
I HATE technology One of the problems needing resolution was that the WHMF's printer (an Epson) did not like the Apostrophe Wes had used in naming the Wifi Network. Only the printer seemed to care about this apostrophe.
Over the 30+ years I provided Technology Support Services for a living, I estimate at least 50% of my revenue came from making printers work!And,
I AM GLAD I RETIRED FROM THIS SHIT.
Although I am also glad I can still help friends resolve these kinds of issues.
OK, so that is 4 things!
While we were in Benton Harbor, we decided to drive BACK to Shipshewanna (a little over an hour by car). Not because we were having any issues with the new fridge (which works GREAT!), but because of a couple other reasons.
First, we needed some drawer latches. We will be replacing our dinette set in the bus with a bank of drawers and a butcher block counter (you'll hear more about that in future posts). The drawers will come from IKEA (with modification) and IKEA does not understand that they need to LOCK closed or they will spill their contents around the first curve. SO, we thot to go to the HUGE RV SURPLUS place, Bontragers, near Shipshewanna. This place has boxes and boxes in row after row and building after building of surplus RV parts. Hinges, latches doors, sinks, cabinets, lights and light bulbs, etc.
I have wandered thru this place before, but NEVER with an actual purpose in mind. And an AMAZING THING happened.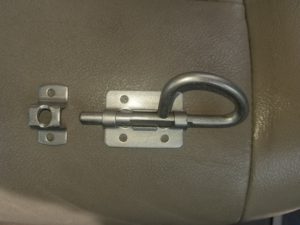 Within 10 minutes, I found a box with parts that would work for our need. Slide-Bolts with a "D" ring end that will serve as BOTH a latch AND a drawer-handle. Up until visiting Bontragers, the best I could find online were >$20 each, and I needed 12! At Bontragers, I bought 14 for $1.00 each.
The other reason we drove back to Shipshewanna was to drop in on the semi-aborted Bluebird Rally taking place there. Semi-aborted because all of the usual rally events such as pot-lucks had been cancelled due to the pandemic. But, people decided to come anyway and there were about 25 buses in residence, containing all sorts of friends we have made over the years. We did not attend the non-rally (to be honest, I forgot about it when we booked at Benton Harbor), but it was great to at least say hello to folks like Karen and Jim Gulrich, Shane Fedeli, Randy and Sonya Shrimplin, Kip and Cindy Henry, Brenda and Scott White, etc.
And, finally, Benton Harbor had a really nice liquor store, whose proprietor thanked us for our business by directing me to a dusty old bottle of Single-Malt Scotch. He claimed it was a good one, not well known, and priced reasonably (I had already disclosed to him I was in NO WAY educated – or foolish – enuf to pay $100 for a bottle). They also had some local beers and even an excellent selection of what we have since learned are mediocre Michigan Wines.
After Benton Harbor and all of our re-engagement, we continued our path northwards. Intended stops include Muskegon, Traverse City and Petoskey for a few days each. Then, we'll continue counter-clockwise around Lake Michigan until we arrive back in Chicago around 4 July for a round of Doc and Dentist appointments and some furniture revision.
But, you'll have to wait for our next installments to hear about those!