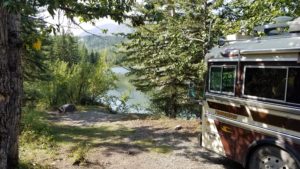 This post finds us plotting our route out of Alaska and back to the lower 48. Our hope is to reach the Denver area (for reasons that will be exposed in later posts) around about the 19th of September, and Albuquerque by 6 Oct. Couple ways to go; we have decided to do an easterly route, through Banff, Calgary and Glacier National Park… I checked, though – it is almost 2,500 miles to Glacier from our stopover near Glennallen and Tok, so we need to start moving with a purpose.
Which is NOT to say we need to "hurry." We NEVER hurry. I figure the 2,500 miles to Glacier is about 12 driving days to execute somehow within 21 Calendar Days. That would allow us to spend 4-5 days at Glacier and still have almost 2 weeks to get to Denver. I think we can manage, while still taking in everything to be seen and done between here and there.
Bigger than Yellowstone, Yosemite and Switzerland – COMBINED!!!
Our first stop was in the Wrangell and St. Elias National Park and Preserve, in order to see the Kennecott Mine Site. There is very little infrastructure in this park – few roads, fewer facilities. Just magnificent and pristine beauty along with fascinating history, such as the Kennecott Mine. The park is the biggest in the USA!!!! Bigger than Yellowstone, Yosemite and Switzerland – COMBINED!!! 3,000+ Glaciers. 9 of the top 20 highest mountains in the USA. Sparsely visited. SPECTACULAR scenery…WOW!!!
Randy Dupree had warned us about the road down to the Kennecott Copper Mine National Historic Site – he said to LEAVE THE BUS at the top and drive down. He had told us that before (when we went to Eagle), and his advice was wise (though Randy, we're not so sure 😉 ) then, so we heeded it now.
This was helped by the coincidence of a GREAT little State Park Campground, Squirrel Creek, which had the old Tosina River Lodge just down the road and walkable. We drove into the campground about 2:00; all the sites were first-come-first-served and hardly anyone was there. We selected an AWESOME spot, secluded, level, sheltered and overlooking a pond. I cannot remember a better site in all our travels, frankly. We stayed there 2 nites so we could drive down to the mine.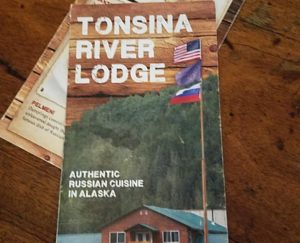 The first nite, we walked over to the Lodge next door. We were intrigued by the sign out front: "Russian and American Food." Although eating there could have us investigated by Mr. Mueller, we decided to do so anyway, since we are not planning to run for office.
The proprietor, Sergei was a really nice fellow, who had acquired the property about 10 years before. Prior to that he had lived in Miami, and Prior to that, NYC. I asked if prior to that he lived in LA (covering all 4 corners of the USA). No, Prior to that, 32 years in Moscow, so he knew Russian Food, that's for sure!
We had a couple dishes I cannot pronounce and am probably misspelling (I should have photographed the INSIDE of the Menu!) – Blinzski and Cheburinki and Draniki. These were served with "Spicy Pickled Vegetables," which turned out to be cabbage mixtures with the MOST INTERESTING (and quite spicy, too!) flavours. DELICIOUS!!!!
While we were eating, a helicopter landed just outside and 3 AT&T trucks pulled up. These are work crews, which make up the majority of Sergei's business. They stay at the lodge, eat at the restaurant and drink at the bar all summer, though hopefully they (and especially the helicopter pilot) are not doing too much of the latter! Turns out that is how road and construction work happens in Alaska…the workers ALWAYS stay in work camps or lodges near their job sites…no one actually LIVES near the jobsite and distances are so great no one could commute to one. We had heard a similar story by the proprietor at the RV Park in Glennallen – he was doing his own major construction work because there simply was no way to hire anyone to come way out there to do it for him.
I was VERY GLAD we took the Jeep and not the bus! I was equally glad we sold the Smart Car and acquired the Jeep!
The drive into the park was over what I can only and charitably describe as a A REALLY bad road. It was gravel most of the way, with washboard surface, DEEP holes and steep drop offs in some areas. The road bed was built over a former rail line, so there were frequent warnings to look out for RAILROAD SPIKES (which is significant to the NEXT post…stay tuned!).
Quite a bit of the road was 1.5 lanes only, so if you met any traffic (which was rare), one person had to virtually pull off the road to let the other pass. By general consensus, the person pulling off was the one OPPOSITE the steep dropoff. Unless, of course, there were dropoffs on BOTH sides. The drive was about 65 miles, and took every bit of 3.5 hours. I was VERY GLAD we took the Jeep and not the bus! I was equally glad we sold the Smart Car and acquired the Jeep!.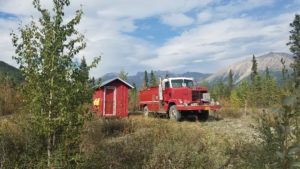 Once we reached the end of the road, we realized we had not reached the Mine, and could not by car. It seems the bridge across the River where the road abruptly ends had washed out YEARS before. It was replaced with a Pedestrian Span only! So we parked on the far side, and walked over. There a shuttle concession was available to take us to the Mine Site itself. It was about 4 miles – we could have walked if it had not already taken us 4 hours to get to the BEGINNING of the hike. I was doing the math on hours to walk TO the mine, hours to walk back and then 3.5 MORE hours on that same AWFUL road to the campground. It DOES get dark now (even if only briefly and only after midnight), and my math would put us on that "road" in the dark. NOT WISE, so we ponied up for the shuttle.

The Mine itself was REALLY Interesting. As we approached in the shuttle, you could see the whole valley beside the road full of piles of dirt and rubble. I naturally assumed these were mine tailings – they looked just like the tailings we had seen from Gold Mining in the Klondike except several orders of magnitude more extensive. As it turns out, these were NOT tailings…this was the terminal morraine of the Kennecott Glacier. This glacier is receding and shrinking like most are, and it is a particularly "dirty" glacier. By that I mean that all of the gravel and rock and dust that the glacier has been scouring from the mountains on either side of the valley is now being left behind as the Glacier retreats.
When we reached the mine, we learned that all of the mining was underground, and there are tailing piles – but these were mostly used as foundations for the small town that was built there. The ore was brought by Bucket-gondolas from several Mine Shafts by cableways to the huge Mill Building, which is in disrepair but still standing.
The Park Service is working to first stabilize then restore this, as well as many of the other Mine buildings. Some are already partially complete – the power plant with its huge steam boilers and diesel engines, for example. There is a lot of work to do, though, as it has not operated since 1938 and the Alaska Climate is not kind to structures of any kind.
This was an IMMENSELY PROFITABLE mine from 1900 to about 1938 – in Current $$ Equivalents, BILLIONS in profit! It was financed at the time by the likes of the Guggenheims – LOTS of money behind it and it MADE lots of money for its investors.
The amount of effort required to extract those billions was impressive. The rail line, for example, needed to have major sections rebuilt almost constantly. Huge bridges and trestles would be washed away by a storm, or by ice each spring. Within DAYS, they would be rebuilt. All so that the flow of copper ore could continue.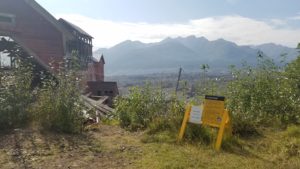 In its heyday, it produced TONS of Burlap Bags of ore each day, which were shipped by railroad to Cordoba, where they were loaded on ships to Tacoma, where it was smelted into copper metal. Why put the ore in bags? So it could be handled even in freezing cold – piles of loose ore would just freeze into a solid mass, but bags could be individually handled and loaded on the train.
"Houselessness" is CLEARLY different than "Homelessness"
After we left the mine, returned to Tosina and spent another quiet nite next to the pond, we headed out in the Direction of Tok. The plan was to reconnect with the Enfingers, who had completed their Real Estate Closing in Anchorage. There is NOT MUCH in Tok, but we ended up parking next to Steve and Kathy and enjoying a celebratory bottle of Champagne in honor of their closing and being "HOUSELESS." This is clearly different from "HOMELESS," since they still have their home – Casper the Huge White Foretravel Coach!
One night in Tok, then on to Whitehorse, but now on a different route than inbound earlier this summer. In May, we left Whitehorse NORTHWARDS to Chicken. Now we approach Whitehorse from the West, so we needed to find a NEW place to stop – Tok to Whitehorse is too far for one day.
We chose a provincial park in Destruction Bay, which turned out to be MAGNIFICENT. We got there a bit earlier than Steve and Kathy, and there was one remaining lakeside site, which we grabbed. This park had a huge pile of firewood available to campers for free, and since it had been raining, it was actually safe enuf to have a fire, so Liz and I endeavored to do so!
with tongue firmly in cheek, suggested maybe he could split some for us to!
First I had to obtain some wood from the communal pile, which was nicely dry, but only huge logs. Nothing split or small enuf to lite. And, we discovered a serious gap in equipment on board RV WHERE YET (and in the experience of its driver, as it turned out) – NO AXE for splitting wood! Fortunately, the fella in the next campsite was busy splitting wood of his own. I cheerfully walked over, and with tongue firmly in cheek, suggested maybe he could split some for us to! He smiled, and said he would be HAPPY To. Let us use his axe!
I am sure he sized me up and realized this was likely to be his comic relief for the evening. I was from Chicago, I had disclosed. In fact, I admitted, I had NEVER split a log in my life! But what could be so hard about that?
I watched him effortlessly split a few, then he handed me the axe. I struggled with the first, pouring sweat for about ½ hour and had no split pieces to show for my effort. On the positive side, I still had both of my feet and EMS services were not required! At which point, he gave me some pointers (after recovering from his bout of laughter). In another 10 minutes, I had split 3 logs into about 10 pieces, had snarfed a couple ibuprofen and was lighting the fire.
I KNOW the fella was glad it had just rained, or, he knew, he might be watching the Chicago-dope light half of the Yukon ablaze, with all the campfire expertise I had been displaying thus far. Actually, though, LIZ took care of managing the fire, because, she disclosed, SHE WAS A GIRL SCOUT (I was in the Chess Club). I am pretty sure she knew how to split wood, but was also enjoying the show!!
By the time we had the fire going, Kathy and Steve had arrived and selected a spot for Casper from the upper loop (away from the lake). They then came down to enjoy the fire with us. I think they were sad they had missed the Dan-show, but they could tell it was a good one by how I was rubbing my sore muscles! After the night in Destruction Bay, it was off to Whitehorse in our inexorable crawl southwards.