We departed Albuquerque to begin our slow march eastwards. We have an "appointment" in Daphne, Alabama (near Mobile) to have our favorite Truck Mechanics, Lazzari Truck Services, put hands on RV WHERE YET. Lazzari was one of our first experiences with the kindness of strangers…more on that later!
Al-bu-quer-que…I have written that name so many times now that I can actually spel it correctly the first time!
But, before we could exit Albuquerque we planned a dinner with Bluebird friends Leslie and Dave Lynch. We offered to drive, since their car's back seat had "stuff." SO NICE to be able to offer – with the Clown Car, such an offer would have required duct tape and an open-air experience for some!
So, we set off for dinner, and got about a mile up the road, when one of the idiot lights on the dash lit up and the car started talking to me : "Ding…" "Ding-Ding…" DING, DAMMIT (you idiot). The Battery light! Of course, with Idiot Lights, you don't REALLY know what's wrong. But we definitely knew we should NOT continue onwards to dinner at the risk of being stranded!
At least it was on the way to dinner in Albuquerque vs Middle of nowhere, Texas…
In a case of EXTREME GOOD FORTUNE, I had installed a new gauge on the dashboard not even a week B4. The new gauge was meant to monitor the Battery (voltage), since the supplemental brake (used when we tow the jeep) can discharge it after several days without unhooking to the point where the car won't start. The gauge ALSO happened to show detail of current being generated, by the alternator, and in our situation showed the detail the idiot light could not: The Jeep's Alternator had utterly failed!!!
Fortunately for US (I am not sure they feel the same way), fellow Bluebirder Dave Lynch and his charming wife Leslie were still in attendance; for moral, technical and, as it turned out, for tool support! We went back to the bus and parked the Jeep – Dave drove to dinner (I know you were worried…"WHAT HAPPENED TO DINNER…Inquiring minds want to know!). On the way home from Dinner, we stopped at Autozone, where they had AN EXACT REPLACEMENT ALTERNATOR in stock. The next morning, Dave provided invaluable assistance in the replacement of said alternator – and by that I mean he had a set of Metric Sockets. I didn't (but now do!) because there is nothing metric on the bus AT ALL. RV WHERE YET was built before metric was invented!!
We decided our next stop, about 3 hours from Albuquerque, would be Roswell, NM. So many stories, so much legend around this place – how could we not visit when passing so nearby? This would be a BRIEF stop, unless of course we were abducted by aliens!!!!
I never understood the "indestructible" part — after all the Alien Spaceship CRASHED!
In case you are not familiar with the MYTH, the LEGEND that is Roswell, NM…let me share the "facts." In 1947, multiple people (credible people, or so the legend goes) saw an ALIEN SPACESHIP crash in a field. Saw multiple dead aliens and ONE LIVE ALIEN. Saw a debris field with all sorts of inexplicably lightweight-yet-indestructible materials. The local military commandant reported the incident up the chain of command, but also to the news media. The Military KILLED THE STORY, collected the wreckage (and the aliens – dead and alive) and moved the whole works to Area 51.
So, Roswell has its own mythology and is the genesis of the whole Area 51 story, as well!
Well, we have now been to Roswell. There is an Extraterrestrial museum there (in a converted movie theatre) that contains MANY documents and affidavits from said credible sources. Pictures. Newspapers. Artifacts. The rest of the town has EVERY GOOFY THING you can imagine around the whole Alien Legend – beginning with the check-in "aide" at the RV park we stayed at. EVERY commercial establishment is outfitted in Alien-style.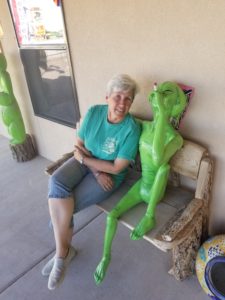 It is possible that the "Truth is Out There" (or so said Scully and Mulder of "X-File" fame), but We didn't see any truth remaining behind from that eventful night in 1947…
All I can say is that the town of Roswell is SO CHEESEY it SHOULD BE IN WISCONSIN!
Leaving Roswell, we had a plan. I know, we NEVER plan. So let's just call it a bit of a guideline. We headed for appointments with Destiny. Wait, we NEVER make appointments. OK, we wandered not-quite-aimlessly until we were nearby friends in Vian, Oklahoma, Ponchitoula, LA and Long Beach Mississippi. These places contain friends and are on the way to two ACTUAL APPOINTMENTS that we needed to have – to have our windshield replaced in Houston and general Bus Maintenance done in Daphne, Alabama.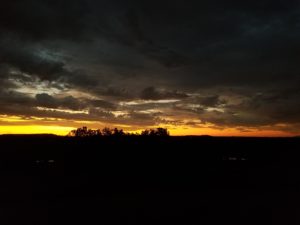 SO, first stop was Vian, Oklahoma, where friends Lynn and David Gray have REPEATEDLY hosted the Harrises at their ranch home and RV WHERE YET in the field near their ranch gate. We realized a long time ago that Vian is nearly at the center of the US east-west and north-south. That means, with very little diversion, we can stop by "on the way" over and over again. And we have!!!
And more gracious hosts there could not be! There are always meals, usually grilled outside the kitchen on the hill overlooking the Oklahoma Countryside. Their Coyote-chaser-in-residence, Daisy the Great Pyrenese, is always anxious for a belly rub and the laundry machine awaits!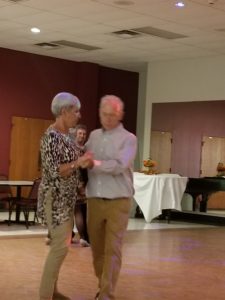 And, if we time things JUST RIGHT, we can even attend the Gray's Dance Club, now hosted at the…WAIT FOR IT… Senior Activity Center in nearby Sallisaw. We have been to some MAJESTIC places, but we never get tired of any of that!
Our visit to Vian THIS TIME was shorter than others, because we needed to be in Houston for our appointment to have RV WHERE YET's windshield replaced. As expected when travelling Alaska, a rock cracked one side and Trish, the Parts Angel at Rush Bus Center was holding one for us. Rush actually STOCKS windshields for RV WHERE YET because there are thousands of school buses with the same glass still on the road!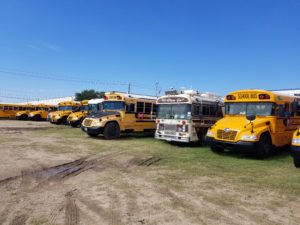 Trish was also holding a wiring harness to FINALLY fix ONCE AND FOR all the Turn Signals and Hazard indicators I had RED-NECK-REPAIRED in Alaska! When we arrived in Vian, we learned that this repair was more critical than I realized – because we nearly had a serious accident turning into the Gray's driveway.
It seems my redneck repair worked "almost" perfectly. It seems I had wired the rear lights backwards!!!! Left turn – right light blinked, and vice versa! We learned this because, as we waited for Dave to open the gate, some jack-ass who had been stopped behind us (which is weird in and of itself on such a lightly-travelled country road!) decided he COULD NOT WAIT ANOTHER 60 SECONDS and needed to shoot around us on the left. RV WHERE YET came within MILLIMETERS of pushing him into the ditch!!!!
Whereupon I investigated the turn signals – I HAD SIGNALLED MY INTENTIONS, but apparently backwards. Ooooopppps!
For the record, The Jackass was STILL an impatient Jackass no matter how I signalled, because there was NO ROAD TO TURN ON to the right, and Dave and Lynn were standing holding the gate open on the left — and waving me in! It was obvious what my intentions were and so the guy deserved to be in the ditch! Fortunately, he wasn't and no harm was done (and the turn signal repair moved up to the top of my list!)
After Vian, and on the way to Houston, we passed through the Dallas metro area. It was here that ICE CREAM SAVED OUR LIVES!!! You'll have to read the next post to learn how!