So, after Amish Country, we stopped in Columbus, Ohio where there is a company called Bus Services, Inc. This company services all kinds of buses, including Bluebirds, and was mentioned on the Online Forum that I consult on all things Vintage Bluebird. Most of their patients are a little more modern, but they said they would welcome us into their shop.
Some of those miles in remote places like Northern Ontario, Wyoming
and Monroe, Wi.
Nothing WRONG, per se, but we asked them to do a Preventive Maintenance on the bus, in anticipation of putting about 15,000 miles on it in the next 6 months. I asked for the usual things: Oil change, check brakes and tires, check and adjust belts (we have NO DESIRE to risk another power-steering failure), change filters, etc. In addition, I asked them to look underneath for anything that might kill us, either sooner or later.
Geoff (the service manager) was super-accommodating, especially since I helped him discover the WiFi Password in their waiting room. Good to know that my 30-year career still has some relevance to our current lives. And since I offered to help him swing the radiator to check the belts, thus saving him a ½ day of time and saving us several hundred dollars.
He definitely seemed to know his way around our bus at least below the floor. Clearly, they either have a lot of experience with Old Bluebirds after all, or, old Bluebirds are just BASIC. Our discussions with newer Wanderlodge owners (at the Amish Rally) would suggest the latter for OLD buses like ours. Their newer ones have all kinds of unique, complicated stuff (that breaks). As far as Above-the-Floor, I told him to stay out of the fridge (beer supply) — until AFTER he was done!
Possibly dangerous. Even the Secretary of the Treasury approved of that expenditure
One issue did surface: front (steer) tires were wearing unevenly. Actually, pretty much DONE wearing. Needing replacement. We found a Commercial Tire place and they replaced the bad tires, aligned the front wheels and re-balanced the rear.
We also learned some things about tires. We had been under-inflating the tires all along (at least according to the tire guys). According to the placard on the bus, not. In fact, that is the issue: 7 different recommendations; and we had simply split the difference(s). Now we KNOW.
And we should also rotate and re-balance them every now and then (15-25K miles-ish?). All along, Liz has been asking our various truck mechanics about tire rotation — they usually smile and sometimes snicker. We assumed this meant, "NOT rotated, Stupid silly city-slickers. " WRONG! Prob. meant they didn't want to bother. So this was added to our maintenance checklist.
After leaving Bus Services and the Tire place with a clean bill of health, we started looking for options for the next few days. Eventually, we are going to Chautauqua, New York (near Buffalo), where we are meeting friends the McDowells and attending a National Geographic Seminar series. In addition, of course, to some progressive (excessive?) dining and sports trash-talking. Mike is a Pirates fan, and for some reason persists in betting with us on Cubs v. Pirates. He must have missed the World Series last year. In fairness, the Penguins have been occupying a significant amount of his attention. Anyway, the last bet he lost has him buying Ice Cream for us in Chautauqua. His bets HAVE become less and less significant (tho ice Cream is not INsignificant).
We are not expected in Chautauqua until Sunday, so we have a few days to mosey along. Just the right pace for our retired selves — 3-4 days in WINE COUNTRY. Most people would not think of Ohio and Pennsylvania as Wine Country. And if one were a snob, not New York, either. But we are not "most people" and we are certainly not snobs. What we are is a member of a group called Harvest Hosts (http://www.harvesthosts.com). This website (I think I have mentioned it once or twice before in this blog) provides the opportunity for RV members to overnight for free at various member-Wineries, Orchards, Breweries, Farms etc. "For Free" because it is considered good manners to purchase some wine/beer/produce in exchange. What a (non)struggle that is!!!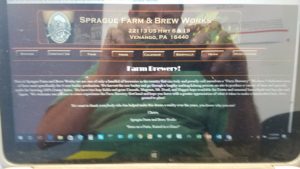 There are at least a half a dozen Harvest-Host-Member Wineries and one Brewery between Columbus and Chautauqua that have space and willingness. Being generally "Progressive" (politically, meal-wise, etc.), we plotted a progressive course.