We left Amish Berlin in a sort of Bluebird Wanderlodge Caravan…several of us were heading onwards to Dayton, OH. There we stayed in a KOA for a few days with the intention of visiting the Air Force Museum. We also continued our new tradition of eating with friends and sitting around after dinner with a glass of sumthin. Everyone brings their own, and we select a picnic table next to one of the buses.
The KOA was perfectly situated and very nice. Off in one corner, on an isolated loop was a group of ladies (they call themselves "Sisters on the Fly" – and their membership is in the THOUSANDS) who meet every so often for a rally of their vintage Trailers (some as old as the '50s.). LADIES ONLY, though…Liz was welcome to sit in, but Dan, not so much. I know most of you can agree with that…but maybe were perhaps a little reluctant to say so to us directly. The Sisters were NOT RELUCTANT…but in a friendly way (there may have been adult beverages involved)!
They did say they occasionally have rallies called "Sisters and their Misters…" At first, I thought that sounded like fun…but then I wondered if the "Misters" were eunuch slave-servants. Last I looked, Liz was perusing their website!
We pulled the Bikes down and pedaled to Breakfast a couple times…2+ miles each way to the Waffle House! BOY, we have missed the Waffle House!!! Just as friendly and delicious as ever…and simply not present except in the Southeast…and apparently in Ohio. YUM!!!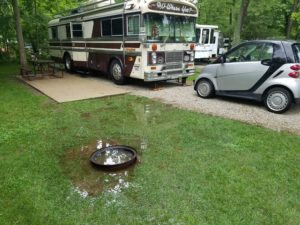 In Dayton, we experienced TORRENTIAL Rain. All the better for museum-ing! The Airforce museum was ABSOLUTELY ASTONISHING and SPECTACULAR. I have been to the Smithsonian Air and Space on the Mall, and to the Dulles facility…the Dayton museum is BETTER and BIGGER and has WAY MORE STUFF. Now, it is of course Air Force and military-oriented, but MY GOODNESS the stuff they have.
What I found particularly interesting are the representative specimens of all the "failures" that happened along the way. The crazy planes that seemed like a good idea, but needed a more powerful engine, or better flite controls, or whatever…things that were just plain ahead of their time or an evolutionary dead-end. Like the flying pogo stick – a jet that took off vertical and landed horizontal. Needed a more powerful engine and computer-controlled stability. So relegated to the museum. Eventually, the Harrier, with vectored thrust, was the engineering concept that actually WAS practical…and is still in use today.
There were several attempts at "Parasite Fighters" that dropped out of a bomber to provide protection and then were supposed to connect back up — in flight! All failed due to turbulence from the bomber making reconnection extremely hazardous — and the advent of long-range fighters and mid-air refueling made the whole idea as obsolete as it was absurd.
Or the MANY early versions and attempts to build craft that rose like a helicopter and flew like a plane. Rotating wings, rotating engines, both rotating horizontal and vertical blades…what ultimately became the V-22 Osprey whose rotating engines do allow it to take off like a helicopter and fly like a plane.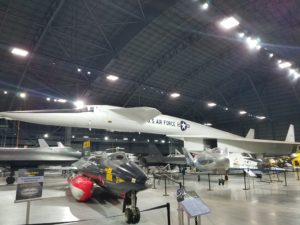 Perhaps the best example: the sole remaining XB-70 Valkyrie. This was to be a Mach 3 strategic bomber, and was groundbreaking in all sorts of aeronautical ways. Hardly a "failure, " indeed an engineering marvel. But, as the prototypes were rolling out, the world changed … airplanes, no matter how high and fast and just plain AWESOME, were simply more vulnerable and WAY MORE EXPENSIVE than Missiles.
I have to admit, we got a little bit more from our visit than most museum visitors…one of our fellow Wanderlodge pilots was an engineer on the XB-70 program. We learned about the structure and uniqueness of the plane from an inside point-of-view. Also some details about the circumstances around the crash of the sole other prototype.
CLEARLY, progress consists of two steps forward and one back. We tend to remember the successes that change our lives and the world. But someone had to dream up those successes, and some of those dreams were failures, too.
I know most of you tune me out, and for good reason, but LISTEN UP
A serious recommendation … This museum is worth a visit to Dayton…and you will need 2-3 days to explore all the halls and exhibits. In addition to AWESOME, it will help YOU fill in the rich color and detail between the "main" tourist destinations.