We have REALLY seen some stuff on this trip. "Home" is starting to mean "wherever we are…" Following on to the Baseball Hall of Fame, we headed west — destination Niagara Falls. YIKES!!!
I guess there is good and bad everywhere. The RV place we stayed was on Grand Island – very near the Falls. Very nice RV park. In the case of Niagara Falls, mostly bad. Well not bad, but tacky, threadbare and well past its prime. Mostly on the American side where there are lots of empty buildings and ramshackle houses; and of course a casino. The Canadian side is much better kept, though, if possible, EVEN MORE TACKY. There is an Amusement-Park-Carnival street and a water-park on top of a hotel/skyscraper. Also a casino. Cannot have too many casinos!
But, also a Brew-pub and DQ, so not all bad!! And both sides have a monument to Nicolai Tesla, who pretty much invented A/C Power Generation…at Niagara Falls!
The falls are SPECTACULAR, from either side of the border. But all in all, I cannot understand why Niagara Falls is a place to honeymoon OR why anyone would choose to go over the falls in a barrel!
While in the area. We visited a museum featuring the Erie Canal…and a set of still-existing locks. The museum was closed, but there were plaques and a historical society where they had brochures. It is still possible to take the "Circle Route" from NY City, up the Hudson River, to the Erie Canal (now, actually, the NY Barge Canal) to the Great Lakes at Buffalo. Then via Chicago and the Illinois Sanitary and Ship Canal to the Mississippi. Ending in New Orleans. Or around Florida to the Intercoastal northbound and back to the start. Hmmm. Maybe after the RV-thing gets old…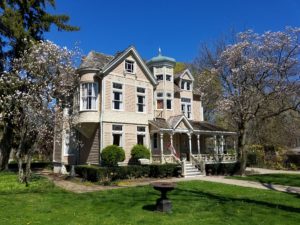 We drove up to the town of Niagara-on-the-Lake for a day. This is a really beautiful place. Charming houses, nice shops, parks, a beautiful lakefront. Another Brew-pub. Multiple ice cream and gelato options. Proper Health Care (N-O-L is in Canada…)
One of the Gelato places was hiring…one could settle here, if not for a couple of somewhat relevant factoids: 1) everything is REALLY EXPENSIVE, even allowing for the exchange rate, and 2) they get about 7' of snow every winter.