Immediately upon arrival at the Florer Farm, Cindy delivered us out to the field Steve was Combining, and he took first Liz and then me for a ride in "The Combine!"
This is the UNBELIEVEABLE (to a City-slicker, anyway) symbol of American Agriculture. As I was watching the machine, I could think only of Rube Goldberg if he were crossed somehow with Norman Rockwell. Something as All-American as Corn Harvest happens by means of so many machine bits doing an incredible, synchronized, mechanized ballet, the end result of which was massive amounts of corn-in-the-hopper. Tubes and Bars with huge teeth to grab the stalk and break off the ears; beaters and rubbers to remove the kernels from the ears, conveyors taking the kernels up and out into the hopper, blowers and "rakes" to remove all the husks and chop them up before a blower spreads the remnants back onto the field.
Steve even let ME drive, and while doing so, through a too-abrupt stop, I managed to dump Corn Kernels out of the hopper onto the roof of the Combine. Steve laughed and called it the "Crown of Shame." One pass up the field and back filled the hopper overtop, so all but the crown was unloaded by another conveyor into the truck. Repeat twice and the truck was full, so OFF TO THE ETHANOL PLANT!!!
That was a whole 'nother experience. ENTIRELY automated. Driving in the front, there is a scale to get Gross weight or truck, corn and humans. Steve's RFID Card (or maybe the chips in his vaccines, IDK) identified him and he was directed to a sampling machine, which decided his corn was PRIMO based on moisture content automatically verified and displayed on screen right there. He was directed to a particular unloading shed where he parked over the grate, got out and opened the doors on the bottom of the truck. 30 seconds later the truck was empty and we left the plant via another scale that calculated empty weight of vehicle and humans. Simple math determined the amount of corn unloaded, and therefore the amount due to Steve based on a contract and price sold before the corn was even planted.
We never once met a single employee of that plant!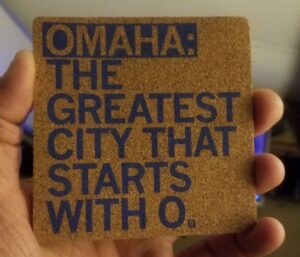 Steve told me his yield was GREAT (especially for a drought year) and his price was good because his "extra" corn (above the contract) was a little early – before the rush of folks delivering to the plant. Also meaning he did not need to store the corn for later delivery. A WIN-WIN!!!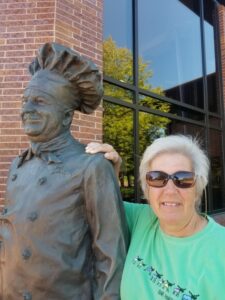 Our plan after leaving Florers was to head west, through Nebraska. Omaha was our first stop – a nice town, a GREAT Zoo! Even a GREAT CHEF!!!!
Then we intended to see a ("the?") Penis on the Prairie – the Nebraska State Capital, but we got waylaid along the way! We learned that a fellow Bluebirder was having some issues with their bus, and by heading to Topeka, instead, we might be able to help!
So many people have helped us out, it was an easy decision to divert!!!! Turns out they sorted the issue themselves, but we had such a nice dinner and conversation that we hardly missed the Penis (which will presumably still be there sometime down the road).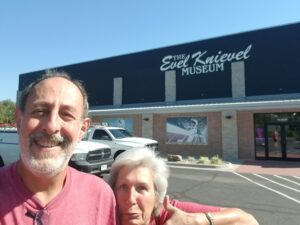 While in Topeka, we spent a little time doing Topeka-things. The Kansas State (non-penis) Capitol is an obvious one, but how about the EVEL KNEIVEL Museum And Couiffure establishment? That is NOT an accidental, run-on sentence…nor can you make this sh*t up!!!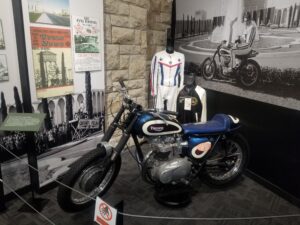 The former was really quite interesting… Knievel had the barest of bare connections to Topeka (hardly more than relieving himself in a nearby interstate rest stop), but the guy with the Harley Franchise was a BIG FAN (apparently). So the museum was chock full of interesting stuff – actual motorcycles ridden (successfully and unsuccessfully) by the man himself. Clothes he wore. Historical newspaper articles. His touring truck and trailer. There may have been used surgical dressings and empty units of blood, though I did not actually see any of those.
We all KNOW the man was a promoter and snake-oil (if not Snake-River) salesman, but the degree to which he was is more than you can imagine. For example, he wasn't always a motorcycle dare-devil — for awhile he was a Big Game Hunting Guide. His promise: "Guaranteed Bison Trophy." This was VERY successful and indeed lucrative for Knievel — until the National Park Service ARRESTED HIM for leading hunting expeditions in Yellowstone (where the buffalo roam still, as we all know).
And, after the museum tour, of course, you exit through the GIFT SHOP. But…this was undoubtedly one of the world's MOST EXPENSIVE Museum Gift Shops. Not a bunch of stickers and Chinese-made fridge magnets — Want A Harley? They were in the gift shop, which was also the Dealer's Showroom!
And, just outside was a little set of concession stores made to look like Ye Olde Western Towne [sic]. It was all closed (offseason, I guess, though I don't know what the Evel Kneivel season is…); EXCEPT the Hair Salon!!! Liz had been talking about needing a style, and the persona of the burly, tattooed "woman" running the place did not dissuade her in the least.
Liz is getting VERY BRAVE – she used to be very reluctant to get her hair done "randomly." She used to need a reference from a close friend AT LEAST, if not a million dollar performance bond before she would enter a shop. Not anymore, apparently. You cannot get any more random than a tattooed stylist affiliated with the Evel Kneivel Museum affiliated with the Topeka Harley Davidson Dealer.
Apparently, it all worked out well – she WAS smiling, if un-tattooed, as we left!!!
So, after Topeka, what else could Kansas offer? We hoped to see the Dwight Eisenhower Library, which was closed due to COVID being rampant in Kansas and almost everywhere else. NEXT TIME, I guess.
Our final stop in Kansas was Wichita, which we quite enjoyed. There was some beer to be had, a pretty vibrant restaurant scene (I guess Wichita is as "Hip" as Kansas gets, Millenial-wise), and a gathering called "Riverfest" to enjoy. The festival included some more bad food, including Corn Dogs (the Pronto Pup Variety…not my favorite), and a bit of pretty average but still LIVE Music. Admiral Windwagon Smith (the honorary king of the festival) even thanked us personally for our attendance, and gave us one of his personal Dubloons. We enjoyed!!!
On the way out of Kansas (headed for Denver, to visit some college buddies and Alaska Friends), we did manage to visit The National Tallgrass Prairie Preserve, one of the largest and only remaining representations of this habitat, which used to run for millions of acres across Colorado, Kansas, Nebraska, the Dakotas, etc.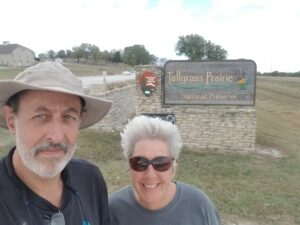 This preserve was donated by the heirs of and still contains a representative Prairie Ranch with a spectacularly preserved main house. This house included an imaginative routing of a coldwater spring to keep food cellars cold, as well as a "Safe Room" to prevent a sequel to the Oz-epic. In addition, on its expansive properties is a herd of Bison, and you can drive or walk through the field. It is so large that you cannot see the fences, and you can easily imagine this is what settlers saw as they crossed in the direction of California and Oregon.
So, in case you missed it in the previous paragraph – why would we be going to Denver to see Alaska Friends? Well, because Paul and Julie Page, whom we met at a last-minute add to our Alaska Itinerary – SALMONFEST, have a place in Erie, Colorado…about 2 miles from college friend Tillman Farley. It's a two-fer we have enjoyed before, and Julie said they were in Erie and happy to have us park there (Again!!!). It was GREAT seeing Paul and Julie, and it emphasizes the best part about our new lifestyle – the people we meet and friendships that happen along the way!
First up in Denver was lunch with Craig Banister – whom we had just seen in Minneapolis. He suggested a Brewery in "Lo-Do" (Lower Downtown Denver, near Coors Field), which was great. It was apparently Colorado's first Craft Brewery, and there were pics of Obama enjoying it!
Next was dinner with Tillman and Susanna. They had organized all the comestibles, so Tillman forbade shopping for more; the only thing we had onboard to provide was a bowl full of fresh Jalapenos for roasting, given to us by Cindy Florer of Iowa fame. She said these were "Special" Jalapenos – fertilized by large amounts of Bat Guano from their Barn.
Well, I can tell you, and this is CLEARLY affirmed by this pic of Tillman exhibiting what we now call "Jalapeno-Face:" These were the HOTTEST Jalapenos I have ever experienced. I do not know if Bat Guano brings the heat, but you will note Susanna (native of Mexico) in the pic – she was rightly AFRAID of these peppers based on Tillman's reaction.
My reaction was totally similar to Tillman's – I was just on the other side of the camera lens, which amazingly did not steam up from the peppers I had eaten!
Next, it was on to Phoenix – where we learned that our BEST friends (apparently) don't mind us breaking down in their driveway!