Leaving Denver, we had a choice of 2 paths. One would land us in Pagosa Springs, where Liz's friends Dyan and Royce have a new AirBNB (and, as we learned only later, Royce had prepared a Green Chili made with Elk). The other would be a southernly path, thru Santa Fe and Albuquerque. Normally, the choice would be easy – been to Albuquerque, never had Elk Chili! But, alas, the weather!
discretion was the better part of valor (and tire chains were NOT)
The year's first winter storm was dumping heavy snow on the 9,500' Wolf Creek pass between Denver and Pagosa. We monitored the situation until the last minute, hoping to squeeze thru, but in the end We all decided that discretion was the better part of valor (and tire chains were NOT). So, we went southwards.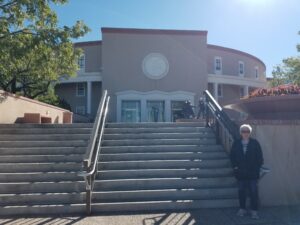 First stop Was Santa Fe. We've been there before, but we never visited the New Mexico State Capitol before. This is more an Art Gallery than a home for Bloviating officials (though there was some of that going on at the time). The building is a Circle in reference to Navajo Kivas, and each of 4 levels contains SPECTACULAR Art from New Mexico.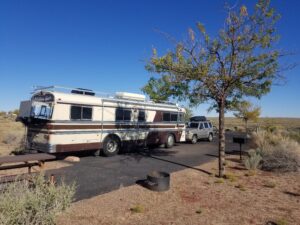 Next, rather than stopping IN Albuquerque (been there, done that), we stopped at a couple places of note crossing Arizona on the way to Phoenix. The first was near Meteor Crater, and in order to visit THAT, we stayed in the second – Winslow, Arizona.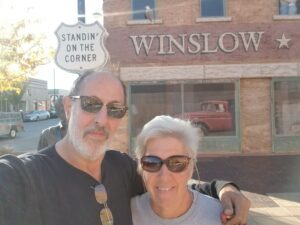 Yes, THAT Winslow!!! On route 66 and IN that famous Eagles song!!!
We discovered a brewery there (across the street from where we needed to take the obligatory pic), and we spent a day at the crater – both really excellent.
There is a monument to the Eagles in Winslow, and YES, there is also a Flatbed Ford, parked next to that monument.
And for a moment a Girl IN that Flat bed Ford…
Across from the MOST UNUSUAL street sign (outside the brewery, of course!)
Meteor Crater itself was interesting scientifically and historically. It is a PRIVATE enterprise, though it is a National Historical Landmark. There is a visitor's center with excellent narrative AND a free guide-led hike along the rim of the crater. The story of the place involves scientific argument, homesteading, border disputes with local ranchers and eventual configuration as a tourist attraction benefitting BOTH said ranchers AND the Homesteader's heirs. I can't tell the whole story here (maybe there will be a Ken Burns Documentary or a TV Miniseries, considering the amount of drama! IDK), but a few points of interest:

The scientific dispute was over the question of volcanic or Meteoric origin. For MANY years the scientific community leaned towards the former because NO METEORITE CARCASS was ever found!
There were various erroneous assumptions, including that the meteorite must be of a size similar to the crater itself AND that the meteorite must be heavily metallic. Dr. Daniel Barringer, who homesteaded the whole crater, believed it WAS a Meteor impact, and spent a lot of time and money digging shafts to find the carcass. That he did not tilted the conclusion for awhile (and even he began to doubt his assumptions) towards volcanism.
We now know that the meteor itself was MUCH SMALLER than the crater, and it was effectively vaporized. So the "carcass" is actually a thin layer of metallic particles spread over square miles of surrounding desert.
The neighboring ranches REALLY HATED all the collectors and quasi-scientists who trespassed on their land to access the crater (there was no road to it). Eventually, a compromise was reached (before any scientists or tourists were shot, at least according to the story): The Ranchers would build a road and operate a Tourist center and scientific station. For this, they would send 50% of the revenue to Dr. Barringer's heirs, who lived in Philadelphia and had no desire whatsoever to be anywhere near the middle of nowhere. That arrangement continues to this day!
Leaving Winslow, we headed towards Phoenix to connect with friends Petra and Juergen Schmider, who had moved there from Chicago. They are fellow RVers…offering laundry and a place to park in front of their RV Garage. Only a fellow RVer can truly appreciate the value of such an offer!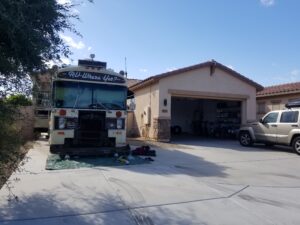 Turns out to have been fortuitous timing, and not just for reasons related to laundry… because I was now hearing a "WEIRD NOISE" emanating from RV WHERE YET's engine compartment. Could be nothing, could be something – I have learned not only what "normal" noise sounds like, but instantly can sense something amiss by a change in this. The noise needed investigation and a place to investigate!
We got ourselves parked in the Schmider's driveway and I opened the front of RV WHERE YET, to discover that 2 of the three Nuts holding the Alternator on and tight were MISSING!!!! The Bolts on to which they SHOULD HAVE BEEN threaded to keep said bolts tight were now loose. That the Alternator was still Alternating was REMARKABLE – the belts were very loose. In fact, I am not sure how the alternator had not departed the vehicle, probably causing significant damage as it blazed a trail thru all that fast-rotating stuff on the front of the engine!!
We SHOULD HAVE been stranded on the side of the highway!!
Instead, all I needed to do was figure out how the Bolts/Nuts had come loose, and then replace them! I discovered that one bolt's socket was cross-threaded so it had SEEMED tight but was in fact not, and this PROBABLY led to the loosening of the whole shebang. New nuts were procured, and I retapped the mounting socket, installed new bolts and locking washers and tightened all belts. Total repair cost: $25.
Any Bluebird Repair without 4 digits to the left of the decimal is a VERY GOOD (and very unusual) DAY!!!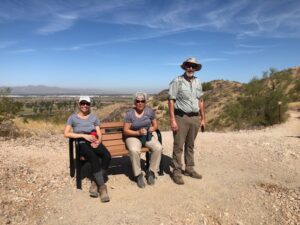 Because this repair turned out to be relatively simple, we were able to spend time Hiking and Biking with the Schmiders.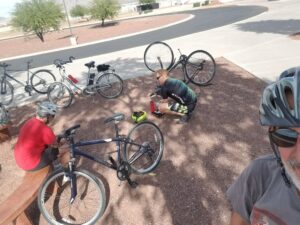 The latter because Juergen offered use of his Son's bike to me…ours having been stolen and only Liz's replaced as of yet. We must be cursed, because even the biking was disrupted by breakdowns.
I have been perusing CraigsList in places we have been – Denver, Albuquerque and Phoenix. Found a couple and actually looked at one in Phoenix, but ultimately have not purchased one. I also cannot shake the suspicion that any bike found on CraigsList was stolen from someone like me before being offered for sale to someone like me…A real moral conundrum – I NEED a bike, and really cannot afford a new one even if I could find one…they are in very short supply. So, I peruse lists of possibly (or probably) stolen ones.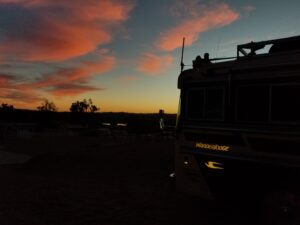 We left Phoenix, ultimately, headed eventually for Las Vegas, but with several weeks to kill in between. Our next stop we determined to be in Lake Havasu City, where John and Kathie Alley have a winter respite-site. In addition to Havasu, John also resides on the opposite end of the political spectrum from me. AND from his wife! How that relationship works (with his wife, mostly, but with me as well) perhaps gives hope for the future of the republic.
did he say "Think" or "Drink?"
I asked John at one point how he can tolerate such obvious Liberal viewpoints on Facebook, much less in his driveway. He said, "I enjoy our conversations – they make me think!" I wasn't sure and asked for clarification, did he say "Think" or "Drink?" BOTH, I am pretty sure!
Anyway, on moments when John and I were not solving the world's problems amicably (it is amazing how people CAN come to common ground from very diverse starting points), we did some distinctly Havasu things. For example, we wandered down to the "City" center (not really much of a "city") to gawk at the LONDON BRIDGE. This was relocated from London-Actual to London-Dry stone by stone, and to be honest looks as out of place as it sounds.
It DID give me great pleasure to text friend Mark Tenzer, my "twin" from London-actual to ask if maybe they had misplaced something. Mark, BTW, is my Twin-actual, having been born on the same date in the same year albeit in GMT Timezone.
At one point, John offered me a ride in his Dune-machine. I strapped in – a five-point harness that took me a bit to figure out, Liz verified my Life Insurance was paid up and off we went. The first thing I noticed was the intense SCREAM of the engine from right behind my head —I assume John, who was serenely smiling in the seat next to me, had turned his hearing aids down. In fact, I think I now understand why he HAS hearing aids! And I thought RV WHERE YET was loud!!
Anyway, I cannot really do justice to the experience – and I realized I did not even take a picture, but suffice to say this was QUITE THE ROLLER COASTER RIDE as we hurtled directly at what appeared to be vertical or even past-vertical dune sand faces, emerging unscathed at the top. We did this multiple times, to either prove that once was not an anomaly or to keep the levels of adrenalin and endorphins at a pleasurable point.
John DID promise nightly visits from the Local Wild Burros; however none were ever seen. I presume they exist, because steaming piles of Burro-evidence were plentiful. This was the ONLY disappointment we suffered at the hands of the Alleys – and I am willing to forgive and if not forget and at least visit again to have the benefit of burro-apparitions.
While at the Alleys, I got a phone call from an old friend – Captain Blueberry (Brian Gibler) whom we met at a Bluebird Rally and visited at their Blueberry Ranch in Oregon. It seems he had met another Bluebirder in a bind, and had somehow volunteered himself to first get that Bluebird running and the Drive it to Southern Oregon. This Bluebird was of the same vintage as ours (Brian's is newer), so naturally Brian assumed I would know telephonically if not telepathically how to get this thing rolling.
What goes around comes around. Belching diesel smoke, usually!
Well, we managed, together – several calls giving Brian an overall strategy for several hours of wrenching. He eventually made it to the destination and then back home – just in time for beer! This is something special about Bluebird folks, though. Brian offered to help a complete stranger, then called me because he knew I could and would do the same (as many have done for me). What goes around comes around. Belching diesel smoke, usually!
Leaving the Alleys, we decided to visit (what is left of) Lake Mead. I found a full-hookup RV spot in Lake Mead National Recreation Area at a place called Callville Bay Marina where there was the Callville Trailer Village. Lots of remarkable, there. First, we paid $20 for the spot – pretty much a low for full hookups in 5 years of traveling. Second, the extent to which Lake Mead is disappearing is nothing short of remarkable, in a wholly catastrophic way.
No One (even the MOST science-denier among us) can still deny the impact of climate change and the future we have in store for us as you stare up MORE THAN 100ft and back MORE THAN A MILE from the current water level to the "Callville Marina RV park."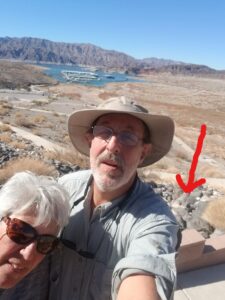 That and the rampant development in California, Arizona and Nevada that sucks the life-blood from the same Colorado River that feeds Lake Mead. It's a disastrous two-fer of rampant human excess. There was a picture on the wall in the clubhouse showing the water lapping the rock wall outside said clubhouse. We took a picture on the same rocks, and you can barely see the water in the distance!

We used the RV Trailer Village as a base to explore Lake Mead and the adjacent Valley of Fire State Park. The latter is spectacular, and has some really fantastic hiking trails. We did a hike every day for a week, starting early in the morning, walking 5-8 miles and finishing before noon (when the heat – even in late fall – starts to become noticeable). Eventually, we left Lake Mead and continued onwards.
Still had some time to kill, and so we looked for a few places to stop between Lake Mead and Las Vegas. I noticed on one of the apps we use – Harvest Host, which usually produces Wineries and Breweries whose parking lots we can inhabit for an evening or 2 — a Farm. But not just any "farm" – one that advertised itself as a "Pot Belly Pig Rescue Organization."
You really cannot make this sh*t up – an Animal shelter that cares specifically for Orphaned or otherwise abandoned POT BELLY PIGS. We absolutely NEEDED to go there, meet the proprietor (and the pigs) and find out whassup!
It turns out that, while Pigs are their specialty, there were also Emus, Burros (yes, John we FINALLY saw a Burro!), horses, ducks (including one that thot himself human), chickens, guinea fowl and SO MUCH MORE!
And Soooooo many questions.
For example, normally when one stays at a Harvest Host Winery or Brewery "for free," one is expected to make a purchase – a bottle of wine, or dinner and a beer. Easy-peasy. But what was the quid pro quo here? Were we expected to leave with a Pig?
Many of our Bluebird friends (Anita, you know who you are) INSISTED we NEEDED a Bus-pig…
Oh HELL no! (and that was the very nicest thing Liz had to say).
Before we even got to Windy's, though, we had a bit of a mechanical problem. Not even out of the Lake Mead Recreation Area, the bus's radiator fan suddenly stopped working. I limped into a roadside pullout and immediately identified the problem – the fan belts (there are two to share the load and for redundancy) had both broken and departed the vehicle. Possibly damaged when the alternator was loose? Fortunately, I had a spare in the roof bin – not sure why I didn't have two, but the one would get us to the next Napa store, which turns out to be in the same town as Windy's Rescue.
So, we pulled up in front of Windy's gate, and there were "a bunch "of pigs inside the yard. And 4 imposing Great Pyrenees Dogs examining us with what can only be described as Great-Pyrenees-interest. Janice opened the gate and motioned us in. She even offered an electric hookup. And Proceeded to introduce us to all the other guests…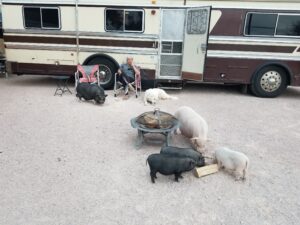 Then the "inmates" began to charm us; not that the proprietor herself wasn't charming – she was! But how can human charms EVER compare to a herd of pigs of all shapes and sizes and vocalizations. Some like belly rubs. Some squeal if you look at them (I assume because they assume there will be food if they squeal loud enuf). One tried to board the bus.
One would NOT leave me alone – insisting on chewing on my pants leg while I attempted to install (with Jan's permission as we don't normally undertake repairs at Harvest Hosts) the new Fan Belts I had obtained from NAPA. Jan later told me this particular pig was in heat (it had arrived to her care in this state, so could not be fixed as all the other ones were for a couple months), which she felt somehow explained why it was so attracted to ME and my pants!!!
If it was "just" the pigs, Windy's would have been remarkable and unmatched in all our on-the-road experiences to date. But the pigs were FAR from "all." There were three Emus (none of which tried to sell us insurance). There was a Baby Burro that had been abandoned (or orphaned) by its mother and was brought to Windy's by the U.S. BLM to be raised and then (hopefully) released back to BLM lands (or maybe John Alley's back yard). There was a "retired" rodeo horse. Two miniature horses. Two HUGE Farm Hogs. A herd of Ducks, including one VERY SPECIAL DUCK (Dino) who thought – no KNEW – he was human.
Seriously – he joined us at the campfire Janice constructed for us and Dino carried the conversation almost single-wingedly.
I think I can safely say I have never shared a campfire with Three Women and a Duck before (Janice had another Harvest-Host guest besides us), and likely never will again !
We LOVED Windy's Rescue – if anyone wants to, you can make donations to help feed the cast of characters .. go to "windysrescue" on Venmo – do it…WE DID!!!