Our path next took us back to Chicago for the very briefest of visits. Our ONLY reason for visiting was that I had noticed a bizarre "thing" under my tongue. Noticed because I had managed to get a Tortilla chip lodged there, and upon investigation discovered "it." I had not wanted to trouble Liz with this (she tends to panic unnecessarily), I had hoped to send a pic to the doc, but could not figure out how to hold the camera, my tongue, a lite, etc. So, Liz had to take the pic, which we sent to my doc.
Upon receipt, he suggested a visit, which I gladly agreed to, a couple weeks hence. During those couple weeks, we did some fun stuff that kept us in the area, actually, which I shall describe shortly. Also during those couple weeks, I received a COVID Questionnaire from Advocate, which I thot odd since the visit was to be by video!!!
Not wanting to leave the area totally before said video visit, we spent a little time wandering around the area. This included a visit to Lacrosse, Wi., Dubuque, Ia. and Potosi, Wisconsin. At the latter there is an old-fashioned brewery (actually, one of the oldest in the midwest!), which has been through several owners and ownership groups.
Why? Well, perhaps their business model needs a little work? For example, they have a NICE beer garden and lots of Beers on Tap. They also have a SPECTACULAR museum – the National Brewery Museum – onsite. If you go to the former, beers in the garden are $4. If your tour the latter, which costs $3, beers are free. I can neither confirm nor deny that we toured the heck out of that museum (which was well worth it, even without the discount)!!!!
In the Potosi area, we stayed at an Army Corps of Engineers Campground directly on the Mississippi. $20/nite for the general public but $10 for those who carry what we affectionately call the "Old Fart" National Parks Pass. While at the ACE park, we managed to catch the Bears on TV — WHAT A MISTAKE!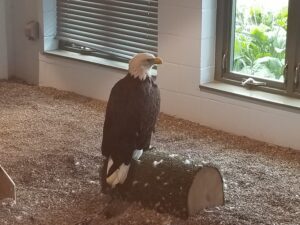 Previous to Potosi, we also visited the National Eagle Center near Winona, Mn, which was spectacular. And, we visited Dubuque, which offers several Breweries and a Funicular.
The Video visit with the doc took place, and took all of 30 seconds. The Doc said the "thing" under my tongue did not look worrisome, but he thought I should see an ENT specialist anyway. He gave me the name of and referral to one, but said it was unlikely I could get an appointment "anytime soon".
I called anyway – the ENT Doc's office said "We have an appointment at 4:30 TODAY!" I explained that there was NO WAY I could get there "Today." I asked about "The Day after tomorrow" and they said "We have 8:30, 10:45 and 2:30 available…" I took 2:30, and, while we were at it, Liz decided to tee-up a visit to her dermatologist to investigate a dark spot under a toenail.
All that remained was to figure out how to organize a swing thru Chicago, given that we had several hours to drive and needed a place to park the bus nearby.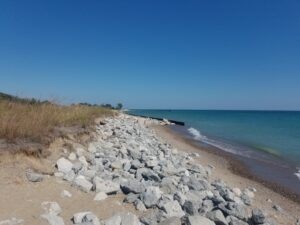 I went online, and found that Illinois Beach State Park in Zion, IL seemed to have available spots, being after the peak season and all. There were some reserveable spots, but also a BUNCH of first-come-first served. I called and asked if they were busy – the ranger said DEFINITELY NOT, especially during the week. We decided to drive in and take our chances, which worked out GREAT!!! We had our choice of dozens of great spots within 50' of the shores of Lake Michigan.
Our Doc appointments also worked out great. The ENT looked under my tongue, mumbled something about a prominent vein – nothing to worry about — and spent the next 20 minutes inquiring about our "fascinating" nomadic lifestyle, leaving me wondering if I should/could charge HIM for the visit. Meanwhile, Liz's Derm was also not at all concerned about the dark spot, since Liz confessed she had stubbed her toe a month or so before on a similarly prominent manhole cover.
So, BOTTOM LINE: as we get older, we CLEARLY need to learn which (prominent or otherwise) bumps, spots, aches and pains are needing attention and which are not. There is no instruction manual for our aging machinery, which is much like our home on wheels in that regard!!!
HINT: It was NOT a burglary!
While we were at the State Park, I got a weird call from the tenants back in Chicago. They wanted to know if we were still downstairs, because SOMEONE WAS BREAKING IN THE BACK OF THE BUILDING!!!! This was at 11:30 at night!, and we were definitely NOT there, so tenant called 911!! I opened up my phone and watched on our security cameras as a guy first kicked in the back door, took a gardening shears he found there and used it to try to open the Garage door. He spent a lot of time on this attempt – I was watching! Then the cops arrived, arrested the bozo and we got the whole story…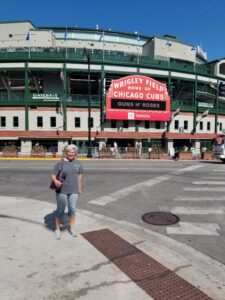 It seems there was a "Guns and Roses" concert at Wrigley Field that evening – we had seen the signs of this as we went to our Doc Appointments and were VERY GLAD not to be around in the evening to enjoy THAT noise. Anyway, This particular Guns and Roses Fan/bozo (redundant?) had gotten SO DRUNK that he could not remember what garage he had parked his car in! He was SURE it was in our garage, and he was REALLY MAD that the guy that had sold him parking was now refusing him access to his car!!
Meanwhile, the tenants were SURE he was going to hurt someone, waving as he had been the garden shears; mad about being denied access to his car. We were SURE that we wanted nothing to do with any of this or any other aspect of building management at midnight, long-distance!
The cops quickly sorted this out…
Bozo's car was NOT in our garage, and
Until he sobered up, it was not likely they would be able to find his car, and
It was VERY CERTAIN he should not be driving, anyway!!!
The tenants, now in the backyard talking to the cops (I saw all this on video) did not want to press charges, so the cops let Bozo go. How and where I have no idea.
I later learned that even if someone there HAD pressed charges, the cops would have kept Bozo in custody but the worst that would have happened is the guy would have gotten essentially a ticket! It was explained to me by a Detective and then by a very patient States Attorney that I could show up IN PERSON at Summons Court, where an arrest warrant would probably be issued; however since there was no intent, there was no "crime." And we were going to be stuck with the cost of repairs regardless, unless we sued in Civil Court (again in person). Left unsaid but CLEARLY implied: The Cops and The States Attorney would NOT APPRECIATE us wasting the system's time pursuing a $1,000 property crime while they are trying desparately to hold the city together at the (frayed) seams.
All of this basically cemented our desire to sell our building, which is NOW LISTED!!!! (Talk about burying the lead!!)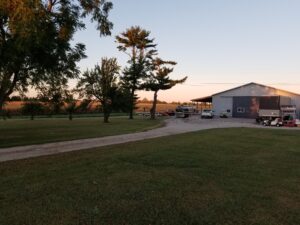 So, we left the Chicago Area after Doc Visits – we never even stayed at our apartment – and headed west. We made a call to the Florer's, whose West Des Moines farm we know to be "on the way" and whose hospitality we know to be unsurpassed.
This time, we also knew that Harvest was going on and Steve had promised to show us that aspect of the food chain. We did not want to impose or be in the way during a busy time, but Steve said "C'mon over."
So we did.
While there we had at least 2 experiences of note…which you'll have to read about in the next post!!