Our meandering took us next to a place that was best (for us) visited during the off-season. For a whole variety of reasons.
I am speaking about the Outer Banks of North Carolina. This is a skinny spit of sand that shelters the Atlantic coast, but is itself anything BUT sheltered. Amazing to me that there could be permanent structures on this wind-blown, unstable, seemingly ephemeral real estate.
What we discovered is the truth of this – there are parts of the Outer Banks that were decimated by hurricanes last year, and have not yet (and may not ever) recover(ed). One place that seemed interesting to visit was Oracoke Island, which has (had) an RV Park and can be reached only by ferry. However, there is basically nothing left of what little infrastructure there was prior to the hurricane, so we stayed instead near Nags Head.
Nags Head reminded us quite a bit of Cape May, NJ, only with a lot more sand, mosquitos and no-see-ums. That is, a place with vacation villas elbow-to-elbow, lots of t-shirt shops, tacky beach bars and other evidence of a horrible (for us) high season. Since it was NOT high season, we were able to appreciate some of the historical underpinnings of the area. Our base for the days we were there was a really nice little RV park, nearly empty, off the main track in the town of Kill Devil Hill, but hard up against the Wright Memorial Park – more on that in a minute.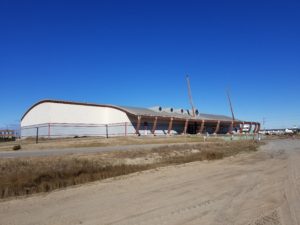 Opportunities for appreciating the "real" outer banks abounded in the absence of tourists. Our first excursion was south, down to the tip of Cape Hatteras. The road runs along beach on both sides and is often overblown with drifting sand. In the town of Hatteras, we spent some time in the "Graveyard of the Atlantic Museum," which documents the seafaring nature of the area and the myriad of shipwrecks that happened barely offshore due to the changing sands bars, barrier islands and reefs.
We followed this with a really nice seafood chowder at the only bar/restaurant open in town during the off season. It had just opened, and was trying out the menu and training new staff on the few travellers and fewer local residents that passed by. The staff had plenty of time to talk to us, which was delightful. Among the topics, we learned that the 1,000 or so permanent residents see 150,000 visitors PER DAY in the summertime. YIKES.
…the closest we came was wild horse apples.
The proprietor of the RV park suggested that we might want to drive NORTH from Nags Head — that we would see the "fancy" part of the island, and eventually could drive on the beach up to where the wild horses can be found. Let me just say that the closest we came to the latter was wild horse apples. Fresh evidence of their existence but no sightings.
As for the "fancy" parts – VERY MUCH SO. Really spectacular homes, all vacant during the off season. Including some homes built past the end of the paved roads, which means accessible ONLY by 4-wheel-drive vehicles on the beach. All I could think of was how could they get the construction material on site for the building of such palacial part-time homes?
And, actually, driving up the beach was, for us, a bit of an adventure. Not quite as adventurous is the jeep ride in Arizona last year with our now friends, the Florers. But still an adventure!
When you reach the end of the pavement, there is a BIG SIGN saying 4-wheel only (I get the sense that they rescue more than a few tourists who drive their 2WD rentals a ways out and then sink to the axles in soft sand) and that deflating tires to 15-20 lbs is recommended. I shifted our jeep to 4 wheel Low and pissed air from all four corners for a bit to the requisite pressure. Then we embarked – about 10 miles – all the way to the Virginia Border, actually. Passing pickup trucks with construction materials – obviously contractors paid to maintain the houses on the dunes during the off season.
Anyway, the Jeep made it up and back magnificently – never once felt the "thrill" that the Florers had exposed us to! But a thrill was coming!
I was trying to decide if they hate tourists THAT MUCH here, or if he was just being a wise-ass
We got back to the end of the pavement, where the town of Corolla has an free air filling station to put your tires back to road-pressure. I pulled out the hose, and IMMEDIATELY snapped off a tire valve in my hand. Soon, ALL the air was out of my tire! It was getting dark, it was windy, and would soon be raining. About then, one of the aforementioned locals in a Pickup Truck pulled up, the driver looked me in the eye and said, "Best if you leave 15-20lbs IN the tire before you go on the sand…"
As I was trying to decide if they hate tourists THAT MUCH here, or if he was just being a wise-ass He winked, grinned, and then asked if we needed any help; so I had my answer! I said we did not – had a fully functional spare and a Lifetime Road Hazard Warranty from Walmart!
Of course, I KNEW that Walmart could not replace the valve stem on the tire pressure sensor, most likely. It would need possibly a new sensor but for sure a compatible stem. SO after we got back to the bus, I went on Amazon and bought a new sensor (on sale for $15 including free shipping).
All service-writer reasons not to have anything be "free."
A couple weeks later, we pulled into a Walmart, where the service writer CONFIRMED the road hazard warranty covered the valve. But, she also told me, "We CANNOT replace the sensor with yours – it has to be programmed, we will have to sell you a sensor…and that is NOT free…" All service-writer reasons not to have anything be "free."
Instead of getting mad (I knew it did NOT need to be programmed and I had one in my hand @$15 vs. the $80 one she might have to order), I asked if I could go out in the shop to help the mechanic move the bike rack so he could get to the spare. Once there, I slipped the new sensor to the mechanic. He winked, took the valve stem off of it, put it on the sensor in the tire and sent us on our way – problem solved for $0.
It is rare to stand in the very spot where the world changed
I will say one thing about the Outer Banks — It is rare to stand in the very spot where the world changed; the feeling of epic change is usually VERY evident in such places. I think, in all our travels, there may be only a handful of places we have visited that took our breath away in this way: Cape Canaveral and the NASA Space Center in Houston. Los Alamos, NM AND Hiroshima, Japan (two places inextricably linked). You can add Fermi's Squash Court near the University of Chicago to those two. The Liberty Bell and Buildings in Philedelphia. The Lorraine Hotel in Memphis (and Sun Studio in Memphis – a town with TWO!). Most of Washington, DC, though the bloom is off that lily these days.
The Sandy flat just next to Kill Devil Hill, NC is one for sure!!! Unlike most pioneer aviators of the time, Orville and Wilbur Wright believed the secret of flite was in the controls, not (entirely) in the development of more powerful engines. So here, because of favorable and consistent winds they built and tested gliders to perfect their control mechanism.
Then, based on their experiments, ON THIS SPOT they re-assembled the aircraft they had designed and built back in Ohio and set about to, then succeeded in, changing the world.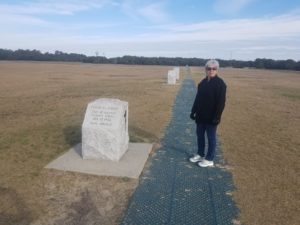 The Park Service has created a very understated memorial on the spot – Recreations of the sheds where the Wrights Lived and puttered, a rail to reflect how and where the Flyer was launched, and 4 granite rocks showing where each of the first flites ended.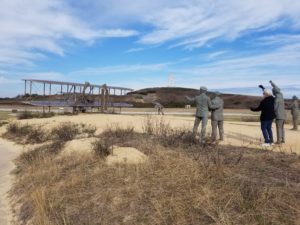 Seriously amazing that such short distances could in fact begin the transition from horse and carriage to intercontinental travel in hours vs. years; and everything else aeronautical and astronautical that has happened since.
I still get goose bumps, weeks later, reflecting on standing there…
Putting the Outer Banks behind us, we headed south towards an appointment with destiny. Or should I say with Los McDowell. Longtime friends who also travel extensively – they by Airstream Trailer – we try hard to cross orbits a couple times a year at least. They stay often at a small RV Resort on Hilton Head, so we decided to book a week at the same place and see what mischief we could get into. Too far to drive in one shot from the Out Banks to Hilton Head, and with a couple of days to spare before our McDowell-event, we decided to spend a few days in Charleston.
We passed a funky old Fire Station for sale in the Outer Banks town of Manteo. Hmmm….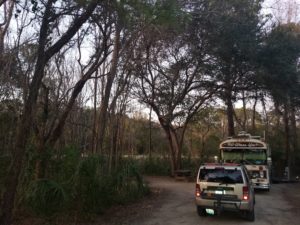 Our way south offered us a chance to spend a few days in Charleston, SC. We had heard this was a Fantastic old city with its own "feel" as most old cities have – different from everywhere else. We found an RV spot in the James island County Park convenient to town, and set about to enjoy.
First day we drove down towards Charleston's Old Section and City Market. The City Market was a nice mix of "stuff" and food, and was good for an hour or so. We found a coffee place for refreshment; then, we spent several hours wandering to and fro and up and down streets in the Historic District with random abandon. There were plenty of historical plaques to read, and the spectacularly preserved old houses, Live Oaks and Spanish Moss made a great backdrop.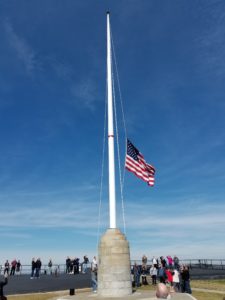 One day we drove down to the National Park Center for Fort Sumter, where the first "official" shots of the Civil War were fired. There is a ferry that takes visitors out to the Fort itself, which sits strategically at the mouth of Charleston Harbor. Once out there, there were several fantastic Ranger Talks on the geography and economy of Charleston and the Old South, and the significance of the whole area, and of course the shots fired on the specific spot. There is not much left of the Fort itself – time and weather as much responsible for this as Confederate and later Union Shells.
Next we went over to the waterfront park containing the U.S.S. Yorktown Aircraft Carrier, which is set up for a FANTASTIC self-guided tour. Several, actually – I think five circuits travelling throughout the ship. We did them all. Also several films and displays that place Yorktown #2 (the first was sunk at Midway) in historical context.
The ship is HUGE – to tour it properly requires hours, which we had and spent. There are two more ships – a Destroyer Escort and a Diesel Sub adjacent to the Yorktown – interesting to wander through those, as well.
We discovered another thing in Charleston, which we hope and know will happen more and more as we go along. It seems the "Senior" age is 55 or 60 there in most places, entitling BOTH OF US to 10% discounts. And, we discovered a really nice sort of Motown, Soul Brunch on Sunday at an outdoor spot called the Charleston Pour House.
Next after Charleston was our long-anticipated intersection with friends Fran and Mike McDowell. Over the years, we have always found ways to connect – usually on the road as they often travel as we do, though in their case with an anchor (called "Grandkids") back in Pittsburgh. Always fun when we connect, usually in a place known for history, geography, food, drink or culture (and often most or all of the above).
Past intersections have included: Our VERY FIRST TRIP in RV WHERE YET to a State Park near Cleveland, Fundy National Park in New Brunswick, Chatauqua Institute in Upstate NY, Sedona Arizona, Huntington Beach, CA. We had collectively noted several weeks ago that they spend February in Hilton Head, and we would be nearby. AND, we had never been there!
DONE!
We booked a spot immediately adjacent to them and headed to The Head for a full week of debauchery!