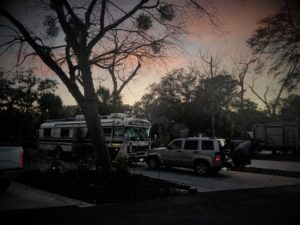 We arrived at HH just a couple of hours ahead of a major, and fairly violent cold front. We had a few hours of warm, sunny weather before the crash, though, and put it to full use – cocktails on the patio and then Mexican Food at a place with a fantastic Guitarist.
Put us in JUST THE RIGHT MOOD for a week or so of more of the same!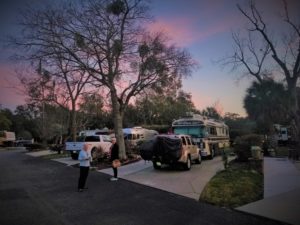 Having just been on the Outer Banks, we were struck by the differences between the two, essentially vacation destinations. The OB was Protected dunes with few trees to break the wind, interspersed with mostly crowded vacation houses built right on top of each other, and MANY tacky souvenir shops. Beautiful Beaches, and an interesting history, to be sure, but these felt overwhelmed by vacation excess as the wind dominates the sand. Crowded and unappealing, frankly.
HH is about the ONLY place you can drive right past a Walmart without seeing it or its sign!
HH, on the other hand, is very densely treed, and there are strict requirements about leaving the trees alone, and honoring setbacks and density requirements when building. The result is you don't SEE the houses, Condos and other developments except in small doses. There is also lots more infrastructure — Grocery Stores, Hardware Stores, Restaurants, Golf Courses, etc. But even tho most of these are in malls and commercial strips, the zoning requirements make them "feel" understated.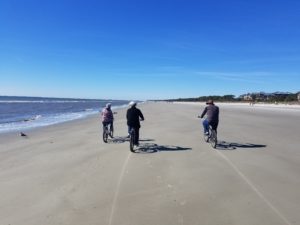 Our time on Hilton Head included a couple Farmer's Markets and some spectacular walks on various beaches, as well as Bike Rides on the same beaches. HH is completely covered with Bike Trails. You could easily get to the center of the Island and then bike everywhere! We did several bike rides over the days we were there – usually with a rest-stop at a peaceful and delicious restaurant or watering hole for lunch.
We also spent a day at nearby, historical Beaufort.
And another day wandering the streets of Savannah.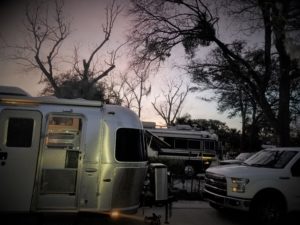 It is a BIG PLUS that biking makes Hilton Head Island so accessible, because the Traffic there is ABYSMAL. Really – as bad as rush-hour-Chicago! As nice as the island is, I think that would be a deal-killer for us, if we were even considering having a "base" or a "pad" in the area as the McDowells do. But the traffic is only a problem if you have to be in it. We found a new way mostly NOT to be in evening rush-hour … after our first meal out, we prepared most of the rest "in" or over the fire ring, which our site was conveniently equipped with.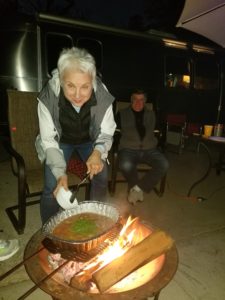 We had to figure out a bit of red-neck engineering to retrofit the fire ring with a cooking grate, but once we did, Dinners included Pork Tenderloin – an easy favorite, and a NEW and EVEN EASIER Grill/Fire favorite – Paella! And LOTS of Kale.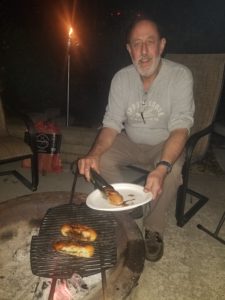 And, even Lassie-bread, a delicacy consisting of bread, butter (lot's) and molasses which we learned in Newfoundland last year! From cocktail hour onwards — all of it traffic-less and yummy-fun-relaxing – if not the Holy Trinity, at least the trifecta!
We still had to get to the Grocery Store daily to acquire the raw materials for the above, which COULD have been easily managed without massive exposure to traffic if we had we not found ways to forget key ingredients each trip! One night, with pasta planned, we went to the store TWICE for one ingredient or another, but forgot Pasta each time. I guess that is the other side of the "Senior Discount" coin!
After a week of too-much-food-and-fun, it was time to press onwards. Our initial plan was to take a few days to drive to our planned next stop – a Bluebird Rally in Vidalia Mississippi. However, we got a message from Steve Florer – friends we had met earlier in the year and bonded over a jeep-trip-from-hell. Most people would find it unusual to call someone a friend who recently tried to kill you, but they did that in such an Iowa-Nice way…. Knowing we were heading to the same rally, Steve wrote to invite us to Valentine's Day Dinner at their coach – it seems they were planning to get to Vidalia a few days before the rally and wondered if we could as well.
Well, that would involve arranging to book our campsite a few days early. I called; it was NOT available. With some machination, the park could give us a different spot for a couple days, so that worked out (we thought). Checking the map of the park, that spot was grass – and it had been raining A BUNCH in Vidalia, we knew. I called, and they somehow moved us to a cement spot. Problem solved!
Thje other challenge was that we still had to drive WAY MORE than our usual 4 hour max for 2 straight days to get from hilton head to Vidalia in time for Valentines Dinner at the Florer's, but that also worked out. We arrived with an HOUR TO SPARE for dinner; and a GOOD THING, too! We were in line to experience one of the MOST FANTASTIC things yet or possible!! That was extricated from the Florer's freezer: IOWA INCREDIBLE SWEET CORN.
Now, I have had a lot of corn in my day. Some or which I thot at the time was good and sweet. This stuff was SERIOUSLY better than anything I have had before. I know everyone reading (which, excluding the Florers themselves and my mother, who passed last year, is probably three people) is thinking, "Yeah, right. More of Dan, waxing philosophic about mundanity "
But I am NOT EXAGGERATING. The Burritos under the "L" in Chicago are the best ever, and the Florers' corn is not even in the same category as the rest of what I now know is merely slightly improved field corn.
So Delicious and addictive you need to be LICENSED to buy seed for it!
In mid-euphoria, I discussed this with Steve. Apparently, "Incredible" is not just an adjective to describe the corn. If it was, it would need several other helper-adjectives. In fact, It is the trade-name of the particular cultivar. And, Steve disclosed, you need to be LICENSED to buy seed for it! Apparently, like highly addictive narcotic drugs, the "007" of Corn is just plain too dangerous to be available over-the-counter to the untrained masses.
I asked about what sort of extensive training might be required to safely handle this substance (we wanted, no NEEDED MORE, like any narcotic). Steve (and Cindy) reaffirmed their invitation to spend a week or two on their farm, where we might begin our edumacation. They also mentioned the Iowa State Fair, which is the week before the Minnesota State Fair to which we are already committed – and a plan is beginning to come together! The only question: can we survive until August without INCREDIBLE?
In the meantime, we have some serious rallying to undertake. More on that in the next post!