We are having a HELL of a Curry!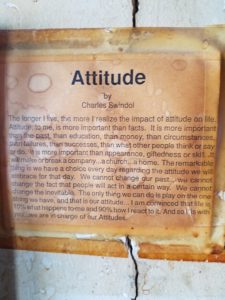 Just to recap…
We have driven almost 9,000 Miles!!!!! We have burned about 1,100 gallons of diesel. 3 Gallons of Motor oil. 2 pairs of jeans. I haven't counted TP rolls, but you get the gist. Twice across the Southern States. The Northern States will have to wait until winter is gone!
We have been (nearly) in a tornado. It has snowed. Rained. Fog so thick we couldn't see past the hood of the bus — and you may recall the bus has no hood! Epic floods. And occasionally it has been beautiful. We have seen and dipped our toes in 2 oceans and the Gulf of Mexico. We have seen critters not familiar to us, including Coyote, Javelina, Armadillo, Water Moccasin. We have seen the Tide Roll (that is football, but also hydrologic tide). The Mobile, Al. Moonpie drop. We have seen enough desert to be able to distinguish between West Texas nothingness and Arizona nothingness. We have seen the sun set over the Gulf of Mexico, the Pacific Ocean, the Mississippi and rise over the Atlantic. We have stayed overnight on the streets of San Diego, in County parks, Walmarts, California Beaches, Vineyards, an Oklahoma Ranch and RV Resorts. Danced the Rhumba in Ft. Smith Arkansas and Cajun in Breaux Bridge, La. Seen BB Kings first, road and final home and listened to the Blues in the Mississippi Delta home of the Blues.
Our culinary horizons have expanded…we have eaten Mudbugs boiled and Crawfish Etoufee. Alligator and lots of gumbo. Jambalaya (though that was in San Rafael, Ca. courtesy of college buddy Mark). Vindaloo, and Superbowl Bean Dip. Green Chile from Hatch NM. IN 'N OUT Burgers and Whataburgers, "Shrubs" (a cocktail…look it up!). Local craft beers all across the Southern US and wine straight from the source(s).
Note to self: more of that!
We have met up with friends from our past and reconnected. In some cases, multiple times. In some cases, we just missed connection…this time through – we'll be baaaack..
Note to our friends everywhere: you may be next!!
We have encountered the random kindness of total strangers – such as the RV-park neighbor that left a bottle of wine on our doorstep. Of course, their San Jose Sharks had just beaten the Blackhawks so maybe they thought we needed to drown our sorrows?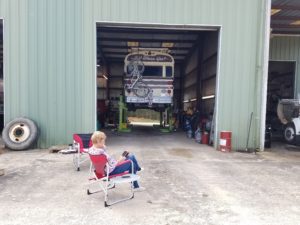 We visited our "local, neighborhood" truck mechanic – "local" being Daphne Alabama! – twice! After Hattiesburg, we decided to drive down towards Mobile, Alabama…only abt 2 hours away. This is near where we had the bus fixed as we started our expedition. I called our friends at Lazzari Truck services…
Val VERY DEFINITELY remembered me (or the bus – perhaps more memorable to a diesel mechanic). And I think he was especially glad to hear we made it to California and back with no issues whatsoever. (i.e. we were not expecting any warranty work!). I asked if he would look the bus over again…it had been ALMOST 7,000 miles (with no major issues) since he last saw us!!!! Val said he would be glad to work us into the schedule a few days down the road – and I am sure he was happy to have some notice!
It is good that we had this on the schedule cuz some stuff needed fixin'. An exhaust leak. Loose battery cables. Shortly-to-be-missing sway-bar bolt. Transmission Oil Leak. Plus the usual maintenance: Change the oil, filters, tighten lug nuts, etc. You know, the kind of stuff a THIRTY SIX YEAR OLD MACHINE might need! The kind of stuff I cannot easily check without the bus up in the air and when the necessary wrenches are 3 ft long and weigh 40 lbs.
It is Good to have a "local" mechanic!
Bad Card Blues
Bartender said No beer
Told me she hear'd
Y'all card ain't no good, dear!
Refrain: So sad, no beer. Bad Card
Send some more verses, if the spirit moves you!!
Also good cuz for the first time in our 9,000 mile journey, one of our credit cards was compromised. Somewhere along the Blues Trail — Could this be the subject of a modern-day Blues Ballad?
Anyway, with our mobile existence these days, we had a devil of a time figuring out to where to send a new card. CapitalOne could only ship with 2-3 day delivery, and could not say which (2 or 3 days). It is very hard to predict where we would be in "2-3 days" when we ARE NOT PLANNING AHEAD. This is CLEARLY a problem CapitalOne had not considered (Are you reading this, Sara Walsh?).
In this case, though, it occurred to me that the 2-3 days shipping coincided nicely with our visit to Lazzari, so I had the card sent there. I knew Val wouldn't mind…once I told him I NEEDED THAT CARD to pay him!
Three months in, 9,000 miles on the road, and through all of that, we continue to enjoy the journey.