Well, Liz and I successfully survived our first "dry camping" experience at the Bluebird Quartzsite Rally (more on the rally later). First, to explain that "dry" descriptor to many of our non-RV friends, who might think we just spent 2 weeks without alcohol (???!!!). THAT could not be further from the truth! There were plenty of adult beverages, from a Scotch around the campfire every evening to Margarita Cocktail hour at Mexican Pot Luck.
No, we were not "that" Dry!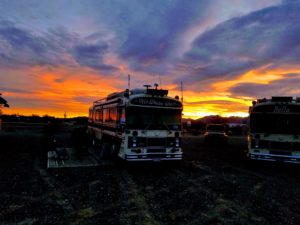 "Dry" camping refers to the status whereby RV WHERE YET is parked in the middle of the desert. But not even THAT kind of "dry" (because it rained the first day, and the desert was under water when we arrived).
As we pulled into the Bluebird Rally Area, we were instructed to turn RV WHERE YET's tires and move carefully…the upper, thin layer of quartzy, stony, gravelly rock was quite firm, but if you scuffed it off by turning too sharply you ran the risk of sinking into sand which is the consistency of snot after rain. With that image in mind (Thanks to fellow BluebirdBrain Dave Steif) , we were VERY CAREFUL, and made it into a perfect, snotless spot facing the nightly bonfire.
No, "Dry" camping refers to the process of living off the grid. No external connections to water, sewer or electricity. Or, put another way, living totally and only off the resources we carry with us within RV WHERE YET….100 gallons of fresh water, 90 gallons of holding tanks for yesterday's fresh water (and beer, food, etc.) and 20 gallons of generator fuel. And ESPECIALLY our own resourcefulness. The latter was significantly enhanced by all the other Bluebirders and experienced dry campers gathered around us here in the desert (more on the rally in a minute).
Liz and I "Dry Camp" all the time…for a night or two or maybe three.
Liz and I "Dry Camp" all the time…for a night or two or maybe three. Walmart Parking Lots. Friends' driveways. To do this we make very little accommodation to our lack of hookups. In fact, we don't even think about it — plenty of water and tankage. Running the generator in the evening to cook and the morning to make coffee tops off the batteries for the lights, TV etc. But if you want to spend 2 WEEKS in the desert, you really need to consider your resources, understand your capacities and usage and economize where you can…including some steps we found creative yet obvious.
For Example: When you run the shower, it takes "a few seconds" for the hot water to arrive at the showerhead. Normally we don't give this much thought. We learned this was NOT a "few seconds" but was about ½ Gallon of water completely wasted from the Fresh tank into and filling the Grey tank. Instead, we hold a small bucket under the shower head until it is warm, then use that captured water to flush the toilet.
Lot's of little things like that. Turn on only the light where you are sitting. Make coffee, heat water for showers, charge computer and phone batteries in the morning OR the evening when you are already running the generator (which has plenty of otherwise wasted capacity to do all these things more or less at once) to charge the batteries. You don't need to actually USE the HW or Coffee when you make it…the water stays hot for hours and the coffee can be reheated easily in a pot on the propane stove. We also have a thermal carafe for the latter, which is great because it does not sit on a burner to stay warm and get grungy-tasting. It is perfectly fresh for reheating.
"Peter, did you forget to put coffee in the basket?"
There is even a trick for obtaining hot water for dishwashing when you are running the gennie to charge batteries. You can turn on the Hot Water heater and wait an hour, or… I watched friend Peter Haggins making coffee – I thought. After a moment watching clear water drip into the pot, I asked, "Peter, did you forget to put coffee in the basket?" He said, "No, I am making hot water for the dishes…"
DON'T WORRY, we still believe in Ben Franklin's wisest nugget: "Guests and fish smell after three days" so we will NOT be applying our new dry camping skills to longer stays in friends' driveways…
We also learned that our resources are very well synchonized with each other. For example, the 100 gallons of fresh water magically just fills the 90 gallons of waste tankage. (Unless you drink a lot of beer – especially other people's beer — in which case you can fill the holding tanks faster than the fresh tank — or refrigerator– is drained). The generator runs for about 1.5 hours on a gallon of fuel (so about 30 hours or from our 20 gallon tank at a little over 3 hours each per day). The END RESULT which we now fully understand is that we can last about 8 days in a "Dry Camping" scenario. DON'T WORRY, we still believe in Ben Franklin's wisest nugget: "Guests and fish smell after three days" so we will NOT be applying our new dry camping skills to longer stays in friends' driveways…
We camp in the thick of things most of the time, where gas (not to mention Live Music, Dining, Presidential Libraries, Ice Cream and Brewpubs) are readily available in close proximity. We would NEVER recover the cost.
We have also had the chance to understand and consider how new technology can be applied to Dry Camping. For example, many folks at the rally have implemented Solar Setups on their buses. This is actually quite cool (sez the engineer in me). You can, more affordably than ever, put up several panels that can provide almost all of the electricity you would need — especially in a sunny place like Arizona. The controllers are there to integrate with the Inverters, Chargers and Battery Monitors that we already have. I could completely understand where every electron comes from and goes to. That IS cool. Just not totally practical.
We would still run out of water after 8 days. Our resources are synchronized, and increasing one just changes the limiting factor, and we'd still be seeking a hookup (or dump station or Gas Station) in about 8 days.
Not only that, even at today's "lower cost," a Solar Setup is going to cost AT LEAST a couple grand. The Gennie costs $7.50/day to run. Now you COULD park in the wilderness for years, next to a pristine stream of potable water, using a composting toilet and taking solar showers. And be FAR from replacement gas for that silence-disrupting generator. In a place where the sun is always out. THEN solar might make sense. We camp in the thick of things most of the time, where gas (not to mention Live Music, Dining, Presidential Libraries, Ice Cream and Brewpubs) are readily available in close proximity. We would NEVER recover the cost.
Bottom line (which is great for our bottom line): We won't be adding solar to RV WHERE YET (yet – I still think it is cool, but Liz will NOT give me the approval ).
And speaking of Liz, the overarching thing we learned was well summarized by Liz (who has a lot to say about dry camping if you give her an opening): We are NOT so much planning to dry camp again when there is an actual RV Park with Hookups 2 miles away (which there are plenty of in Quartzsite). Liz sez dry camping just because you CAN must be a guy thing – like installing solar when it does not make logistical or economic sense.
But, if we pass a beautiful beach, we COULD stop and enjoy it for more than a couple days. Or a parking lot or Moose Lodge in a funky little town we find we enjoy. Or any of a number of scenarios, including ALL OF NEXT SUMMER, when we plan to be in Alaska. There, the wonder of the place includes stopping along the roadside most nites. Our new skills will help us enjoy that trip more – if for no other reason than making sure we stop SOMEWHERE every week or so that has hookups.
So, what about The Rally?
Well, THAT is a story way more interesting (and fun) than the intellectual exercise of Dry Camping. There is a very large RV-oriented (ostensibly…more on THAT in a minute) show held in Quartzsite each year in mid January. There is also a lot of federal land around the small towm – BLM areas (Bureau of Land Management) – where you can stay for $40 for 2 weeks or $180 for 6 months. And the weather is sunny and warm-ish. The nexus of all that brings, by some estimates upwards of 100,000 RVs, trailers, campers, tents, junker cars and all their inhabitants to the area. For the past 13 years, a couple of Bluebirdbrains have laid out a parking circle around a campfire and are joined by dozens (this year 67) of other Bluebirds for a couple weeks.
For dry camping off the grid, it is pretty well organized and an awful lot of fun with really spectacular people. For example, the circle is laid out by small piles of rock representing where the left-front corner of your bus should be when you park. This leads to concentric circles of coaches facing inwards towards the nightly fire AND space at least 15' apart (the ONLY BLM regulation, really, for fire safety). The organizers also plan themed potluck dinners such as Italian and Mexican and Stewp (stew and soup) and assign categories of dish-responsibility to the attendees so there aren't 14 cole slaws and no desserts. One of the attendees brings a couple of smokers, so one night we had PRIME RIB and One night Smoked Brisket and Pork Shoulder. As you now probably understand, if you are eating PRIME RIB, you are not really "roughing it" even if the camping is dry.
There are also a lot of really FUN people. People who are in all stages of life and have had all sorts of careers. Some folks we have seen before but not recently. Peter Haggins and Susan Camilleri showed up – we broke down in their driveway in Courtenay, BC two summers ago and Peter helped change the dead alternator while Liz and Susan knitted together. I think Peter was glad to help a fellow birdbrain, but I KNOW he wanted me to (eventually) leave his driveway and making sure our alternator was repaired expeditiously was part of his very practical graciousness.
And Charlie and Carol Mitchell, whose Margarita Recipe we have enjoyed and shared with friends all along our path. Most people come here for the people, not the desert OR the dry camping.
And, paraphrasing Anita Sonke, a Bluebirdbrain we met at "Q" who captured the humour (she IS Canadian) here very well, "I came to Q to sleep with a bus driver (a long time fetish/fantasy?) in a group of folks accepting of this moral code." In truth, everyone here sleeps (mostly monogomously, I am assuming) with bus drivers! Liz does every day!!!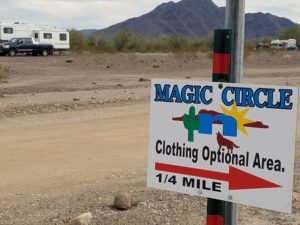 Not to say there isn't SOME weirdness in the BLM lands. Adjacent to the Bluebird Camping Area there is another section with hand-painted signs (no premanent signs are allowed by BLM) labelling it as "the Magic Circle." This is, apparently, ANOTHER clothing-optional RV area. We have seen so much of THIS lifestyle lately that it is clearly a "Thing," not just a south-Texas anomaly. But it is not a "Thing" we are anxious to add to OUR resume.
As with most Bluebird Rallies, there are some organized sessions about things to improve our RV lives, as well as the opportunity to appreciate how others have optimized the space in their buses. I now have a short shopping list of essential and not-expensive tools…some of which MAY be useful in the future, and some which will undoubtedly save our bacon.
For example, one guy said he carries a "Torque Stick." I know about these…they help make sure your Tires' lug nuts are properly tightened (I thought). What I learned is if you need a tire changed on the roadside, the mechanic will NOT have one and may well OVERTIGHTEN the lugnuts with his pneumatic wrench. THIS can crack your wheel. He will deny causing this crack, and the whole episode will really ruin your day. I had NO IDEA. Carrying your own Torque Stick and making SURE the mechanic does not touch your lug nuts without using it is a VERY CHEAP solution to a potential disaster. Amazon will deliver one to our next stop!
I also learned about Power Probes, Relay Testers, Quad-box Rachet Wrenches and more. Good stuff. AND, we had the chance to tour some other coaches of our same vintage. It is NOT really all that helpful to see newer buses – they have space and gadgets we don't have and don't want. "Coach Envy" is a potential problem for some who look at the fancy ones, but not for us.
We DID see some spectacular ideas (can you have "idea envy? NO, but you can borrow them – the sources are more than willing to share!) that we intend to manifest sooner or later in our coach. One, a replacement for our dinette set with a cabinet and countertop, was AWESOME! This was in a coach almost IDENTICAL to ours, and is something Liz and I are already contemplating. Bob White, are you listening?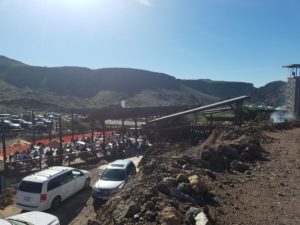 Lots of other fun, too. We drove out to the "Desert Bar," which we imagined as a rustic, 3-stool whiskey joint in the middle of nowhere. NOT SO. It WAS in the middle of nowhere, but there were 5,000 people (AT LEAST) eating, drinking and being merry, along with live music. All the water and food and alcohol needs to be trucked in over barely improved roads, which is why the bar is only open on weekends…it takes several days to get ready for the next barrage of people.
And lots of gorgeous sunsets and sunrises.
And the local bookstore is somewhat famous. For its proprietor, Paul, who is completely naked at all times. WHAT IS IT ABOUT CLOTHING OPTIONAL in and around the RV Community?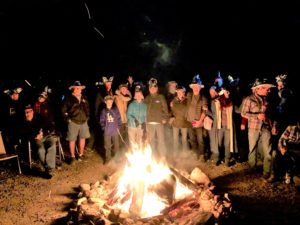 There was even an eclipse…this time of the moon. The sky was a little cloudy, so not totally awesone viewing…only awesome. Somewhere along the line, Rick Archie, one of the Rally's organizers, got the idea that the alien rays are stronger at eclipses, so he asked everyone to wear aluminum foil hats.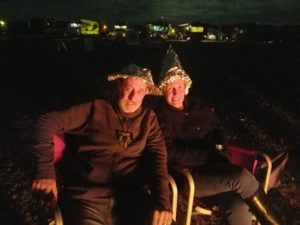 Skeptical of the need we were, but, so close to area 51, I guess one can not be too careful. Anyway, there was quite a bit of hat-making creativity…
And, we had a chance to go on a Jeep Trail Ride with new friends Steve and Cindy Florer who hail from West Des Moines, Iowa. Steve had a tricked-out (by the last owner) Jeep Wrangler, and wanted to find out what it (and he, and us, apparently) were made of!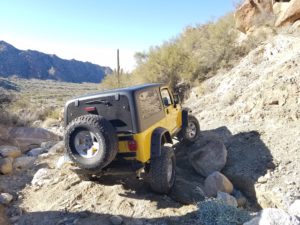 Well, this expedition almost turned into the legendary "Three Hour Cruise." A recent rain had apparently washed away all the actual gravel on the paths, leaving a variety of boulders and ruts to traverse. And by "traverse" I mean lurch over at all sorts of weird and unnatural angles, hoping to avoid the continuous danger of upended whiplash. We survived.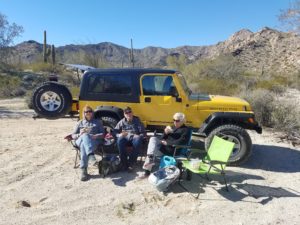 Indeed we had a BLAST, and Steve's Jeep (and Steve too) are awesome at navigating off-road. But the trip took 8 hours, not the expected 4 or 5, and for awhile we were concerned we'd not make it back to pavement before dark (if at all!!). THAT might have meant an unplanned overnight stay in the desert – because safety could not be assured traversing that trail, much less so without light.
Lesson learned: NEVER follow a couple from Iowa (no matter how nice they are!), who admit to a recent Jeep purchase and to downloading a random and anonymous app for "Jeep Trail Riding," into the Arizona Desert.
The trail was rated (by the app-creator, who might have been – probably was — a sadistic monster for all we knew) "2.5 out of 5 points." Plenty of "Oh sh*t" moments leading me to believe the rating scale measures the number of "Depends" you are likely to need.
And finally, I should make mention of the RV show itself. This was ENTIRELY UNDERWHELMING. A HUGE tent full of Crystals, potions, elixirs, Massage Chairs, time-shares, condominium RV resorts, and kitchen implements I could not make room for in our home kitchen, much less our Bus. There were also several hundred RVs in a lot…none of which were of the slightest interest to us. Some people said there were occasional tools or products of some use/value. I did not see any, frankly. Not to say we regret going. It is helpful in these situations to remember the limited space in our Bus.
There is NO ROOM in RV WHERE YET or in our lives for a special Garlic Masher or kinky three-axis massaging sofa.