In previous posts we described a change we were planning in our lifestyle. Specifically, the Clown Car has reached the end of its usefulness for us. Not that it has not been reliable and effective for the purpose, which is to make people laugh as I unwind myself from the driver's seat. Seriously, it HAS been an excellent TOAD (which is RV-er slang for a towed-vehicle). But there were issues…
Roads in both places [will] offer challenges to the CC, with its 1.5" of ground clearance and 2-radial-donut drive
First and foremost, we are planning excursions into Mexico (sort of a reverse "Caravan" with a bunch of other Bluebirders) in February; and then Alaska next summer. We expect the roads in both places to offer challenges to the CC, with its 1.5" of ground clearance and 2-radial-donut drive. And, even more important, it has been a STRUGGLE to find mechanics willing to help us out with issues. Now, there have not been many issues, but the couple we have had have caused some amount of angst and actually required driving to another state to get to a mechanic even willing to LOOK at the problem. I imagine that problem x10 in the wilds of either destination!
I was thinking "Jeep," and I think Liz was thinking "Ferrari"
So we have been casually looking for the replacement. I was thinking "Jeep," and I think Liz was thinking "Ferrari" although I convinced her the tow bar would interfere with the aerodynamics. Anyway, we saw (and passed) on a Wrangler in Atlanta, but found a BUNCH of options near Largo, Fl. That may seem a sort of random destination for the purpose of car shopping, but it was not chosen because of nexus with the universe of used cars; rather to visit friend and former co-worker from years ago – Sydney Willis.
While in Largo we found a Jeep Liberty, 2011 model. Premium trim – leather, NAV etc….a FAR CUT ABOVE our Smart Car, with its manual window cranks! Still not too big to tow, but 4WD and higher ground clearance. JUST THE TICKET. Looked really nice, at an EXCELLENT price.
Sydney's cousin Craig is an auto mechanic near Largo, and he looked it over, discovering a few things, including signs of previous major engine work. He said previous engine work was not necessarily a BAD thing, because it means whatever was major-wrong was fixed, and he could find no other major issues. Far from dissuaded, that helped us negotiate an even better price.
So we BOUGHT THE CAR, and feel like we STOLE THE CAR. Unless the engine falls out next week. We shall see!
In order to pull the Jeep, I needed to arrange for towing stuff to be installed and also for the Hitch repaired on the bus. The latter got bent towing the CC when we passed over an unmarked bump…I swear the CC actually flew for several yards behind the bus. The end result was the hitch was bent downwards at about a 15 degree angle, but still was VERY sturdy. I was not uncomfortable towing the 1300lb CC and the downward bend was actually appropriate for the tiny and short CC. But the geometry was all wrong for the taller, 3,500lb jeep. Easy enuf to do at our next stop where there was a Roadmaster (the makers of our hitch and tow apparatus) Dealer – but to get there we travelled in a caravan for real! I drove the bus, towing the Smart Car and Liz drove the Jeep.
Anyway, as a component of that transaction, we needed to sell the Clown Car. We had already been offered $2,500 by Carmax. I figured it would be easy enuf to post on Craigslist and try $4k – maybe the towing setup would be valuable to someone. Little did I know!!!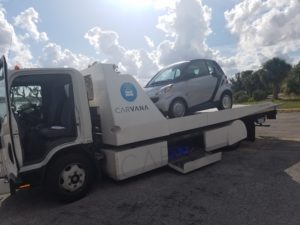 We IMMEDIATELY had several calls; and one of those was from national car reseller "Carvana" (been seeing their ads a lot on TV…) They offered us $34 dollars MORE than the crazy-high amount I started at on Craigslist. Not $35. Not $30. $4,034.
Sounded so good we assumed it was fishy.
I went to Carvana's website (not accepting the phone-call's assurances). They said indeed they would be buying the vehicle if we were interested, and they would send a CARVANA truck (like the one on TV) to pick it up and the driver would have CERTIFIED CHECK. Not likely that a scammer would have a Carvana truck and a Carvana Certified check, which I could call Wells Fargo to verify. SO we set it up!
Of course, it seemed too good to be true, and almost was…
When the Carvana Guy arrived (in his Carvana Truck), the first problem surfaced…the check was NOT a "Certified" check…it was just a Carvana Business Check. I texted the Carvana Person that had solicited and organized the deal, to ask "What's up." She said "Carvana is a HUGE COMPANY, why would we issue bad checks?" I tried to explain that if it WAS really a Carvana Check, I am sure it would be good, but how did I know it wasn't a Carvana Facsimile? She said, "What about the "Carvana Truck, surely no faudster could or would fake that?"
I said, "What, you mean no one could put $500 of fiberglass on a flatbed car hauler in order to pick up 5 cars in exchange for 5 fake checks and be gone before anyone was the wiser?"
The Agent seemed unable to comprehend the issue with NOT having a certified check for a Craigslist transaction (which she had promised). She could not get past the fact the Carvana was HUGE and so the transaction could NOT be fraudulent, even though Carvana had contacted US and could just as easily be a miscreant representing themselves as Carvana. We were ready to walk away from the deal, even though we now owned TWO CARS.
In the end, I had a wad of $100's that I KNEW were real in lieu of a check which I did not
The Carvana Driver actually came up with the solution: "Why don't we go to the bank so you can cash the check. When you have cash, you can sign over the title?" Fortunately, there was a Wells Fargo branch right in town, and after a conversation with the branch manager to ensure she would be able to cash a $4,034 check, the driver offered to take me there and then come back for the Clown Car. Instead, I suggested he load up the car on his truck – if all was well, he could drive off into the sunset. This seemed to work for everyone, so that is just what we did.
It took a few minutes for the Branch to cash the check, but in the end, I had a wad of $100's that I KNEW were real in lieu of a check which I did not. Liz and I signed the title and the CC phase of our life rode off into the sunset.
A tear we did not shed.
For the record, the end result of the Carvana transaction was AWESOME. Even better than our previous experiences with CarMax. I did speak at length with their Customer Service People about the whole Certified Check and Craigslist issue. They do (now) understand that when they contact a seller outbound as happened in this case, a business check is suspicious at best. This is different from an inbound transaction where the seller contacts Carvana. They are looking at ways to enhance that process and protect their potential customers. I would NOT HESITATE to do business with Carvana again.
ALERT ALERT ALERT. TORNADO WARNING!
Before we moved onwards and executed the Carvana Transaction, we spent some time in Largo. While in Largo we again had the "pleasure" of having our phones start screaming at us, "ALERT ALERT ALERT. TORNADO WARNING!!!" Now, normally we check out the storm shelter options at RV parks, but in this case we really hadn't.
Looking around, RV WHERE YET, frankly, seemed the sturdiest structure in the area INCLUDING the permanent buildings at the park, so we stayed home. It never really got windy or threatening, other than a bit of rain where we were, though areas not far away had trees down and power out.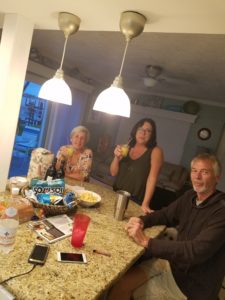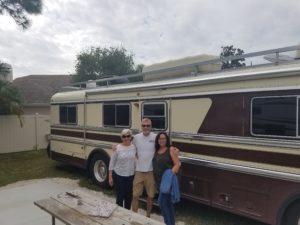 We also spent some time with Sydney and Vic on Treasure Island, staying at a condo that they own for rental. They stayed at an adjacent one so we could focus on margaritas, beer, wine and steak without worrying about driving (We left RV WHERE YET at the park in Largo).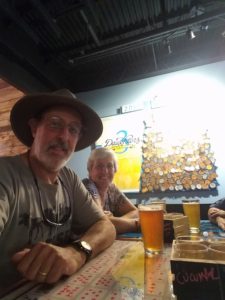 We did leave the condo complex for a few hours – long enuf to visit a local brewery, restaurant (right on the bay…NICE) and funky antique mall. But mostly we just yakked while we ate and consumed adult beverages.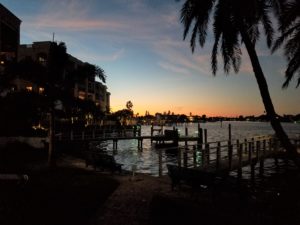 Reconnecting with Sydney and Vic was an AWESOME time..so much so that as we awaited our flite home for Thanksgiving (after our next stop…fully described in our next post), we connected again for dinner!