Our time in Florida, after leaving Syd and Vic, continued with a visit to new friends, Bob and Nancy Weaver. We met the Weavers only briefly before – at the Bluebird Rally we attended in Cape Cod a month or so ago. At that rally, the Weavers offered a place in their driveway where we could begin our assault on the RV WHERE YET Winter Enhancement list (more on that in a minute).
Liz was MORTIFIED that I accepted. Perhaps that needs some explanation.
Imagine you met some people at a restaurant. And, in the course of friendly conversation they suggest, "You should stop by sometime…" And within 30 seconds your life partner has not only accepted, but set dates that amount to several WEEKS of "stopping by" (which means parking 30,000lbs of steel in their driveway) imposition. Liz was Mortified, as I mentioned.
Now, for some context…which is important since we DID "stop by," did spend a few weeks and not only are still friends with the Weavers, but are even still married!
You see, Bob and Nancy own a Bluebird, too. Which is really enuf of a reason to offer and to accept the offer of a place to work on our coach – we all need such places from time to time, and everyone in the community is extraordinarily willing to help. In Bob's case, "Help" meant access to a flat spot in a warm climate with a "garage" full of useful tools and a host full of useful information. "Garage" might be a bit understated for the actuality — because Bob's was big enuf for his coach AND for the car(s) Bob restores for fun. In that context, my only reluctance was that we cannot offer such a facility in Chicago. That said, we try to reciprocate in other ways – stay tuned.
But, of course, there was some drama (which is where the fun is, always) …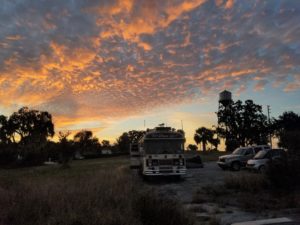 When we arrived, our intended place in the Weaver's driveway was occupied by Bob's coach. It seems Bob had damaged the threads on his oil pan while changing the oil after they returned from their summer travels. So his bus was not driveable until the oil pan was repaired. Bob suggested parking in the adjacent and vacant ex-parking lot for the restaurant/golf club that used to be there before 4 hurricanes in 2008 took them out. A lot the Weavers used to own, but had sold several years before. We pulled in there and spent some time getting somewhat level by driving up onto wooden ramps of varying heights for each wheel.
The next day, I began the planned work on the bus, which involved disconnecting and then rewiring the electrical system and batteries. SO, there were a lot of big, fat cables yanked out, and a big, greasy guy (me) occasionally popping out from under the bus for a breath of air. Greasy guy will require further description, eventually. And the bus was now fully immobilized while said greasy guy was underneath running new, fat cables.
The first time our repair activities have attracted the attention of the local constabulary
At one point, with my feet sticking out from under, I heard a voice, "Excuse me…what seems to be going on here…" It was the SHERIFF! I am guessing that one of the nearby property owners was a little concerned with the ancient bus, now partly disassembled and thoroughly immobile, that had appeared on their doorstep. Not to mention the associated Greasy Guy.
UNDERSTANDABLE, for sure.
I explained to the very courteous Deputy that we were friends of the Weavers (so, not random squatters), and were only parked in this spot because of the unexpected immobility of the Weaver's coach (due to the Oil pan). The sheriff nodded and said he would make a call. Said call ended up in a 24 hour reprieve, after which he said we could not be on that adjacent lot. During the 24 hours, I was able to cobble together sufficient connections to start RV WHERE YET and move it to the Weaver's property, where there was just enough room in front of their immobile coach. There we could work at will and at length, without antagonizing anyone. Problem solved.
The "greasy guy" part is an understatement…I was unrecognizeable. Nancy said Bob gets that way, too. I had a couple sets of clothes that I wear for such work, and we washed them at the town laundromat, NOT in the Weaver's offered laundry machines. I said, and Bob agreed, that we'd not expose their machines to such levels of grime – and when done would likely burn the clothes. Besides, the Laudromat was in a shopping mall with a Subway (buy one 6" and get one free) and a HARBOR FREIGHT, home of many necessary tools.
During the balance of our time with the Weavers, I did fully disconnect all of the batteries in the bus, reconnected and reorganized according to plans I had developed. The end result was EXACTLY as I had intended and planned with the help of fellow Bluebirders on the Online Forum. We had:
Rooted out all defective batteries (3 out of 6 were bad).
Connected 4 "Deep Cycle" batteries together as "House" batteries and relocated ALL normal load (camping) circuits to these
Connected 2 additional "Start" batteries together and set them up to be pulled into the bank ONLY when the engine is started.
(This isolates the engine batteries from any loads that are running when we are parked/camping.)
Connected 1 additional "Start" battery for the Generator, which is isolated from all other batteries EXCEPT when the engine is running and the alternator is charging
(This makes sure that the generator is always our "Lifeboat" that can be started and used to charge all other batteries.)
Installed a battery maintainer for the Start Batteries (Engine and Generator) that tops up these fully isolated batteries when we are connected to shore power at a campground (or are running our generator).
The end result of all this: Our House batteries will now support our routine camping usage (i.e lights, TV, WiFi, computers, phones, etc.) for, by my calculation at least 24 hours (and we would need at most 8). This is a significant improvement over the 3-4 hours we had been experiencing. Now we can stop mid-afternoon at a Walmart, and need only start the generator for use of coffee maker, hair dryer or microwave. And the generator (and engine) will ALWAYS start because their start batteries are not discharged sitting in the parking lot watching Dr. Phil on TV. (My emotional and intellectual batteries might be, but not the coach!)
As you can surely understand, the coach itself was basically unusable during the 10 days or so it took me to do all this wiring. We could have slept on board, I suppose, but there was no power to run the water pump for toilet, etc. The Weavers, it turns out, have effectively an efficiency apartment in their magnificent Florida Home. Their home used to be a building with 4 separate apartments. Bob combined 3 into a spectacular home and the fourth was still a more-or-less standalone unit, which was normally used as a playroom for various grandkids when they visited. They welcomed us to stay there while RV WHERE YET was in pieces in the driveway!!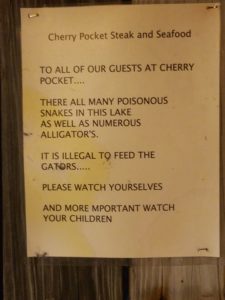 While working on RV WHERE YET, the baseplates for towing the Jeep took a FULL 4 DAYS to be installed. YIKES. Not sure why; I think the dealer was not feeling in a rush because we were not pushing. This is because, in the meantime, the Weavers offered us the use of their car as necessary (trips to Laundromat, Harbor Freight, Subway, auto parts and hardware stores, not to mention Walmart for plants and planting materials…SAY WHAT?). And, while we were at the Weavers, we appreciated all the Lake Wales had to offer.
This included a VERY local restaurant with the Weavers, and a bizarre little stand that advertised the "Worlds Best Soft Serve Ice Cream." This is something I take as a challenge to prove/disprove.
And some quality time with the rare and feral Florida Beer Cat.
The pangs of guilt for the extravagant hospitality we experienced returned for Dan as well as for Liz, until Liz realized that the Weaver's grandson was a freshman at Wheaton College near Chicago. Liz offered our apartment to Kara and Dwayne, should they wish a place downtown when they visit their son. We call it HAR-BnB.
Liz also acquired and planted lots of flowers in containers on the Weaver's magnificent patio…the Weavers themselves were coping with some back issues, and could not manage the planting as they normally would. Not that there is ever a Quid Pro Quo for hospitality, but we do appreciate being able to reciprocate in some small way.
Our stay at the Weavers ended when we needed to get to Minneapolis a day or so early, due to some Family issues on Dan's side. All the work we had intended to complete was done EXCEPT the repair of the hitch on the bus. The Roadmaster dealer agreed to let us store the bus in his lot for 3 weeks, during which time he would replace the bent iron or whatever else needed to be done to make it safe to tow the jeep. Cost for storage: $0 (over and above the cost of the hitch repair, of course)!!! But no hook up to keep Batteries up. Fortunately, with the new wiring I had done, disconnecting the batteries for storage is now a trivial task.
So we left RV WHERE YET in Lake Wales, to be collected upon return in early December – the Weavers insisting on a reprise of our visit for at least the day we get back; and Sydney insisting we come for an engagement party they are planning for Vic's daughter on Dec. 8.
Getting to Minneapolis a few days early posed a couple challenges. The airline (Sun Country) agreed to change our flites without change fee due to the Family Medical issues. We needed a place to park the car while we were gone, and discovered some of the airport hotels in Tampa offer "Stay/Fly" packages. Stay one night and then park for free (or nearly so) while you are away. There are even airport shuttles to facilitate to-and-fro. We eventually booked at La Quinta for one night.
Upon boarding the aircraft, the pilot announced the weather forecast for Minnesota…10 Degrees F. WELCOME TO THE FROZEN NORTH (and all our winter clothes await us … in CHICAGO!). Liz and I managed to cobble together just enuf layers to survive a Minneapolis Thanksgiving.