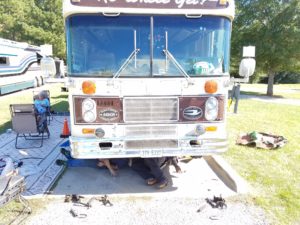 The Wanderlodge Owners Group (WOG) Rally is probably our favorite (well at least MY favorite) because of all the mechanics in attendance and all the mechanicals discussed. The guys at this rally (and some gals, too!) have been under buses for many years – some are serial bus owners. Some are even members of the "Two-Bus-Club." Usually because they bought a new Wanderlodge before they sold their old one…the membership in THAT club is usually VERY transient! Anyway, WOGers know what stuff breaks and how to fix it. And especially, how to fix it BETTER than new.
We attended this rally 3 years ago as new bus owners, and learned SO MUCH about the bus and the lifestyle.
This year, there were 150 coaches at WOG, so a LOT of stuff to see and do from the mechanical point of view. And another thing that is great about this rally: While there are all generations of Bluebirds represented, there were a WHOLE BUNCH of buses of our generation in attendance. There were even a few older than ours. As a result, I could spend quality time with owners of our particular style and vintage, making the mechanical talk EXTREMELY relevant to our lives vs. just intellectually interesting.
Liz mostly rolls her eyes when the talk turns mechanical…Imagine, she does not find it interesting AT ALL seeing and learning about Series 60 Detroit Diesel Engine Computers and AquaHot heating systems. Or how to maintain the GRANITE COUNTERTOPS and Crystal Curio Cabinets some have in the newest coaches but which we surely do not have (or want) in ours.
I do enjoy those things (mostly because these discussions convince me I NEVER WANT a newer coach!) but EVEN LIZ sees value in making old Cat 3208 engines and Suburban Propane furnaces more reliable, and this rally is the place for that!
And the rally does have some fun social stuff going on. There are catered meals every day, but sides and desserts are pot-luck. Variety is GREAT as is creativity – feeding hundreds out of bus kitchens is not a trivial task and learning new recipes and tricks will serve us well. There is also stuff like the PET PARADE and the flea market – there are some REALLY TALENTED WOGGERS – quilts, baskets, hand-carved wood bowls, etc. Fortunately, we have NO ROOM for any new stuff, no matter how awesome. We have a rule: anything new comes in, something old goes out. I am always afraid that might be ME!!!
And every night at least 2 or three fires to sit around with new and old friends, discussing buses and everything else relevant to our lifestyles. Sometimes football (esp. SEC college football). Occasionally politics. Usually with a scotch or a beer in hand.
Some of the mechanical sessions here turn into a bunch of guys helping someone repair something they have been having trouble with. This year, I was a lucky recipient of such help and wisdom, if you can call it lucky. As always, the 'repair" is half the story.
One of those was working because of this very rally three years ago, where I attended a session to learn how to safely fix appliances that can go BOOM.
We have 3 propane furnaces in RV WHERE YET, but only two of them were working. One still did not (work, not go boom). Now, generally, we don't use these furnaces much – if it is cool we put a sweater on. If it is cold, we have not driven far enuf south, and that is easily remedied non-mechanically. Of the three furnaces, the still-broken one was arguably the most important…it is meant to heat the bathroom as well as the front living area. And, when you think about it, there is ONE ROOM where putting on a(nother) sweater is simply not an option!
So, I talked to Shane Fedeli about using my furnace as the demonstration item (victim) in his Suburban Furnace Class. He was glad to do so, especially since he had used the Replacement Controller Board I had onboard in a class he did in Williamsburg; and owed me a replacement for my replacement.
In order to use my furnace, I had to get it out of the coach and bring it to the activity building. And as usual, access to things needing fixing onboard RV WHERE YET is ALWAYS ¾ or more of the battle. This case was no different. Well, a little different…actually PAINFULLY different.
I went outside the coach to unscrew the outdoor fitting on the end of the furnace's chimney and air intake so I could slip it out.
SUDDENLY I felt on my right leg something like a cross between a flaming blowtorch and a session with a sadistic Acupuncturist.
It seems there was a HUGE FIRE ANT mound right next to the bus, and right under my foot. And now its inhabitants were swarming my shoe, up my leg and aiming for "home" as one of the Southerners here later described it. I screamed and jumped up and down, and stomped and pulled up the pants leg and swatted away the little critters. People no doubt wondered what sort of Tai Chi I was doing (and how far the performance would go!) as I removed articles of clothing! Liz thought I had finally gone off the deep end for sure.
What had started as a "simple" furnace repair had morphed into a wildlife viewing opportunity and a chance for others to again make light (but only in the MOST friendly way…) of this Northern Yankee's idiocy AND ignorance. Eventually, I got all the critters off my leg and out of my shoe – and this took the better part of the morning to do, since every time I thot I was safe, one more little bastard would painfully reveal itself. At breakfast, the Southernerns among us (actually we are among THEM, technically) would smile knowingly. Several described how picnics and outdoor concerts in the south are NEVER done while sitting on bare grass…Several days later, I still had blistering welts on my foot and leg.
Who needs NAPA at a WOG Rally!!!
At the seminar, now potentially anticlimatic, given the drama of extricating the furnace from the bus, repair of the heater proved again that nothing is as it seems. And that 7 experts are ALWAYS WORSE than one novice at repairing things. We (the seven experts but mostly Shane) did get the furnace operating after discovering a bad relay – something Shane had not seen before. And, it seems, one of the attendees happened to have a BOX of RELAYS on his coach.
We experts also found a loose wire. We consulted the diagrams, all of us experts. Including several who were engineers in their earlier lives. Figured out where to attach the wire. (Incorrectly, as it would turn out – stay tuned).
So Shane (AKA Mr. Furnace in addition to his recognition as the MeatMaster!) learned something new about an old heater and I put the furnace back in the bus, carefully avoiding the ant mound and conducted a final test, where I discovered…
…The furnace was NOT behaving properly. After the thermostat stops calling for heat, the flame is supposed to go out and the fan continue to run until the furnace is cool. That was not happening. Flame and fan out at once. Probably not dangerous, but neither ideal nor as intended. SO I re-removed the furnace, again straddling the ants. Took it back to Shane's Bus (and BBQ and picnic table).
There, further analysis showed that the SEVEN EXPERTS (now rechristened "fools") had not really understood the wiring diagram at all (there may have been adult beverages involved) and had re-attached the loose wire to the wrong place. After correcting that, the furnace worked perfectly. Another couple hours to reinstall it (again avoiding the ants) and it was time for dinner.
There was one especially useful mechanical seminar from a vendor: SAFE-T-PLUS. This company makes a device that stabilizes the front steering with a HUGE cylinder/spring. Helps the bus track straight and predictably despite road imperfections and just plain ornery-ness – they call them "Wanderlodges" because they Wander around the road a bit… But this is not ALL the SAFE-T-Plus is intended to do…
Josh, the SAFE-T-PLUS manager showed a couple of videos of what happens to an RV when a front (steer) tire blows. I had always wondered about (feared) this and Liz even more so. In the videos, a front blow-out ended VERY badly for the bus, and can surely be equally bad for the occupants. This is NOT something I ever want to experience, that is for sure!!!
This device is designed to help control the bus in the event of a blowout, turning an almost sure catastrophe into an opportunity to sit on the side of the road with a cold beverage awaiting the tire service to come out and replace the lost-tire. EVEN LIZ could see the value of that…and authorized the appropriate expenditure.
So, the WOG rally has turned out to be a TOTAL WIN in all regards. New friends, Campfires, Singing, Scotch, Beer…even the unintended and quite painful lesson about Fire Ants will keep me out of danger in the future. And, there was another meteor shower – the Orionids in a clear, dark(ish) sky!
And, this was a week where the RV WHERE YET Fixed/Broken ledger tilted WAY in the direction of FIXED. It doesn't get any better than that!!