" Of all the gin joints in all the towns in all the world, [they] walk into mine"
-Rick Blaine
In a previous post, I may have disclosed that we are being stalked down-under by friends from Magnolia Street in Chicago. Nancy and Syd "just happen" to be in Melbourne and then in Tasmania at the same cosmic moment(s) as Los Harris.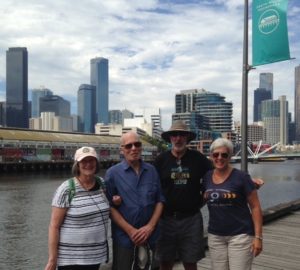 Maybe they aren't actually stalking us, but you can see why we might think so…
Anyway, that is not even the WEIRDEST of the coincidences…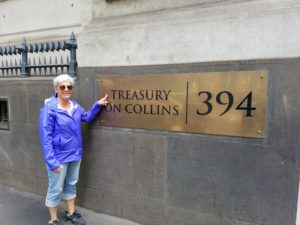 In Melbourne Nancy and Syd are staying at the Treasury Hotel, which is a former bank building in the CBD that has been turned into a top-end hotel. When I asked our host, Norman, where this was and if he was familiar with it, he smiled. Said, " That's My Hotel." HUH?
I thot he was an accountant.
And if he had a hotel, why were we staying in his study!
I said, "Do Tell." He said he and a couple of his partners bought an apartment in the Treasury building when it was being redone…they lease their apartment back to the Treasury Hotel. Strictly an investment. But, as it turns out, in Nancy and Syd's hotel.
So, in a weird way, Nancy and Syd are also Norman's guests in Melbourne, despite never having met Norman (as far as I know). You cannot make this stuff up, and it cannot any longer be confused with a coincidence!!?
We hit the ground running in Melbourne. Lots of friends to see, and many meals to eat. Fortunately, TONS of good restaurants, coffee shops and bakeries. Melbourne also has a lot of "stuff" to do.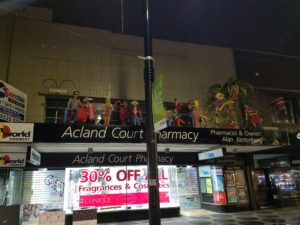 Famous for the "Laneways" which, truth be told, were just a creative way to turn back-alleys into leasable space. That said, there are awesome coffee and pastry places tucked away in these, along with candy, ice cream, chic restaurants, shops and more.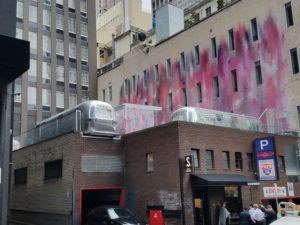 If you need to walk from point A to point B in the CBD, you might as well use an alley and have a coffee.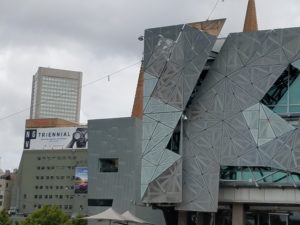 There are also some really good museums. The NGV (National Gallery of Victoria) has some fabulous, thought-provoking and totally free exhibits.
One exhibit, called the "Triennial," featured some very wide-ranging design-oriented pieces. 3-D printed furniture – actually a showcase of 3-D printing technology including items printed from molten metal. Completely unwearable Haute Couture. Acrylic "Ice" sculpture with associated soundscapes recorded in the Antarctic. Basket-woven lamp-things with parts made from plastic bottle-waste. Variations (50 or so) of a chrome chair with motion-inferring "lines" extending from them. A HUGE boulder made from microphones and emanating strange sound.
I don't make these descriptions up…I only report what we see. Most of the time when I am in such an exhibition, I am thinking "What the hell is THAT?" In this case, it was more "What the hell is NEXT?!" Great way to spend a rainy afternoon.
In the category of "Timing is Everything," we had more proof this week. I previously mentioned that we are swapping sides of the Bass Straight between Melbourne and Tassie, causing us to miss Cricket. Well, there was a "Super-Blue-Blood-Moon" in Southeastern Australia on 31 January.
First, let me explain what that is…SUPER because the moon is at its closest to the Earth. BLUE because it is the second Full Moon in a month. BLOOD because there is a total eclipse of said BLUE-SUPER Moon. An astronomical oddity perhaps not the equal of the Solar Eclipse we saw this summer, but still… We looked forward to the event!
Except, the paper said the best place in Australia to see this would be…BEECHWORTH. Where we were the week before! Anyway, we DID see it…the Melbourne rain and humidity cleared for a magnificent display.
Some things are the same EVERYWHERE. Such as government incompetence. As with every other stop on our travels this past year, the very first question (well, second after "are you ready for a beer") has been, "What is going on in the USA? Have you gone mad?" So, we have had a lot of discussion about ours.
But there is plenty of it to go around.
For example, we purchased a "Myki" card, which is a payment card for public transit in Melbourne. Works much like Chicago's "Ventra" card…fares deducted as you tap on/off trains, buses, etc. Create an ONLINE account to manage and top-up. Super convenient and progressive, even more so than Chicago's because there is a daily MAX fare of about AUD$8. It seems they actually WANT and ENCOURAGE people to take public transit!
I am told that Myki was three years overdue and WAY over budget when delivered (the universal symptom of Government Incompetence).
EXCEPT, Melbourne, which fancies itself a progressive, International city and destination, does not have a Myki app for managing your card on your phone, which you might have with you when you are, oh, say, out and about on a Tram.
And they designed the Myki website to REQUIRE certain information to complete registration and account setup. Fields such as your address and phone #.
Which can only be Aussie. You CANNOT put anything else in these fields, such as +1 (country code) and "Illinois, USA." Never mind why these should even be required at all…the only truly REQUIRED information should be a credit card with which to top up.
Now, I know I COULD have invented an address and phone# (i.e the Prime Minister's home and/or the Aussie equivalent of 1-800-fonesex), or just used our Host's address/phone, but given that Melbourne is trying REALLY HARD to be an international place…this is JUST DUMB.
Because in the area of IT prowess, the equivalent to "Size Matters" is "My error-checking is EVEN MORE INTRUSIVE AND USELESS than yours…"
Some IT guy (or, more likely, an incompetent government IT Guy) created the online form with all the fancy error-checking. No one even thought (cuz IT guys are not allowed to do THAT) that one of Melbourne's millions of foreign visitors might want to manage their Myki card while they are here.
Instead, I submitted an online comment form about maybe allowing foreign addresses (just trying to help…honest, I was REAL polite). No response. Have I mentioned that this is one of my PET PEEVES?
I will say, though, Melbourne's transit options are many and awesome. We generally choose Trams instead of trains, because they go through neighborhoods and you can watch the world go by. Trams are a little slower…but we are retired and normally drive a bus! Slow is good for us. And because of the $8/day max, you can see a lot for not a lot. Still, because Aussies are so competitive, I have to weigh in: Sydney's system gets the nod — its Opal Card is better than Melbourne's Myki and the ferries are unbeatable!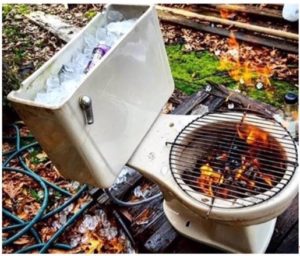 We have really gotten to know our Aussie Friends better than we could have imagined. And vice versa. I am still working out whether that is a good thing. Case in point: Peter Campbell, our host and spiritual guide in Sydney sent us a picture of a piece of Aussie Tech that he felt we really needed.
Only "Friends" like Peter take the time to understand in detail our lifestyle, and then to recommend in a thoughtful way something that would complement it. It makes us proud to know him and call him FRIEND. Makes Liz want to cry, actually.
Thing is, it is BRILLIANT and he is totally right that we need this!
And more Aussie Tech (though we were introduced to it in NZ): https://www.shooaway.com/. I think it is not a coincidence that the two best examples of Aussie tech are Barby-related (see our next post for an intro to speaking Aussie).
Peter's comment about flies and the famous Aussie Wave :
"[Flies] are harder to find as you go south. You will notice that the locals mumble less and talk more (mouths open when they talk) and that is the first indication."
I can only add that talking more while saying less is not a win!