So….Our time in California came to an end approximately the same time that Chet's basketball season came to an end. More on the latter in a minute – first we had to escape California. That presented TWO challenges…the price of fuel and the route to take.
FORTUNATELY, RV WHERE YET has a BIG fuel tank that we had filled just on the way into California in February. A careful calculation suggested we would not quite make it back out, so we bit the bullet and bought 60 gal of diesel at almost $7/gal (OUCH!). That allowed us to get to Arizona… leaving us with the next decision.
What path to follow getting out of Cali and TO NOLA? NOLA because we were hoping to see Nephew Chet's team in the NCAA Final 4. March is still winter-ish (or at least "unsettled"), and northerly routes include altitude and passes – iffy in springtime. The safest choice would CLEARLY be to take the southern track (I-10). BORING and too frequently traversed! Watching the weather, it looked like there would be 10 or so placid days, so we decided to live dangerously and take I-40 instead. This took us through Albuquerque, Phoenix, Oklahoma and eventually Vian Oklahoma! THAT path gave us the indescribable joy and advantage of visiting our friends, Lynn and Dave Gray; always the host-es with the most-es.
Making the decision final, I called Dave to ask if the driveway was hard enough for us – spring in Oklahoma can be wet and mud is NOT our friend. Dave assured me that it was hard enough now, and was forecast to be dry enough for the next couple weeks such that we were not in danger of becoming a permanent lawn ornament. So, VIAN (and northerly I-40) it was!!
That roar has actually saved our marriage…
On the way out of California, I noticed a very weird and somewhat disturbing sound emanating from RV WHERE YET…huffing and puffing, in addition to rumbling and and roaring and clicking and clacking. Those of you who have heard RV WHERE YET (whether in your driveway or driving by) might wonder how one could hear ANYTHING, much less anything different over the roar of the engine. I like to say that that roar has saved our marriage, because for significant parts of every travel day, Liz and I cannot hear each other to carry on a conversation, much less argue. Actually, though, the noise level is NOT that bad, and I am very attuned to the "normal" version of it. A change is almost certainly indicative of a problem…
The exhaust (approx. 1,500°F) blew out my temporary repair within an hour!
On an evening at Walmart, after a day of huffing and puffing, I crawled under the bus and noticed some significant issues with the exhaust pipe. These included a FULL HOLE in the pipe where there had formerly been a temperature sensor, and a fully loose section of pipe. These were blowing hot exhaust mostly at the road, but also under the bus, over some electrical cables, etc. NOT GOOD. I bought some exhaust wrap and some stainless hose clamps at Autozone, and wrapped the pipe, hoping to make it to Alabama, where I knew a mechanic who did not yet know we were on the way, but has always been willing to help. The exhaust (approx. 1,500°F) blew out the wrap within an hour! What to do!
Now at a roadside rest (so no Autozone opportunities), I channeled my inner redneck (acquired organically over 6 years on the road and in close contact with fellow BluebirdBrains) to come up with the idea to make a solid-metal sheath to cover the hole, with that metal held on with exhaust wrap.
The red neck part: I used A Salmon Can!
The EVEN-MORE-REDNECK PART: Putting the salmon in a tupperware for later (we had a Salmon Salad Melt, which is a redneck fresh seafood dinner!),
Anyway, I cut a piece out of the can to cover the exhaust leak. The repair worked MAGNIFICENTLY, and friend, Iowa Farmer, Redneck extraordinaire and Mentor Steve Florer could only say (I imagined with a tear in his eye), "So Redneck. So Proud!"
As it happened, Gonzaga made an early exit from the NCAA tournament so we had a choice to make: TO NOLA or NOT TO NOLA? Now, we absolutely had to get to Daphne Alabama to our friendly mechanic, Lazzari Truck Services, who a phone call confirmed would gladly help us fix that hole and generally recondition the exhaust, which was 40 years old and leaking from almost every joint. From the west, one accesses Alabama THROUGH Louisiana; we had a spot reserved in the city, and were rather looking forward to spending some time there … Laissez les bon temps roulez!! On the other hand, the NOLA spot we had reserved WAS quite expensive…WAY MORE than we would normally spend, there was no basketball (involving Gonzaga, anyway) and it was partially refundable. SO, we decided to forego the Big Easy for this trip, and head to Alabama, to spend the refund on Bus repairs.
We DID have a couple extra days, though, so we decided to try to take advantage of our path through Cajun Country. I made a call to a place we had attempted (to no avail) to stay a couple times B4: Betty's RV Park in Abbeville, LA. This time, she had space available for a few days – so THE DECISION WAS MADE…!
Now, Betty's (and Betty) are somewhat famous in certain circles. It seems Betty retired from Civil Service, but decided sitting on her sofa watching TV was NOT an option. Instead, she built about 15 RV spots on the perimeter of her lot, surrounding her home. People come to Betty's and get "Caught in her web." By that, we mean Cajun Hospitality in extremis. Starting with Pot Luck Cocktails every night at 4:30. We arrived about 5:45…pulled up to the winding-down-communal-Crawfish-boil and I went inside to get parking instructions. Betty said, "C'mon have a drink with us – your parking spot can wait!" So we did, setting a VERY HOSPITABLE TONE for the next 4 nights.
During our stay we experienced Betty's birthday (her 79th), and we (the entire park and Betty) celebrated at a Cajun place in town. EVERYONE IN TOWN knows Betty. One evening we were in the hardware store when the clerk said "Are you staying at Betty's?" (We apparently look (and talk) like we are not from Abbeville – GO FIGURE!). We said yes…he looked at his watch and said, "You shouldn't be here – its 4:30 and Cocktails are being served…" Everyone knows Betty!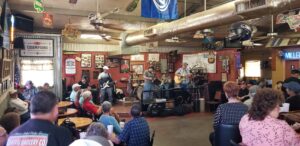 While staying at Betty's, we enjoyed a Cajun Jam Session at a local institution – Touchets – where a neighbor from the RV park was sitting in on Drums. We were seated in some primo seats in the corner – we thought because we were somehow associated with the band.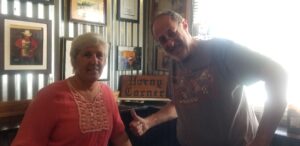 Instead, we later learned the joke was on us…those seats were in the so called "Horny Corner" and everyone was inspecting the couple sitting there (us). All in good fun, of course!
We also had a chance to visit Avery Island, where Tabasco Sauce has always been prepared. A very interesting tour and somewhat sanitized presentation of plantation history.
Also at Avery Island we walked around the Gardens, which was SPECTACULAR, and apparently a little dangerous for overly ambitious hikers…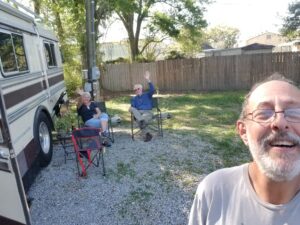 We also had a chance to dine with LC Cambre, uncle of college buddy Keith and someone we have seen and who's company we've enjoyed many times on passes though Lafayette. This time, LC came down to Betty's for cocktail hour, then joined us for Betty's birthday celebration.
Just before getting to the truck repair shop, we stopped at the great Maeher State Park just outside Mobile, Alabama. Really nice spot, right on Mobile bay, and quite convenient to Lazzari, where we had an appointment the next day.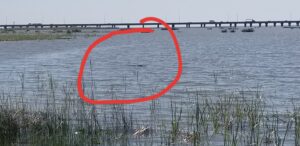 There we had a BBQ with Bluebird Friends Terry Sue and Mike Gagnet, who live nearby. AND, a visit from another local resident.
After escaping from Betty's web AND departing Mobile's GREAT bayside state park, we continued on to our friends at Lazzari Truck Service, who would put RV WHERE YET on the lift and execute the necessary Exhaust repairs, including replacement of the 40 year old, holey (not holy!) muffler.
SO QUIET now! (NOT!!!).
They also discovered that the exhaust manifold itself had a broken bolt, and seemed to be leaking in a minor way, so we are not yet done with exhaust repairs.
There is a difference of opinion on how urgently we need to repair that manifold bolt… some think it is a matter of some urgency, some think it could be basically ignored for the foreseeable future.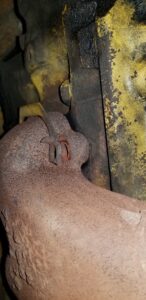 Evidence for the latter is that we really don't know for how long that bolt has been broken – could be the entire time we have owned the bus (or could be a week). We do know FOR SURE two things:
— To fully and finally repair the bolt, THE ENGINE NEEDS TO BE REMOVED!!! This is because there simply is not enough room in that space to enable drilling out the broken bolt. If we go down THAT rabbit hole, there are a bunch of proactive things that need to be done – and that is likely a 5-digit, 30-60 day visit to a mechanic.
— The engine is NOT turbocharged, so there is little back-pressure and very little actual exhaust gas escaping. Some of our MOST redneck friends think we should go "Full Redneck" on this: Clean the area very well and then use a tub of JB-Weld Extreme Epoxy. May last a lifetime! Or a week. (But, for perspective: a full, Rebuilt engine can be had for $12k).
While wandering in Louisiana, we got the news we had been hoping for: our House has been SOLD, Earnest Monies received and the issues and contingencies presented by the Buyer's attorneys seemed manageable, so we needed to get back north to start the process of cleaning out.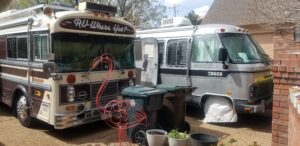 On the way north, we called our friends the Bishops, who (we thought) lived in Long Beach, near Biloxi, Ms., hoping for a brief visit on the way through. They DID live in Long Beach, but when we called, Daniel said, "We'd love to see you, but we NO LONGER LIVE IN LONG BEACH!" I thought, for a minute this was a ruse to avoid us, but then Daniel went on to say, "We've moved to Memphis" and we all realized Memphis was right on the way to Chicago!!! Daniel and Linda offered up their driveway for a couple nights, and we had a great time catching up!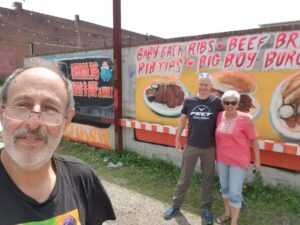 While in Memphis, we had two other experiences of note: Lunch with Brian Walsh, our former neighbor in Chicago, and an evening under tornado warnings!!! We were sitting with the Bishops, watching the weather reports when the sirens started going off. Liz and I looked at our hosts, wondering where to go and what to do, as their house did not have a basement.
In the end, it rained really hard, but never even got windy at the Bishops, though there were Tornados in the vicinity. Good thing, too, because I KNOW we were all wondering how would we four plus their HUGE Great Pyrenese and smaller mutts would get into the single interior bathroom, much less the bathtub!!
Once we made it to Illinois, we had the good fortune to have an indefinite parking spot at Liz's nephew's farm in a little town Northwest of the Big Smoke. They have come to call it "No Paddle Farm" (as in "up a creek without a mode of propulsion"), and it is quite the menagerie, including, horses, pigs, chickens and even an infant human! They have a small piece of concrete that used to have an out-building on it – perfect size and out of the way for RV WHERE YET to reside for a bit, while we head down to our now-sold home of 30 years.