Most of our time in Chicago has been spent gradually peeling the onion – removing all the layers that accumulate over the years, down to just what is imPOtent.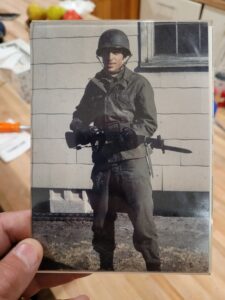 Liz and I made a pact with each other that we were NOT going to keep things with mere "minor" sentimental value, which is almost everything. Instead, we rented a SMALL storage locker (5×10) and spent time packing the real treasures — mostly family art — really well, in boxes. These boxes are ready to ship when (if) we land somewhere (which we fully intend NOT to do for awhile). We also stored a Desk and Sewing Machine Liz has from her mother and a coffee table that we bought at a junk store, but REALLY LIKE. And a small box of XMAS Ornaments, collected over 30 years of world travel.
That's it – our entire life in 5×10'
People ask us if we feel sad, or if we will miss all our "things." We have donated lots of those things — to the Salvation Army, to Pet Shelters, to Ukraine Refugees. We have also perfected the art of looking FORWARD, not BACKWARD. SO, The answer is NO to both!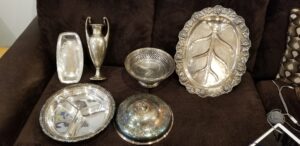 As part of peeling, we found a few treasures that actually had monetary value. For example, a few Sterling Silver trays. A couple of books my Grandmother had given me, including the first English Printing of Einstein's "Relativity – the Special and General Theory (1924)." A few pieces of furniture. My Rowing Machine.
We even had a few coins from the mid-1800's and other items I had found IN A HIDDEN WALL CAVITY during a remodel years ago! All of which we un-acquired for cash on Facebook Marketplace, with a Metal Buyer and an Antique Book Dealer.
Altogether, we translated this "stuff" for which we had no space and little sentiment into almost $5,500. Which I prefer to think of as 7 tanks of diesel, or almost 10,000 miles of travel!
Also during our stay in Chicago we struggled and endeavored (and as of this writing continue to struggle) to move the Real Estate Transaction over the finish line. We don't have a lot of experience in such transactions, so we are just trying to stay positive, and meet the Buyer's usually unusual requests wherever possible. But our attorney, longtime friend and former client Ken Henry, has frequently mentioned that "communication has been a challenge." Let's just say that hardly describes the ongoing frustration, but hopefully soon this will come to a successful conclusion. As Ken has said (usually after a form of telephonic primal scream), "These kinds of transactions are USUALLY the best an Attorney can handle, because EVERYONE WINS – Buyer and Seller both get what they want in the end," unlike most, more adversarial transactions.
Also while in Chicago, a few other things worth describing here — interspersed between packing boxes and Breaking Bread with so many old friends. For one, we made sure to visit all of our favorite Chicago Food Options (many more than once).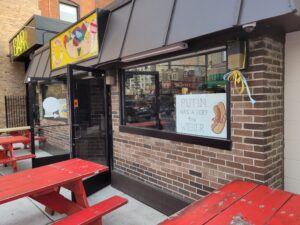 One thing is actually likely to continue past our exit from the city: now that I have turned 64, the MEDICARE CALLS have started! At least 3 a day, wanting to send me information about one Supplement or Advantage or drug plan or another. I am thinking the voices on the line are familiar – same guys from the Automobile Extended Warranty Calls I mostly received before my 64th birthday? Maybe, as I think about it, these are the SAME CALLS and SAME PEOPLE – all concerned with keeping old machines operating?
And, we made time to attend possibly our last Cubs Game at Wrigley Field. SUCH an absolute CUBS day. They beat the opponent 21-0 (they could have beaten the Bears with that score most Sundays last year), yet lost the series 3-1 despite outscoring the opponent by 15 runs over that series.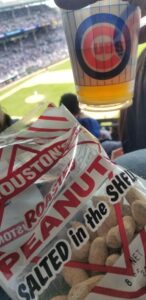 Well, maybe not the last Cubs Game, but probably the last where we decide 10 mins. before first pitch and walk over to scalp tickets.
For a few days in Chicago, we got within relatively close proximity to Nephew Chet (and his sister, Claire, My sister Sarah and Brother-in-law David), who were in town for the NBA Lottery.
This is the event where caca teams determine by selection of ping-pong balls ala mega-power-ball-lottery which caca team drafts first. The lottery draw itself was a complete anticlimax – we watched on TV like everyone else – the #1 pick to Orlando, #2 to Oklahoma City and #3 to Houston. That all took 30 seconds. Most pundits think Chet will be selected by one of these, with the highest probability #1 to Orlando. But, of course, there could still be trades and other shenanigans, so no one really knows. Liz and I are planning to Drive the bus out to NYC and watch the actual draft IN PERSON on June 23!! THEN, WE'LL KNOW!!
We did have an actual in-person moment (or 10) with Chet one evening (his time is highly regimented and in demand between the NBA, ESPN, CBS SPORTS and every other remotely-NBA-Related agency or persona, so we take whatever we can get…). Chet's evening was all about a dinner at Morton's Steak House with the brain trust at NBA Marketing ( which Liz and I were not invited to or desirous of attending). This was at 8:30, so it was agreed that we meet Sarah, David and Claire for a drink and Appys in the afternoon, with a possibility that Chet would join us at the bar (near but not IN the hotel).
That idea failed.
Instead, Chet said he could meet us in the hotel restaurant area for a bit before the dinner with NBA Marketing and after one workout or event or meeting or interview or ???. He asked if we could carry out some food for him, so we acquired a full Pasta Dinner. In a little bit, Chet joined us with another fella who was also on the large side — we recognized him from TV, as he played with Chet at the U-19 World tournament in Latvia. They brought with them FULL MEALS that the NBA had provided, and Chet ate that and our pasta, all before going out to dinner…so TWO FULL MEALS as appetizer before a full meal. The knock on Chet (which is ridiculous if you watch him play) is that he is too light for his height – the various pundits and online experts think he should eat more. I am here to tell you THAT is impossible!
Anyway, As this is written, our packing is pretty much complete. The remaining furniture will be removed on 11 June when Liz's nephew is coming with a truck – Bunky already has most of my tools, and has expressed interest in most of what remains – if not for No Paddle Farm, for one friend or another. We are HAPPY to donate, and even happier that he is willing to back up the truck and take responsibility for further distribution of any treasure he does not want (or his Wife won't let him keep)!
Once that truck leaves, we will not have a stick of furniture to sit on or a bed to sleep on, so we'll reside in the bus at No Paddle until we leave for New York. During that time, our neighbors in Chicago want to have a Going Away Party for us, which is a hugely nice gesture AND might make us a little melancholy…but just for a bit! We also thought we might have one last gathering on our roof deck – now with no furniture or BBQ Grill, so we plan to order our last pizza from a nearby neighborhood institution. Those will REALLY put an exclamation point on the end of our Chicago Sentence.
Our "plan" is to get to NYC (there is an RV Park across the river at Liberty Harbor) in time to actually ATTEND the NBA draft event at the Barclay Arena in Brooklyn. That is the 23rd. Then back to the Minneapolis area for the 4th of July. That is a LOT of driving with diesel at $6/gal, so we surely HOPE our closing goes well on the 22nd!! We will NOT be in attendance, but assume Ken will successfully conclude the win-win transaction on our behalf!