But, not the way you might be thinking!!!
As we have disclosed before, Liz and I have decided that the experiment IS over – we are happy on the road, and don't need most of our assets tied up in a 100+ year old maintenance pit in Chicago. Our place was listed just B4 Thanksgiving, and though we had little activity until Early February, IT HAS NOW BEEN SOLD!!! Twice, actually! Two full-price offers; the first offer fell thru, but a second (Cash) offer was right behind. We are still working thru some of the other contingencies, but we are hopeful of closing on 31 May!!!
And, it's a Good thing the house has been sold – as we watch Diesel rising to over $7/gal in California, we are going to need that money to escape the state!!
While hanging in California, in addition to watching daily increases in the price of diesel, there was actual fun to be had. Beginning with more folks to see and catch up with. First off were friends we have known for years (since 1997 at least) though my business. Christine Hutson put together a dinner soiree at her place in Saratoga, with Patt and Dennis Brach and Phyllis Daney in attendance. An AWESOME Evening with awesome food, conversation and cameradeire. Amazing how the years fall away when old friends share uninhibited (since we ALL have Pics and cannot therefore deny) stories about previous debauchery.
And, getting to Christine's from the Bus spot, we were able to take the Skyline Drive…SPECTACULAR views overlooking the bay area.
What does a Fishing Captain retire to?
At our spot in Half Moon Bay, we met the fella in the adjacent spot. He was a fishing captain all his life, now retired. This prompted me to ask, "Many people retire from their jobs to go fishing. What does a Fishing Captain retire to?" He said, "Oh, fishing, definitely! But only one boat, and only in nice weather!" Kinda like me, I guess – an IT guy who when retired writes an online blog and manages family IT.
HMB included daily hikes and/or bike rides –a GREAT Coastal Trail to a too-snotty Ritz Carleton – they would not serve us even a bottle of water! But, the other foot had a better shoe — a REAL Pub as an amenity at HMB, as well as a couple of seaside breweries
And, speaking of IT… While in HMB, I had a chance to get some experience with some new and fantastic tech. I have been following SpaceX's "Starlink" satellite internet service, and not just because I am a Space Geek or because we camped across from Starbase Texas two years in a row.
I think High Speed Internet is AS IMPORTANT AS FRESH WATER for people everywhere, yet is as difficult to obtain AS fresh water for many. The UNFAIR and UNEVEN LACK of viable broadband was exposed during the pandemic, leaving many people (the LEAST advantaged in society, frankly) unable to remote learn or remote work. Using technology based on Low Earth Orbit Satellites (20,000 of them!) that SpaceX has designed and is in the process of launching, Starlink intends to provide high-speed internet service to every single spot in the globe. This will be a real game-changer for rural areas with no other viable internet options, and for mobile users like us!
Anyway, Starlink is now available in a limited fashion as SpaceX continues to launch satellites (2,000 of the intended 20,000 are now active in orbit). Up until now, I have been only READING about it. When suddenly an RV pulled in next to us, got his Starlink Dish out, and set it on the ground between our RVs. I immediately went over to talk to him about it. He apparently had just received it at home (courtesy of his son), and this was his first attempt to "roam" with it (a feature SpaceX has only just begun to roll out). He gave me his WiFi Password and said, "Let's try it together!"
All I can say is, it worked FABULOUSLY – so much so that the various Home Sale Documents we needed to execute were simple and straightforward on that connection, vs., difficult to impossible if left to the AWFUL park wifi. Based on this experience, we will soon DROP our "Dish" TV service and cut back on our Cellular Data plans – because Starlink can handle all of that for us!
Also in HMB, College Buddy Dick Stubbs called to disclose he had a deposition in nearby San Jose. We had just spent a week with Dick and Tyra in South Padre Island, so OF COURSE we said we would be DELIGHTED to seem them again after sooooo long apart. This included Breakfast at a local diner, a LONG hike along the Coastal Trail and a really excellent dinner at Moss Beach Distillery, which is a local favorite with KILLER views of the ocean at sunset. The day finished with a campfire at the bus.
When we left, the one thing we couldn't say to Dickie and Tyra was, "Let's not wait so long before we get together again!" More likely, "YOU, AGAIN!"
I should probably mention that the whole time in California, we were forced to endure ABSOLUTE BRUTAL COLD — California Style. That is to say, 50s and 60s most daytimes, and as low as 32F one night. HOW DO THEY EVER SURVIVE! We thought it was quite comfy.
After hosting US, we hosted Christine at the bus for a meal, hanging out in the warm California sun by the beach. We also had cousin-in-law Nancy Cox out for a BBQ by the beach. Then, we pulled up stakes and headed for Santa Cruz, after verifying that the RV spots at the marina still exist!
You may recall a few weeks ago that there was a Tsunami that impacted the marina at Santa Cruz – it was hard to gauge if that impacted the RV Park, which is truly IN (and not above) the Marina. I called, and they assured me that while a BUNCH of the Boat Docks WERE damaged, the RV park was in full operation.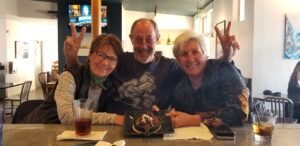 Our drive to Santa Cruz was down the VERY scenic Pacific Coast Highway; except that it was soooooo foggy that we could barely see the centerline on the road, much less the scenery! The good news is, we can only drive slowly under ALL circumstances, so we barely needed to slow down for the conditions. And, we later had occasion to drive back up the PCH –it IS truly scenic!!!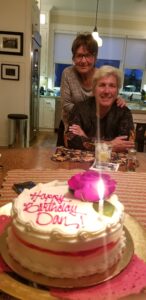 And, we saw Phyllis again at her home in Santa Cruz. We had planned a dinner, but that evolved into several, along with Basketball, Hiking, Printing Tax Returns, Birthday Cake, belly rubs for Rocco (her dog! What did you think I meant?) and all sorts of other fun.
It is GREAT to visit friends on the road. I was gonna say "Old Friends" but "Old" feels a little too personal since my birthday on St. Pats Hangover Day!
Then, we connected with Alison Kraft Rempel, with whom I went to college but haven't seen or talked to (other than realizing from posts and comments on Facebook that we share a political world-view) since 1978. She wanted to see the bus before we found a place for lunch. The reaction from folks in general is about 50:50. Half thinks we are certifiably crazy. Half think our lifestyle and ride are the coolest things ever! I think they are not mutually exclusive!
Our time in Santa Cruz included the start of the NCAA Basketball Tournament, so we needed to find spots to partake of the Gonzaga games. Normally, we could watch on our Satellite TV, but the RV spot at the Marina is hard up against a hill with tall trees – no satellites visible.
One pretty sweet spot was a Brewery, where we parked (asses, not the bus!) in front of their big screen and they made us feel most welcome.
We also continued our tradition of eating "Good Luck Ice Cream." Liz and I (well mostly "I") discovered that eating Ice Cream is a virtual assurance of championships…
We had quite a run with the Blackhawks in 2010 to 2015 –THREE Stanley Cups! I cannot say for sure that these were BECAUSE we ate ice cream ALWAYS between the first and second periods, but I offer as evidence what has happened to them since we stopped!!! It could be because the young 2010 Superstars all got old and bad at hockey at once, or it could be because we could not eat Ice Cream at the appropriate moments on the road; IDK.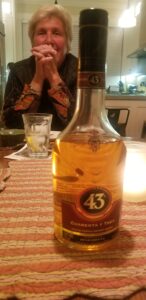 Anyway, not wanting to take ANY unnecessary chances, we offer this as our sacrifice to Chet's hopeful championship. AND, we even discovered a DELICIOUS Spanish Liqueur that seemed to SUPERCHARGE the good luck factor if poured OVER Good Luck Ice Cream (Thank you, Roberto Resa via Phyllis Daney!). It's the LEAST we can do!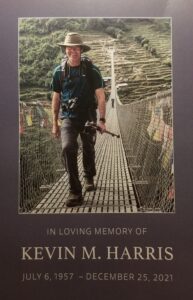 Also while in Santa Cruz, we were able to attend a memorial service for Nancy's husband and my cousin, Kevin Harris. Kevin's service was in the Redwoods; a very atmospheric place for such a thing. Kevin, travelled the world through his entire life — personally and professionally — and many stories were told. Reflecting on Kevin's life in the presence of the giant Redwoods and the Giant group of friends his life and adventures touched, I realized even though we hadn't been in touch for a period of many years (reconnecting recently), his travels and adventures subliminally encouraged, and encourage still, ours.
Kevin was about 6 months older than me, so his sudden death was and is a reminder to use every day completely up…leaving nothing on the table or for later!
And My birthday was celebrated in Santa Cruz, as if to emphasize…
Departing Santa Cruz, we headed south, reversing our course down the Grapevine to I-10 and then Eastbound to NOLA. Our goal is to attend the NCAA Final Four Games featuring Chet's Gonzaga Bulldogs; and I already have a reservation in an RV spot just outside the Quarter. Chet's team has to win a BUNCH of games to get there (2 more to be exact), but we'll eat plenty of Ice Cream (with Cuarenta Y Tres on board) to help ensure there is April Basketball!
And, we figure the WORST that can happen is we have 5 days in NOLA with NO Basketball (but plenty of excellent food, music, etc. ) If we can afford it — It will cost over $2,000 in diesel to get there!
We will truly be as well as eat Po' Boys!!