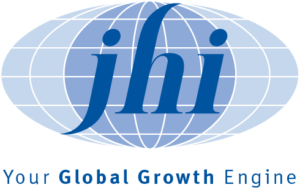 So for the better part of 30 years I traveled the world to attend and often speak at meetings of JHI, an International Association of Independent Accounting and Management Consulting firms. In 2017, their Region of the Americas Conference was scheduled to be in Montreal. With many friends attending, we planned to be there "uninvited," drinking at the bar. Getting wind of this, JHI's director asked if I could reprise one of my frequent presentations over all those years: "The State of Technology."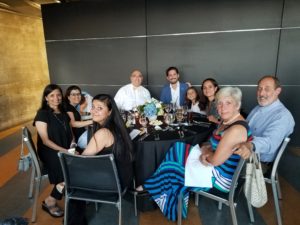 With some reluctance, I accepted. Reluctance because I am FULLY RETIRED, and this sounded like work. Reluctance because I am living in a 1981 motor home that came to us with an 8-track tape player and a 12" Black and White TV. I am a little out of touch with "tech." But I agreed to do a survey of member-firms' IT spending strategies, and to talk about Data and Information Privacy and Security…something I am NOT out of touch with. This in exchange for room and board and beer (and wine for Liz). Especially since Liz could now attend all the entertainment sessions and visit with our many friends while I (NOT) work.
I could rationalize this as "NOT WORK" since no money will change hands. Liz is "possibly upset" with me for "unretiring" temporarily (among many…perhaps most other things), but I think she'll get over it with association of old friends and adult beverages. Or not. In which case I will get over her NOT getting over it with association of old friends and adult beverages.
Once the conference started, we slipped right back into a routine that we perfected over many years. Eat. Drink. Eat. Converse. Drink. Learn a couple things. Sleep a bit. Repeat. For several days. Since I was not actually attending the conference, other than my session (and of course all the meals and bars), I had time to connect with a friend I had not seen for years. We walked to Schwartz's Deli, a Montreal Institution, for smoked meat. Like many institutions, it may be overrated now, but fun nonetheless.
We also went to a local place for Poutine…this was a 7+ KM walk which is a good thing when you are eating an authentic and famous pile of French fries with cheese and gravy!
My presentation at the conference seemed well received, but I am certainly NOT interested in coming out of retirement as a regular thing. I cannot eat and drink this much anymore!
While the session occupied some of my time, the DRONE ARRIVED! I had plenty of time to start my training in the hotel room, causing little or no permanent damage and with no visits from hotel security or the RCMP. While I spent time careening the drone around the hotel room, Liz spent her time careening around Montreal with her JHI Friends. I hope her control was better than mine!
If she even remembers that she was mad at me for "unretiring, " I am pretty sure all will be forgiven. And, If I ever learn to fly the damn drone, I will thank her for NOT letting me buy the big one first.
Lots of time for Montreal Sightseeing. The conference finale was a banquet at a museum in Old Montreal overlooking the river. This being the 375th anniversary of the founding of the city, there are many celebrations going on. This evening included a Fireworks competition with the museum's terrace in a prime viewing location.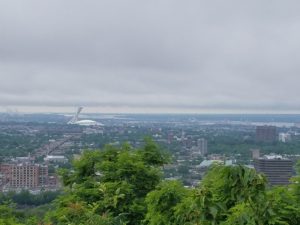 After the conference ended, we were invited to attend a BBQ at the home of Montreal Friend Joe Havas. We gladly accepted, and while there Joe's better half, Shelley, invited us (Canadians are hospitable to the end!) to utilize their laundry machines!
All in all, a GREAT visit. Renewing old friendships, enjoying excellent food and drink, experiencing Poutine, learning a couple things…and leaving Montreal with clean laundry. Does it get any better?
Next stop: Northern Ontario. Land of the midnight sun, Bears, Beers and mosquitos the size of 737s. In case transfusions are necessary from the latter, Liz and I are both B+.