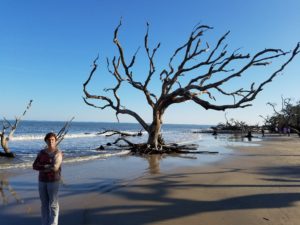 22 December finds us at a FANTASTIC RV PARK on Jekyll Island, Georgia. We are staying here until Tuesday 27 Dec. The island was a private club where the wealthy from the Northeast wintered in the late 18 and early 1900s. Today there are museums, shops and summer homes. We unfolded the bikes, aired and greased them up and started going for rides. I think the island is about 12 miles around and there is a bike path around the perimeter. There are also some fantastic beaches, and the weather is warm enough to enjoy them!
I will say that Xmas decorations, including animated snowmen, flying reindeer, LED Icicles etc. look a little strange when you pass them riding your bicycle in shorts! Best one so far was at our last RV Stop in Florida: It was a seasonally decorated outhouse. Every 30 secs. or so, the door opens and the jolly guy himself is revealed taking care of bidnez. VERY FESTIVE.
The McNichols told us the subtle difference between "Yankees" and "Damn Yankees." The latter don't leave. Sort of like Ben Franklin's comment: "Guests, like fish smell after 3 days." We'll be leaving before too long, so we won't be by any measure damned smelly.
The McNichols, Liz's brother's inlaws, live in Brunswick, GA which is about 5 miles as the crow flies from the RV Park on Jekyll Island, but about 20 miles by road. Even before Liz's official family arrived for Xmas, they've been gracious and welcoming to us Yankee travelers. They did warn us that family gatherings can get "raucous." Like that never happened at Liz's family events! But it has made Liz feel much happier about being away from her family for the Holidays.
We spent a few days at High Springs Campground near Gainesville before Jekyll Island. Nice little towns nearby…High Springs and Micanopy. Unfortunately, our timing was not the best….
We browsed an antique mall in High Springs where Liz found several place-settings of the EXACT Czech China her sister Janet has (formerly Liz's grandmonther's).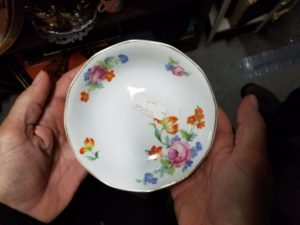 We couldn't get the price down enuf, which is probably just as well. We don't have space to store China while we travel. There was also a Lowes for some needed bus-repair hardware.
And finally, breakfast with Mark Frankel, a former work colleague of Liz's who lives in Gainesville now.
After breakfast, Mark took us to a nearby state park to see one of the MANY natural springs to be found along the Santa Fe River.
Dec 23, we had a couple of bus projects to take care of. We found during torrential rains in Louisiana that every hole in the roof of the bus (2 skylights and 2 air conditioners) leaks. And if we are driving, the front heater/defroster air vents seem to suck water in and drop it on the dashboard. Bottom line: At times it rains nearly as much inside the bus as outside! Which is tolerable except that one leak seems to target Liz's pillow! Making this a top-priority project. ;-p I bought some silicone and spent some effort today trying to find and caulk the problem. We won't know if I was successful until it rains again.
Lizzie, meantime, spent some time finishing a quilt she has been making for her nephew, whom we saw on Christmas Eve. Her sewing machine workspace, custom made for us by our good friend Bob White is AWESOME. Liz has been promising to make me a quilt since before we were married. Nephew Phillip isn't even 1 yet and was presented with his. Hmmm.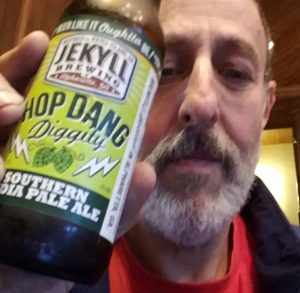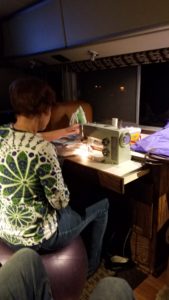 After this, we rode our bikes to the Jekyll Island Club Hotel. VERY fancy. Nice bar. Even nicer little pub down the basement. They have a nice local beer (Jekyll Brewery) in bottles at the bar and on tap downstairs. We could become regulars here, except we are only here for a few days AND the prices are as you would expect in a fancy hotel.
There are advantages to riding your bike to a pub (about 4 miles each way): They say you SHOULDN'T drink and drive, but you DEFINITELY CANNOT drink and ride!
We put out the carpet and awnings and have a nice outdoor space including a firepit. We also put up a couple strings of XMAS lights that we bought on closeout sale when we were at Lowes. Not even competitive with some of the other folks at this RV Park, who decorate like they MEAN IT. But we are newbies, so we get a pass this year.
"Well, if it isn't Lizzie! I haven't seen you for SIXTEEN DAYS!!!"
Xmas eve and day is mostly fun with family. Liz's brother arrived about 2:00 Xmas Eve. Until then, we are hung out in the campground. Hooked up Lizzie's WII so she could be chastised by her personal WII-FIT Trainer, who said:
Xmas eve nephew Joseph (2) was into the fudge. I personally saw him eating 2 large pieces. For the record: I did NOT feed him the pieces; he found and devoured them all on his own. That's the benefit of being Aunts and Uncles (and staying 20 miles away). I am sure it was a pretty long night after the inevitable sugar crash!
Today, Xmas day Lizzie and I rode our bikes down the beach at low tide for about 5 miles. A bright, sunny, pleasantly warm day. Then, Xmas dinner with Liz's brother and the McNichols.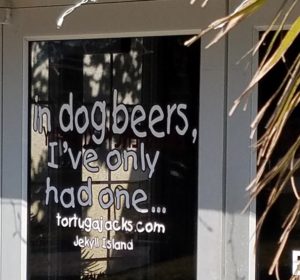 After which, we found another pub on the island…so many options, so little time. Good that it was open later XMAS Day, and right on the way back to the bus!
Boxing day (26 Dec) we are hosting the McNichols and the extended group who have tolerated us for the weekend for cocktails at the bus. We are offering tours…the regular one is 30 seconds but the extended version is a full 45.
Starting to think about the next segment of our journey. We will roughly parallel I10 across the southern US. But it was suggested that we take US 98 across the Florida Panhandle as it hugs the coast more. Then US 90, which will get us via Galveston and Houston all the way to New Orleans and beyond. Once in Texas, several people have recommended we detour south to Big Bend National Park for a few days. Why Not?