After Xmas with our new family, the McNicols, (after they adopted us thoroughly for the raucous pandemonium of their family Xmas), we started our trip towards California. We spent some time considering our route and our strategy. We even emailed ahead to tee up visits to friends in Houston. Along the way, the universe reminded us of one of the key laws of retirement: IF you have no plans, there can be no snafus…
The first part of our "plan" started with the idea of spending a couple of days near New Orleans and maybe a couple more near Houston. Our "Plan" included taking the old Florida Coast Highway instead of the Interstate. In order to do these and NOT drive too much in any one day, we needed to make a stop before New Orleans. We decided somewhere near Panacea, Florida. Liked the name. When we got close we started looking for places to stay. We were thinking a Walmart…something simple for one night. That's when the plan started to unravel.
There may be only one stretch of the USA where there are NO WALMARTS for hundreds of miles. That is along the old Florida Coast Highway. We saw nothing. In fact, for much of the way through State Forest Lands, our cell phones laughed at our attempts to browse. We do have a couple of Apps, tho. GoodSam identified an RV Park named "HO-HUM RV Park."
Liked that name, too. We did not need to know anything more!!! Liz's cellphone worked (barely) for a 5 mile stretch in a small town, so she called. They had ONE SLOT for ONE NIGHT available, and we took it! When we got there, we met some very friendly people and the park was just fine. Better than fine. Right against the Gulf of Mexico. Of course, the fog was so thick you couldn't have known that until the next morning when the fog peeled back just enough to sea [sic].
The next day we had visions of reaching Mobile, Alabama. But the day was getting kind of long, so we started looking for a place to stay a little sooner. We were also starting to have bus problems, though at this point I didn't mention this to Liz. When I say ANYTHING about a mechanical issue, Liz sees only $$$$-signs. Nevertheless (more in a minute). In Foley Alabama Liz found BOTH a Walmart and a nearby State Park. So we are now on the horns of a dilemma.
We stopped at the Walmart for provisions and called the State Park – Gulf State Park. The park had a spot available for 2 nights, so we took it. Drove there and got settled. A GREAT little park. Right on the dunes which are on the Gulf of Mexico. Easy bike rides up and down the dunes on bike trails. The nearby town of Gulf Shore was easily bike-able. And although it would probably be an awful place in the summer with dozens of huge souvenir shops and the like, all those were closed in the "winter."
Anyway, they have a weird idea of Winter in Alabama. 55 -60 degrees.
We had dinner at "Fish River Grill – where the locals eat." Probably true because the tourist places were mostly closed AND the seafood was mostly deep-fried. Liz and I shared an AWESOME and HUGE Fried Shrimp Po-Boy with Crawfish sauce accompanied by a delicious "Swamp Soup."
On to the mechanical issue. I suppose Bus mechanical issues are interesting to only a very small subset of our newsletter readers, but this issue really does add to the narrative in a non-mechanical way, so hang with me for a minute. I had felt since "Ho-Hum" in fact that the bus was riding low in the front, and perhaps a little right-leaning. The latter is NOT a political statement; if it were it would make me a little queasy. I also heard a little too much air "hissing" (pissing?) away when we stopped at Ho-Hum. The bus has air-ride suspension and I suspected a leak. In Gulf Shore, it was CLEAR there was a problem…NO air ride in front. This is not good if for no other reason than the formerly smooth ride now threatens to remove one's dental fillings over bumps. WHAT TO DO…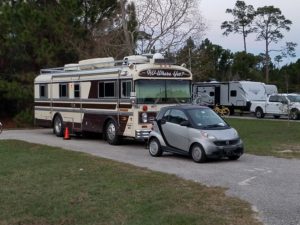 NO, we are not planning to tow the now-sick bus behind the Clown Car, but it is good to have options…
Dr. Google told me there was a truck repair place about 25 miles away from the State Park. I called them and they said they would squeeze us in if we could get there. Disconnected the Bus from Power and water, plugged the address into the GPS and Liz followed me in the Clown Car. The GPS lead us down smaller and smaller roads, county roads, backcountry streets until finally we arrived. Lazzari Truck Service. On Lazarri Lane. Near Daphne, Alabama. This is seriously in the middle of nowhere! Our new best friend Val had us pull in and lifted the bus. It was clear immediately that an airbag on the front-right had a serious but invisible hole. WHAT TO DO…
Val could get a new airbag by the next day ($100 shipping for a $200 part) or by Tuesday (5 days) for no shipping. Val recommended we get a spare bag…if we ever have such a problem, we could just hand the spare to any "Val" anywhere and say "Put this on, please." There are advantages to driving an RV which is just basically a diesel truck below the floor… Both Lazzari Truck Service and Val, BTW, were VERY professional, with lots of trucks being serviced. Who'da thunk it?
This is where I realized we were being punished by the universe for violating the law-of-no-planning. NO WAY the Secretary of the Treasury (Liz) was going to authorize $100 for shipping. And I checked… the really nice State Park we are at could accommodate us until Tuesday. And, ALL of our friends in Houston had replied to my emails; NONE were in Houston at the moment. Arguably, the universe holed our airbag to remind us of THE LAW. "NO MORE PLANNING." Well not too much, anyway. An occasional idea to maybe meet a friend on approximately a date… Anyway, all these meant we were going to abandon the current plan and just ENJOY THE HOLIDAY WEEKEND. Could be MUCH WORSE.
I drove the bus (jarringly) and Liz the Clown Car back to the park and informed the ranger, then set up for relaxation. Which included setting up the Satellite Dish for the first time, just in time to get the Blackhawks v. Nashville on TV! (They won after losing three straight while we weren't paying attention!). AND, one of our Houston friends will be back in Houston by the time of our unexpectedly-delayed arrival. Things are looking up!
Clearly, if you have a plan, it will be busted by events beyond your control, only to be replaced by better and more fun. Best just to skip the "plan" in the first place!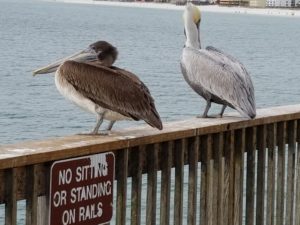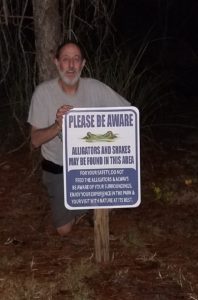 So, we are spending 5 days in Gulf Shores, Alabama. The Bikes are down off the rack and already accumulating significant mileage. We are finding it easy to "chill" like the locals. Though unlike said locals, at least initially we will follow posted signs and regulations. Today we even had a private Blue Angels Airshow…apparently they train up and down the coast from their home base in Pensacola. Wonder what New Years Celebrations look like here? We are about to find out!