The past few weeks have seen us burn several tanks of diesel, which means our front yard has changed several times even as we stay in our bubble, socially distant.
We decided to make a big loop through the Dakotas – an area with wide open spaces and several wonders of the universe. Once there, The Badlands and Teddy Roosevelt National Park were waiting for us to enjoy; and near the former, Liz had never seen Mt. Rushmore OR Wall Drug. (And I have not seen the Crazy Horse Memorial).
Lots to see and do!
Sturgidiot… sterg-idiot (noun): weekend-leather-wearing mask-less bad-ass-wanna-be.
One of the things to contend with, however, and CLEARLY demonstrating that the world is a different place at the moment: The Sturgis Motorcycle Rally. We knew this was "on" during our anticipated time nearby. We also thought that we could stay away from crowds of people; mostly by choosing both the places and the timing of our visits to places.
Our arrival in the area was mid-afternoon, having been delayed a bit by the route our GPS chose for us along backroads to the RV spot in Custer, SD. THIS is a story in itself… taking us through the Pine Ridge Indian Reservation, where we ran into a COVID Road Block. We had read about these, and now were experiencing one first hand. With our Illinois Plates and my stupid answer to a very polite but firm woman manning the road block, we ended up diverted:
She: " Where are you going?"
Me: "Interior, where we had a confirmed RV Camping spot.; and definitely not stopping in the Res "
(Interior is a small town just outside Badlands National Park and on the other side of the Reservation)
She" "Where are you from?"
Me: "Chicago"
(it's an instinctive answer and does not reflect where we are RECENTLY from – which matters MUCH more in a COVID sense). Had I answered "West Des Moines, IA" I am pretty sure she'd have let us through
She: "Hot spot – can't go through even if you plan to go directly THROUGH. Please turn around."
(And, She gave me an alternate path that would take us within a few miles of Wall Drug.)"
Now, I COMPLETELY UNDERSTAND the reluctance to allow outsiders through the Reservation, even if they SAY they are not stopping. She had been halting MANY Sturgidiots who wanted to travel through the backroads and many probably DID stop or WOULD stop; they were just trying to keep a very vulnerable group of folks safe. So we were HAPPY to follow her instructions. Besides, we are NEVER in a hurry, so don't care if a few extra miles are added to out route. BUT, there was a problem…
Me: "Can't turn around here" (it was a small, 2-lane road. RV WHERE YET cannot possibly turn around in such a place)
She: "Go down this drive (it was a 2-rut backroad) and you can turn around at the end."
Hmmm. This would AT LEAST be something to blog about, I thought. Hopefully we were not about to get stuck on a Badlands backroad.
I drove down the driveway, and came to a couple houses, several curious dogs and a gentleman sitting on the porch. NO apparent CIRCLE DRIVE or place to turn around. The VERY FRIENDLY fella confirmed the lack of turnaround, and chuckled that the woman had sent us this way. We did manage, masks on and after unhooking the car, a turnaround in the fella's yard – he was FINE with that (probably the most excitement he'd had this year!), and we went back the way we came, to approach Interior from the other direction.
As we retraced our steps, there were several clots of Sturgidiots headed towards the road block, and I could really see why they were severely restricting travel through their communities.
Anyway, our reroute took us very near Wall, and since Liz had never been, we decided to stop. We were pretty sure we were not going inside, but at least we could peer in the window and walk down the street and say we had been there.
What we found was very UNCOMFORTABLE and DISCOURAGING.
There were MASSES of motorcycles parked EVERYWHERE. Each of those motorcycles disgorged a Sturgidiot (or two, in many cases) such that every bar, restaurant, cheap Chinese chachki stand and t-shirt shop was shoulder-to-shoulder full of weekend-leather-wearing mask-less bad-ass-wanna-be's.
It was, frankly, frightening. Liz wouldn't even get out of the bus, and I got out long enuf to take a couple of pics only. After which we continued on to our RV spot, wondering if we had made a mistake coming to the area.
This is where we hatched our plan to ONLY do morning touring; Sturgidiot folks did NOT look like early risers to us! We also figured we could do a variety of hikes – it seemed, from the vista before us at Wall, that no Sturgidiot would be caught dead doing something so nature-and-exercise-oriented. These strategies proved to be VERY effective for us – very sparse humanity and very impressive vistas. Obviously, we needed to see Mt. Rushmore and Crazy Horse, so we tee'd those up on successive days at 8:00 AM. Empty parking lots, and VERY impressive, both.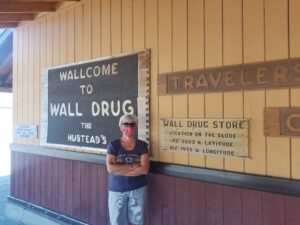 We even REvisited Wall Drug in the morning…
We have traveled all over the world, and seen MANY things that have "Big" reputations. Was Mt. Rushmore, one of the reputed wonders of the world, as fantastic as its reputation, or did it turn out to be smaller and sillier than imagined? We try to remain open-minded about reputations, and some (very few) places have exceeded them – I can probably count them on one hand: The Taj Mahal. The Grand Canyon. The Great Barrier Reef. Others have not: Graceland. Uluru. Disneyland.
Mt. Rushmore and Crazy Horse DEFINITELY exceed expectations!!!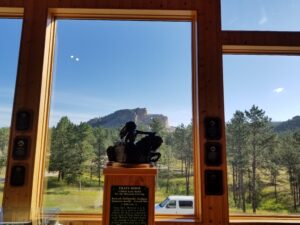 Crazy Horse, especially. The vision of turning a mountain into a sculpture and memorial, and the partnership with Native American Communities together with resolve of the man, family and ongoing groups of volunteers and workers and engineers who are working to make it happen is inspiring.
As was the finished example of this (except the Native American input part) – Mt. Rushmore. But Crazy Horse is MUCH MORE than Rushmore. There is a museum of Indian Culture. There is also the vision of a MEDICAL SCHOOL in the process of being created to benefit the Indian Communities who are underserved – made even more relevant by COVID and our road-block-experience.
Crazy Horse is underway, but has a long way to go. Maybe a metaphor for our nation and civilization? Interesting to hear about the challenges of construction. For example, there are MANY days where they cannot be out on the mountain actually DOING work. Surprisingly, more down-days in the summer than the frozen and harsh winter! Lightning is the problem. VERY dangerous to be up on the mountain anytime there is a storm anywhere nearby.

The Badlands also offered wide-open spaces, away from crowds. We took advantage of this in several ways. First, by hiking and enjoying the vistas, which change as the Sun moves and lights things from different angles and with different colors.
One night, in one of the darkest places on earth, we were treated to the MOST EXTRAORDINARY sky show. A thunderstorm was passing by just to the north – no rain and completely clear skies overhead, but massive and frequent lightning flashes illuminating the thunderheads just on the horizon. Overhead, in the pitch blackness the Perseid meteor shower.
And, just to connect us to our past for a moment, we enjoyed PLAYOFF HOCKEY with the requisite Soft Serve Ice-cream tradition. Back when we had season tickets (and the Blackhawks were good), we had a tradition of ice cream between the second and third periods. I can't say this was the REASON, but the Blackhawks DID win 3 Stanley Cups while we executed this tradition…best not to mess with such clear luck-producing goodness.
Anyway, Custer has a DQ, and the Blackhawks made a brief and MOST UNDESERVED appearance in the NHL's strange-but-wonderful restarted season/playoffs. They were quickly eliminated, as was befitting a team with the worst defense and associated shots-against statistics in the league. Clearly, DQ is a STRONG driver of good luck and maybe even good hockey, but not as strong as a good defense. Still, a wonderful reminder of the world as it was.
We also spent several days in Custer, including time taking care of the continuous odds and ends of "Home Maintenance."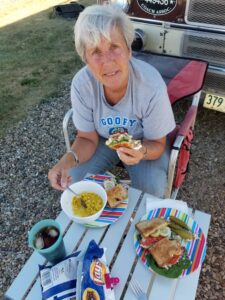 We even managed a few meals consuming IOWA Corn (we still have several bags in the Freezer…hopefully enuf until we manage to connect with the Florers again…
Leaving the Badlands (and Sturgidiots) behind, we headed north towards Roosevelt National Park in North Dakota. The path was straight as an arrow, but a little too far for one day's drive (about 6 hours), so we decided to stop along the way. And, there is NOT MUCH along the way, so we had a chance to try an Army Corps of Engineers Campground for the first time. We knew about these, but had never actually utilized one; and now that we have, we will be looking for them everywhere we go.
It seems the ACE, as they undertook projects (mostly Dams and Locks) around the USA built campgrounds for their workers. After the project was complete, the campgrounds remain. They range from remote areas with the barest of facilities to actual camping spots with electric hookups. This one, near Bowman, ND, was on a small reservoir that had been intended for irrigation, but hasn't really had much of an impact in the area.
We pulled in, and the office was unmanned. Put your money in an envelope ($15 for a site with 50a electric) and pick a spot. And, now that I am 62 and eligible for the National Parks "Senior Pass" ($80 lifetime pass for free entry to ALL National Parks, Monuments, Forests, Seashores, etc. etc.) we get HALF PRICE on most government camping areas!! So ACE Campgrounds become $7.50 for an electric hookup!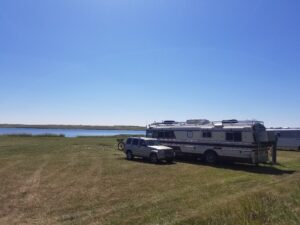 There were three areas in this ACE campground – one was right by the office. I was content to just pull in there (we WERE staying just one night) but Liz said she would drive further back to check out the others – maybe more scenic?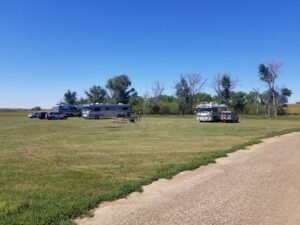 GOOD THING SHE DID!!! Liz drove in and then back. She said "There is a MUCH nicer area…and there are TWO BLUEBIRDS ALREADY CAMPING THERE!!!" In the middle of nowhere, two fellow Bluebirdbrains in residence! A MINI RALLY!!!! Most rallies have been cancelled, and the ones that continue, well, we just don't feel safe in large groups of folks from all over, so we have been NOT attending. Here was a chance to be in a SMALL group in the open air…DONE DEAL!!
Turns out these were folks we had never met (except a few online conversations). Melvin and Charlene Pierce and Ed & Lessee Hanska. The Pierces actually live and farm less than 30 miles away from Bowman; the Hanska's are fulltimers that have been coming to this area for a few years after meeting the Pierces at a rally. Interesting and unexpected conversations about the Farming Business and the world as it appears to others with differing backgrounds. And, Melvin had some suggestions for us on things to see in North Dakota – things we'd have just driven on past without insider knowledge.
Our next stop was Teddy Roosevelt National park. Here we hiked. And Hiked. And, in the small town of Medora actually had a chance to enjoy LIVE MUSIC again. Medora has a HUGE outdoor amphitheater carved into the side of the highest hill in the surrounding area. Used to be a part of the National Park, but was closed years ago, and then sold to a local promoter who had visions of a theatrical presentation there. This became the "Medora Musical" and associated "Pitchfork Steak" Dining venue. We decided to do both, based on the descriptions of COVID precautions the venues had undertaken.
The evening began with the Steak Dinner, which formerly had been a Buffet. Now, the buffet is behind glass, one family at a time is allowed down the line, where masked workers fill each tray. Then to a picnic table on the top of the hill, where at half capacity every group has their own, well-spaced table. Then the musical, where seating outdoors was about ½ capacity and well spaced. I will say this about the whole experience: The food was adequate, the view was spectacular and the Musical was, in my mind, "Cheesey" (what musical is not?), but it WAS live (and excellent, at that). Something we have GREATLY MISSED.
I hope there are other venues that figure out how to do all this safely. All the music festivals we had planned to attend (and in some cases volunteer to help) this summer – all of which were cancelled — come to mind. Surely such outdoor events could be re-imagined in a safe way?
Not much ELSE to do in Medora. There was…be still my fluttering heart…the NORTH DAKOTA COWBOY HALL OF FAME, which we went to and actually enjoyed. There are also TWO Ice Cream places in Medora. We went to one, where the staff was NOT masked as though there was nothing to be aware of or worried about. We voted with our feet and dollars – taking our business down the street to the one that WAS taking CDC-recommended precautions.
The National Park itself is often called the "North Dakota Badlands." Which, according to Melvin Pierce is actually the better Badlands. As in "Our Badlands are Badder?!" Competitive much? Our hikes included about an 8-mile trek into an area with SPECTACULAR petrified forest vistas and a shorter hike with MUCH MORE SEVERE elevation change into a river valley.
The latter had LOTS of evidence of Buffalo (pies everywhere), but we only saw a couple live examples, and from a welcome distance. We had seen the viral (pun intended?) video about the Sturgidiot woman who was pantsed by the "fuzzy Cow" and were determined NOT to become Youtube sensations in the same way!!
Leaving Roosevelt National Park, we headed east towards a planned visit with College Friends in the Twin Cities (Minneapolis/St.Paul). This had been planned for a year, though envisioned differently. The original plans included the Minnesota State Fair, long cancelled. Our friends decided to descend on Minneapolis anyway, so we headed there. Too far for a one-day, and by coincidence, friends Mike and Fran McDowell were heading EAST to Roosevelt Park just as we were heading west FROM the park. We decided to meet in Fargo!!!
Before that, Liz and I spent a couple nights in Valley City, ND. This was suggested to us as the start of the "Sheyenne River Scenic Byway," A little known but idyllic and decidedly scenic (hence the name) area of ND. THANK YOU MELVIN PIERCE! Without the accidental Bluebird Rally in Bowman, we would NEVER have done this… We took an afternoon to drive the entire 60 miles, and it was calm and so worth it! Not just for the scenery, but to remind us of all the happy accidents we have had throughout the 4 years we have been on the road!!!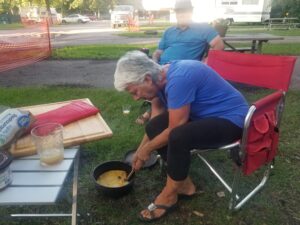 So, in Fargo, we met the McDowells and stayed at a really nice County Park right in the city and on the banks of the Red River. We managed several socially distant progressive dinners and lots of good conversation. Liz and I found that Fargo has GREAT Bike Trails, and we used them to meet Fran and Mike at a nice Beer Hall-German-Style with Outdoor seating. Also along the trails: a FANTASTIC and entirely unexpected VIKING Memorial.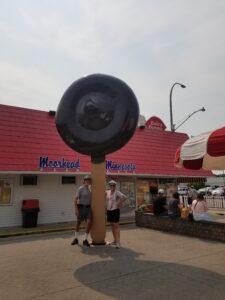 And, as spectacular as the Viking Memorial was, some towns just "have it going on" when it comes to memorials. The Twin City of Morehead, across the Northward-flowing Red River from Fargo, has a memorial to beat ALL memorials. Wait for it…. The Dairy Queen in Morehead claims to have INVENTED the Dilly Bar. They have a 12' Statue (Monument? Shrine? Apparition?) commemorating this.
BE STILL, MY HEART!!
The Viking Memorial ("Hjelmkomst", which means "Homecoming" in Norwegian) is, above all else (and this is MY OPINION so consider the source…) a monument to BATSHIT CRAZY. Let me 'splain.

Apparently, a potato farmer from the area ("Bob" was his name, though that may or may not be critical to the legend) decided he was going to build an authentic Viking ship and then sail it to Norway. Said ship is the feature exhibit in the museum. Now, the museum has the requisite video explaining the history of this ship, and taking GREAT PAINS to refute the "crazy" theory of Bob. One fellow in the movie even said something like: "We are definitely not crazy… we are ADVENTURERS."
Clearly the CRAZY stuff of legends (and mushroom-induced hallucinations?).
Look, I come from a LONG LINE of crazy – and I think crazy adds to the rich fabric of human history as it certainly has added to the conversation around the Harris Family Thanksgiving Dinner Table. And I will admit that adventurers ARE only crazy from the home-bound perspective of the rest of us, no matter how essential said adventurers have been to ALL of the advances the human race has made. But, imagining sailing from Fargo to Norway (I wonder if he ever owned, much less looked at a map)? In a wooden boat? Built by a potato farmer?
Anyway, notwithstanding the revisionist videos (FAKE NEWS), Bob was crazy for sure, AND SUCCESSFUL. Quite an inspirational story and a fascinating museum; including a reproduction of a Viking Stave Church.
So, we left Fargo and the McDowells, headed for Minneapolis. There we know that years of absence will be erased in a moment as we reunite with college friends; folks we spent a LOT of our most formative years with. BAD CRAZINESS will no doubt ensure, with or without Bob or a museum to commemorate.