After leaving Chicago, with holes in our souls, we were determined as the best medicine to wear holes in our soles as well. That is to say, to begin moving and observing and enjoying again. We had intended to travel down the Mississippi River, keeping our eyes open for opportunities to buy property for the next phase of our lives.
Some of you might be surprised to hear me say that! Settle down? Liz SURELY WAS SURPRISED!!! But before I tell you about the surprise, perhaps a little about our path down the Mississippi.

Our first stop was a little Army Corps of Engineers Campground near Davenport, Iowa. This campground was the first where we could actually use our "US Park Service Geezer Pass," so it cost $14 per night. The campground was quite nice – hard up against the Mississippi replete with Barge Traffic. However, it had NO WIFI and ABSOLUTELY NO Cell service, so we weren't gonna stay for long.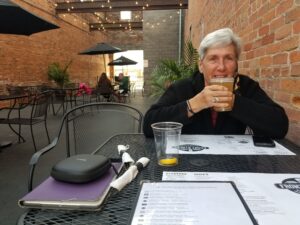 While there, due to the aforementioned lack of connectivity, we had to get creative about how to engage in our usual, weekly "Zoomtails" with friends. We found the PERFECT SOLUTION: There were a couple of GREAT Breweries in Davenport – both with beer gardens to maintain social distance and GOOD CELL SERVICE. So, we moved there at cocktail hour(s) and enjoyed local beer with remote conversation.
Another thing about the Davenport ACE campground: Trains. And , not just "Trains." But TRAINS, TRAINS, TRAINS.
Turns out there was a track and a siding immediately behind our bus…MAX 10 ft away. This track was BUSY – some days 2 or three trains PER HOUR. And, of course, they were legally REQUIRED to blow their horns since the campground crossing (campground access required transiting these tracks from the road) was about 200 yds away.
LOUD does not begin to describe this, though we did become somewhat acclimated after initially nearly jumping out of our shoes.
Trains actually become a bit of a theme as we moved down the Mississippi. Our next stop was in Keokuk, Iowa, where there were a few RV spots in a county parking lot right on the river just outside of downtown.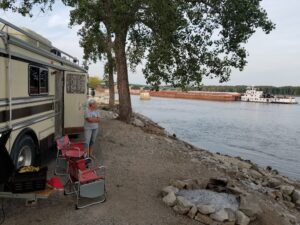 After we got settled there – in a GREAT riverside spot – I realized there was a Train Yard about 100 yards away. Also Active at all hours.
Now, about our property search…Actually, Liz was not surprised…we HAVE been discussing this for a time "years down the road." We have even discussed some of the parameters for such a place. But, so far, all talk…
during which time Liz simply ignores me
Liz has come to realize that when an idea like this bubbles up, it will eventually come to fruition…it just takes me a while to research and analyze, during which time Liz simply ignores me. For example, it took me 5 years to to acquire our first dog; 2 years of discussion about our first remodeling project, THREE years before we started our second remodel, TWO years from deciding to actually retiring and over a year from first idea to eventually agreeing to travel by RV full time.
So, to convince Liz this search was "real" and to start the (indefinite) clock, which has no end in sight, I told her we were signed up to view some river-front property in Tennessee!! She was surprised, but not opposed. Time to start paying attention, I am sure she thought! So we left Keokuk Iowa and headed towards Kentucky Lake and Linden, TN.
Along the way, we made a couple of stops. Nauvoo, Illinois is a really important place to those of the Mormon Faith.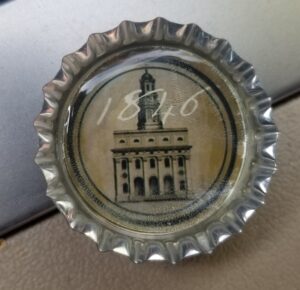 Everything was CLOSED (even more than usual…non-Mormons are NOT allowed in Mormon Tabernacles) except the souvenir shop, where I bought THE MOST IRONIC THING I could find — a bottle cap with a depiction of the Tabernacle inside.
Next, we stopped in Metropolis, Illinois, where there is a LIFE SIZE statue of their favorite son.
We stayed in the parking lot of Harrah's Casino; where of course we looked out over the Mississippi AND a MONSTER TRAIN TRESTLE.
And then, on to Tennessee!
We were NEVER really going to buy a piece of property – yet – but we were both openminded about the possibilities. And now Liz had elevated the idea from "Yeah, Sure, tell me in a couple years when I should start thinking about this seriously" to "Starting to consider TOGETHER." Driving out to the site, we were imagining the first few bars of that epic hillbilly banjo refrain from the movie, and we agreed without needing to that we'd both "know it when we see it…IMMEDIATELY." IF this place was "it" we'd be prepared to do something.
This place was NOT NOT NOT "it."
In the first place, Permanent structures not allowed because it is UNDER WATER at the whim of the TVA. Kentucky Lake is HUGE and an ideal body of water to be on in a lot of ways – especially if you like to fish! But, and it's a BIG but…you can ONLY put up a pole barn and a Pad, because almost every spring the property MAY be unusable. Kentucky Lake is 100% about controlling water to generate power and prevent flood damage. RV Parks are secondary to that, for sure as they should be!
Add to that the distance from ANY town, grocery store, hospital or any size or theatre/music club (though only 2 hours from Nashville). NO THANK YOU. And, sealing the "no-deal," the Brisket Samich the real estate agent served while trying to high-pressure us was tough as shoe leather.
I'll talk more about this property search in future posts, but for now, I will leave you hanging.
Leaving the property, we went back to the RV park we were staying at in Adamsville, TN. Even though our property search was underwhelming, this was NOT a total waste of a few days. First of all, we were staying at a very basic park called "Country Critters." DEFINITELY Country; and I was hoping we'd have no critters hitch a ride upon departure. Actually, the only Critter seemed to be a miniature horse at the front of the park.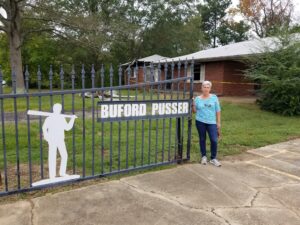 We also discovered that Adamsville is the home of….BUFORD PUSSER, of "Walking Tall" fame. And, there was a museum which contained, among other things, the Corvette in which he was driving when the crash that killed him occurred. And a souvenir shop that sold baseball bats and axe handles (unclear which he used).
Another happy-on-the-road accident. I mean that we happened on such a place, NOT that Mr. Pusser was killed in one.
After Adamsville, we had YET ANOTHER happy-on-the-road-accident! Turns out that the Enfingers, whom we travelled with in Alaska in the summer of 2019 were staying in a campground just South of Nashville. We decided to go JUST A LITTLE FURTHER AWAY FROM THE Mississippi to share a couple of meals, and full disclosure: a couple of Bourbons with them.
As we enjoyed our friend's company, I started to consider my Aunt Marilee's passing. There had been several conversations about how her apartment was going to be emptied, her art disseminated, etc. All of this was seeming to fall on the shoulders of her daughter and my cousin, Joan. It was a lot – almost certainly too much for her (or anyone). Liz and I talked a bit, and realized WE COULD GO TO WASHINGTON DC to help. We had absolutely NOTHING on our calendar for October (until mid-November, actually). So I negotiated a reasonable weekly rate at an RV Spot not too far from DC and we headed that direction.
Along the way, we made a couple of stops – one with our friends the Burdettes in Fredericksburg, Va. We visited them once before, parking on the Tarmac outside their hangar for the specific reason that we were visiting Marilee in DC. So it was a bit melancholy to stop there on the way to helping settle her affairs. But, the Burdettes (well Linda, anyway – Randy was away getting repairs done to their bus) were again extreme in their hospitality and we are grateful to them and to the entire Bluebird community that we have sort of merged ourselves into.